High quality hair salon websites don't just showcase your services, but they elevate your business and attract new clients.
Responsive Websites
At Sumy Designs, we know that more than half of your website visitors are using their phone or mobile device to check out your website. Our website designs are created with mobile-friendliness from the start.
Search Engine Ready
You can have the greatest website of all time, but it only matters if people actually see it. Our websites are made with SEO in mind to help you attract new clients. 
Support
Your website needs care to function at top performance. We provide professional ongoing support for you and your website for as long as you need it.
Every small business needs a website today, no matter what niche or field. The same is true for hair salons and day spas, whether you're brand-new or established in your community. Your hair salon website should be personally reflective of your salon or spa.
Whether you're looking for a complete new website or a facelift for your established website, Sumy Designs starts the process by listening to our customers. We design attractive, customized, and well-functioning websites that both you and your customers will love.
Customized Hair Salon Websites Design to Enhance Your Business
Sumy Designs are leaders in small business website development and design. We work with you through every step of the process, from your personal design preferences and vision to completed website.
We understand hair salon websites convey information about your services, expertise, and business practices, including the character of your business.
We know marketing your services, packages, and pricing needs are essential, and so is connectivity and communication options with your clients.
Not sure what kind of content to include for your website? Our copywriting staff is experienced in creating newsletters, blogs, and articles that can increase your Google ranking and online presence.
Need ongoing maintenance or updates to announce seasonal specials? We provide that and more so you can focus on your business growth and development. 
Customers and tight scheduling keeps you busy. That's why we provide a full range of website development services catered to your needs and goals. We provide our customers with:
A functioning and attractive website is vital, especially in the salon business. So is branding and marketing. 
Whether you're an independent contractor or a small business owner, Sumy Designs showcases your skills and sets your business apart from others with our professional website development and user-friendly applications.
For more information about Sumy Designs and hiring us to enhance your online visibility and business, contact us today and request a quote!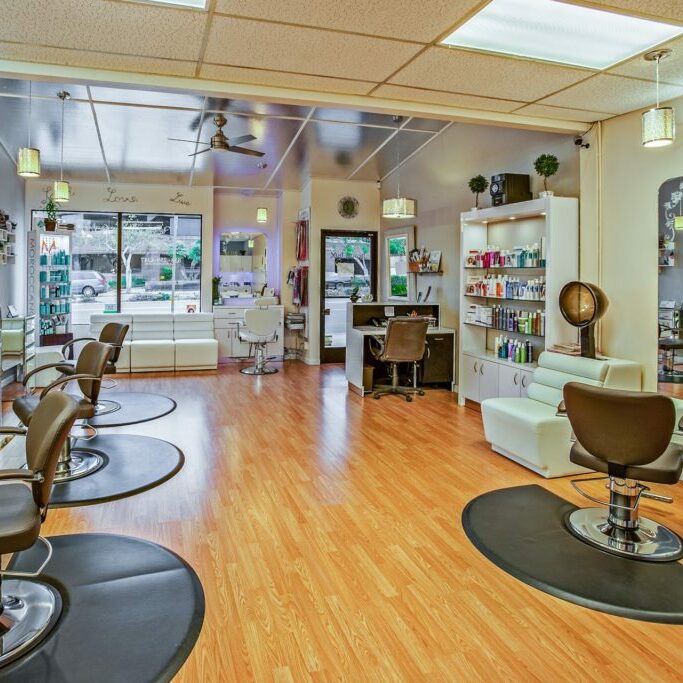 Frequently Asked Questions about
Hair Salon Websites
There's not one single answer to this question. A website design is quoted based on the needs of each individual project. Every website is unique and requires different components; we design and develop custom websites specifically for your small business. We'll ask a lot of questions, assess your needs, and give you a quote based on that assessment. Most of our sites run in the $5,000 range, but can be more or less depending on needs.
On average, we shoot for a six to eight week turnaround, but the pace of any project is set by each client. How much input you can provide during the initial stages, your availability with feedback, how soon the content is ready – all this affects the speed of completion. The functionality needs may also play a role – more complex sites will take more time to develop.
Yes. WordPress is a great content management system that now powers more than 30% of the web. Its huge market share is due to it's flexibility and ease of use. Don't worry, we'll teach you how to manage it and help you along the way.
Nope! We work with clients all over the world. Our whole team works remotely, allowing us to find the absolute best team for our business.
Yes! We love it when our clients take control of their website and learn to manage it on their own. We'll provide you with a set of comprehensive video tutorials to help you learn your way around, as well provide you with a training session to help get you on your way. (Note: We love to answer your questions!)
We can! We provide on-going support for many of our clients. Check out our WordPress Support Packages.
Absolutely! Having a mobile-friendly website is more important than ever! We work hard to ensure your website looks great on a variety of devices.
For most projects, equal payments are made at the start, midway, and the end of the project, but we can work with you to set up a schedule that meets your needs. We understand that this is a big investment and want to help you budget for the expense in whatever way possible.
We accept checks, PayPal, and all major credit cards.
A lot! Your input and feedback is crucial to this process. We'll start with a lot of questions about your needs, your likes, your wants and work with you to develop just the right look and functionality.
Usually that is you. You are the expert on your business, so it's usually best if it comes from you. If you need help, we can recommend copywriters who can help clean up or write original content for you at an additional cost.
Hosting is super important! When it comes to hosting, you get what you pay for. We've developed a list of our absolute favorite hosts to help you find the right host at the right price. Check out our list.
We are only an email away! We're here to help you as much or as little as you need, and we won't disappear once the site is launched. We've been doing this for many years, so we aren't going anywhere anytime soon.