Have you ever heard the term "featured snippet" and wondered what it is? A featured snippet, also known as 'position zero' or 'answer box' is just a selected search result that are featured at the top of Google's organic results in a box.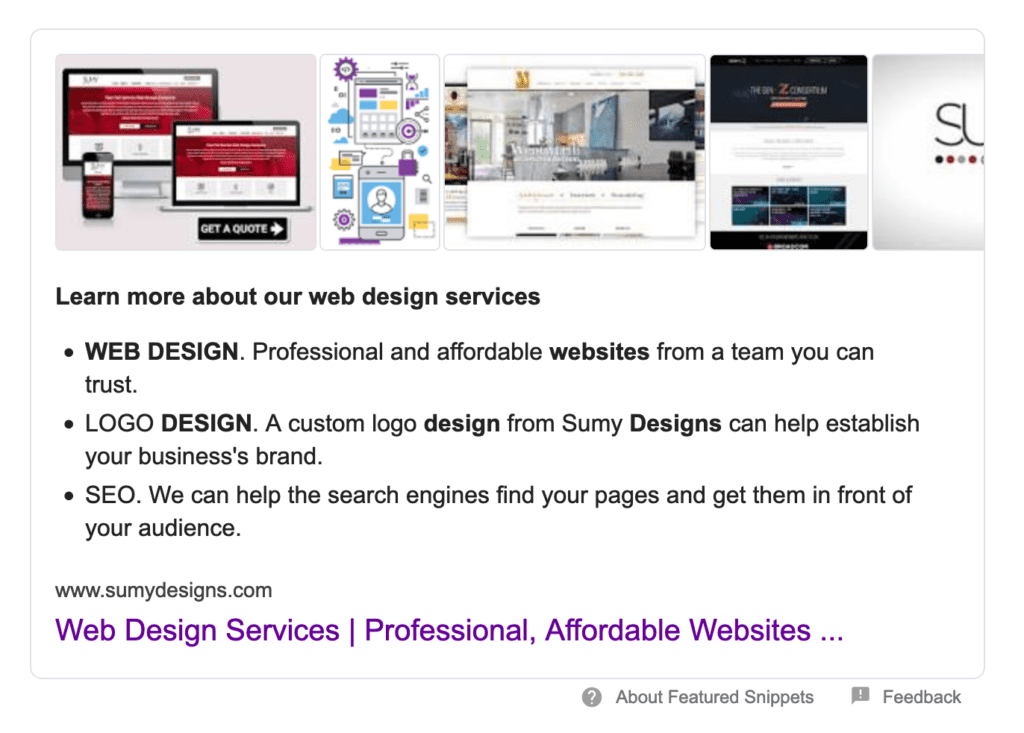 If you Google "website design service" you might see a page of our site showing up as the featured snippet. (As of the time of writing this post, these things change quickly.) I took a screencap of it above for posterity.
Why would you want a featured snippet?
Content displayed in a featured snippet box has a higher click through rate (CTR) than other organic traffic. This is an interesting statistic, because the intent of the featured snippet is to give searchers the answer for their query without them having to click through, resulting in a clickless search. However, the truth is that featured snippets do end up with a significantly increased CTR once they land in the featured snippet spot.
Can you get a featured snippet?
Nobody can guarantee you that coveted spot, but if you already rank in the top ten for a particular query, your chances are much more likely. If you aren't ranking on page one, your chances are much less likely.
How to try to get a featured snippet
The first step is keyword research. Featured snippets have a tendency to answer a question, so start thinking about question your site already answers or you can answer on your blog. If you use a tool like KWFinder, they have a "Questions" button, which will take the keyword query you are looking for and find related questions. This is super useful if you are looking for a query you can answer. If you aren't using KWFinder (it's a paid tool), you can use UberSuggest is a free tool and also has a questions suggester tool.
Keep in mind, that if nobody is searching for that search query, it's not going to get an answer box. That's why keyword research is important.
When someone types something in Google, most of the time it's because they have a question. Can you answer the question? Does your website already answer questions?
Think about questions that start with:
How do…
How to…
How does…
What is…
Why do…
Why does…
So instead of optimizing your blog post for "add instagram feed to website" you might answer the question "how to add an instagram feed to a website?"
There is nobody at Google looking at your website and thinking, 'This should go in a featured snippet box!" That is not how it works. Google uses an algorithm. And they don't tell us what that algorithm is, we only know based on the content in the websites that are already getting those snippets.
Tips for attaining the snippet
Have you content in a "snippable" format. What that means is that your content should quickly answer the query, in around 40-50 words, in a form that that Google likes, a list, a paragraph or a table.
Write your question in a H2 or H3 subheading and follow the question immediately with the answer (in 40-50 words.)
Can you write more in your post? Absolutely! Don't publish anything that's only 50 words. But that should be what your post starts with. A clear, concise answer to the query you are answer directly below the subheading.
Also, add an optimized image to your page. Add it along with your answer, maybe to the right or below, after your 40-50 words. Make sure to include an image that is appropriate for your post and put your query in the alt text.
Will you get a featured snippet? In most cases, probably not. They are really hard to attain. But that doesn't mean you shouldn't try!
Join our list!
Our blog, delivered to your inbox. Never miss a post!