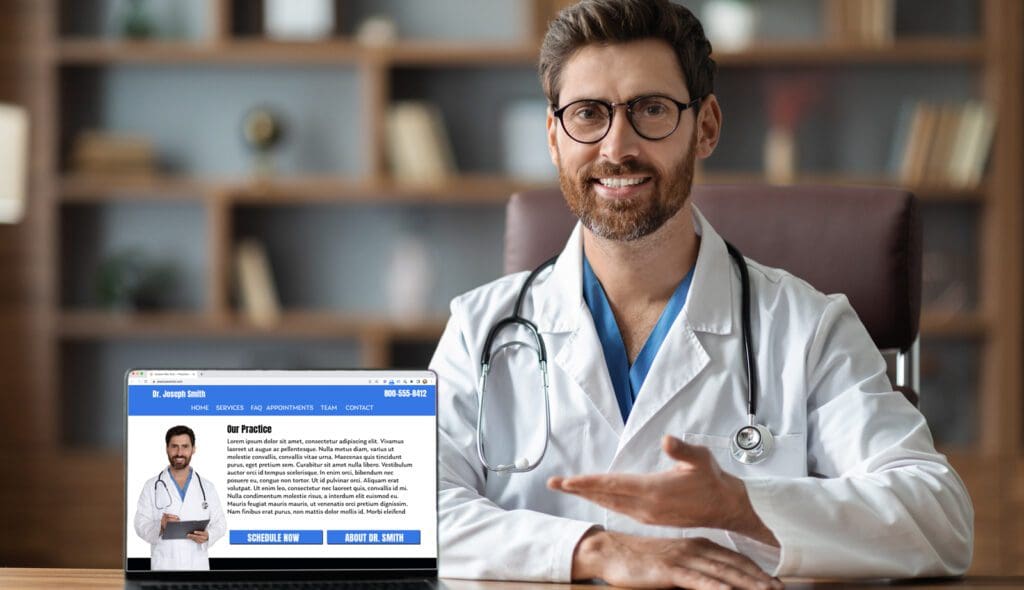 Over the years, we've done a lot of websites, and a chunk of them have been for medical practices in many fields including everything from orthodontia to neuropsychology and everything in between. But there are a few things that all these websites have in common, and a number of things that every website for a medical practice should have. In this post, I'll cover what a website for a medical practice really needs, what it doesn't need, and give you some common mistakes to avoid.
What your existing patients or potential new patients are looking for on your website
When it comes to a doctor's website, there are a few things that people are looking for when they land on the site, and it may not be what you think. Here are the main things people want to know: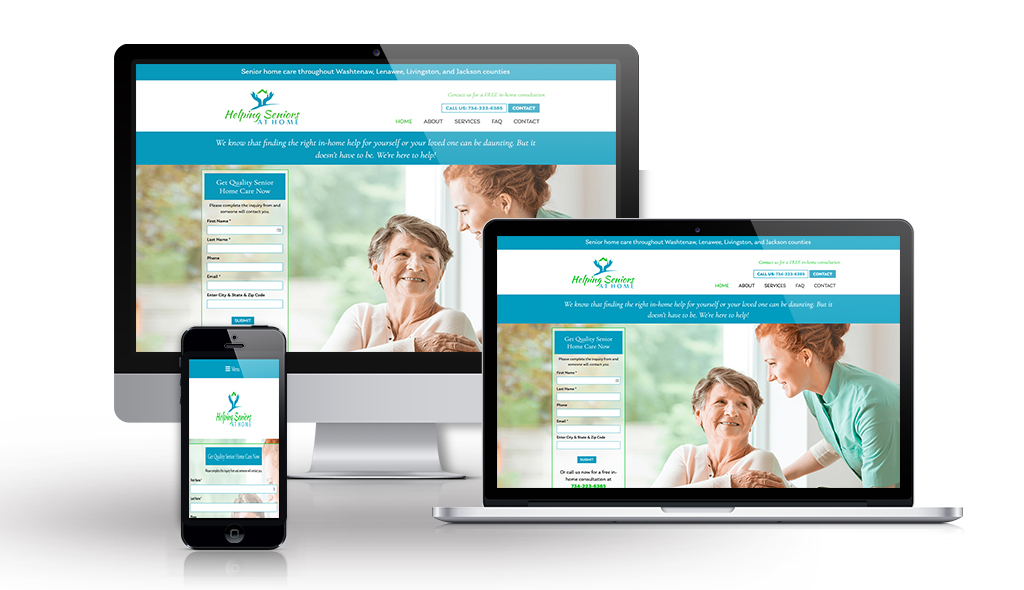 Do you take my insurance?
Are they accepting new patients?
How do I schedule an appointment?
What is their phone number?
The provider's credentials
These are the number one things people are looking for when they come to a medical provider's website. If someone lands on your medical website, it's because they are probably looking for something you offer. You typically don't just land on an orthodontist site for fun. And this is often the first impression you'll get to make with a potential new patient. Your website needs to answer all their questions, make them feel like your medical practice is reputable and trustworthy, and let them contact you in the easiest and fastest way possible.
Top things a website for a medical practice should have or do
Phone Number: There are a lot of people who want to call your office, and the number one thing people are looking for if they Google your office specifically is your phone number. It should be placed at the top of your website, on every page. And it should be clickable so anyone on a mobile phone can click to call. Don't make it hard to call you.
Scheduling: If you have the option to add online scheduling, you should. While many people do want to call, there are probably as many people who would rather just see availability and schedule an appointment without having to call. I've noticed that many medical practice internal systems haven't yet caught up to include online scheduling, but if I were a medical provider, this is something I would investigate and invest in.
Insurance: People want to know if they can afford to go to you, and that means they want to know if you'll take their insurance. Have a specific place on your website where you list what insurances you take.
Payment Options: Not everyone has insurance, and those people are looking for other ways to pay. If you offer other options or packages, this is important information to include on your website. A lot of medical providers offer Care Credit, and if you do, include information on how that works. I've seen dentists who offer packages that include a certain number of exams, x-rays, etc. every year that can make it easier. Use your website to showcase how you can help people afford to visit your practice.
Frequently Asked Questions: I bet if you asked the receptionist at any medical practice, they can tell you the top questions they get asked on the phone everyday. You could relieve a lot of those phone calls by putting those questions and their answers right on your website in a hand FAQ page.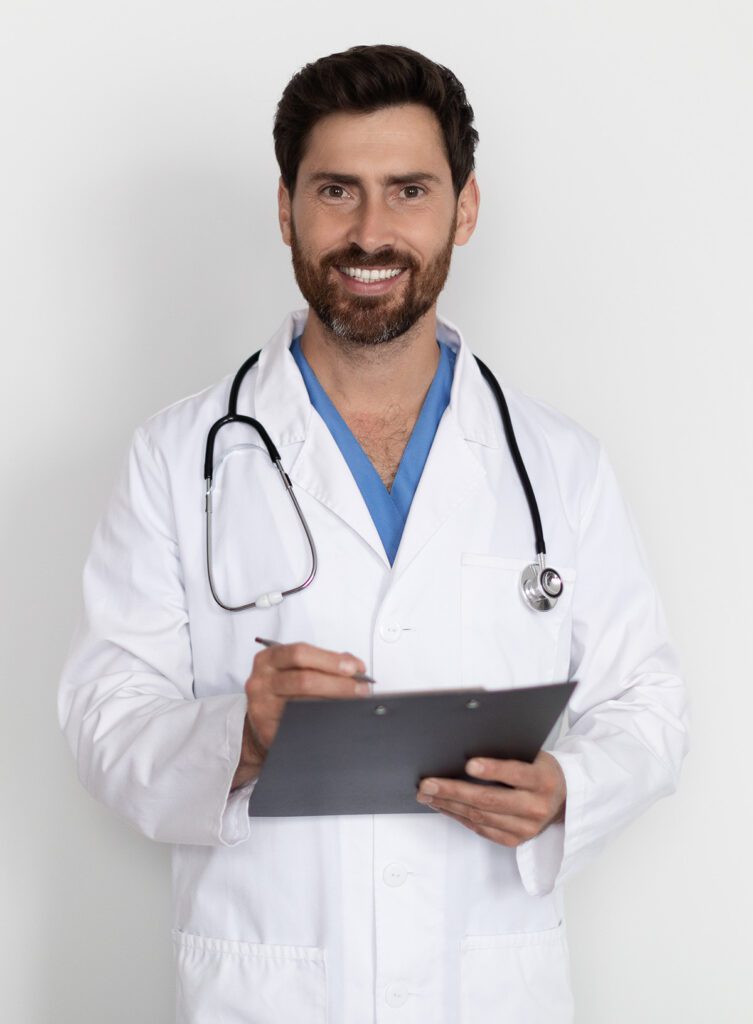 Your Photo: People really want to see a photo of you. I get that not everybody loves having their photo taken, but it's common for folks to want to see a photo of their doctor prior to visiting. It makes them feel more comfortable taking that first step. And keep this up-to-date. If someone looks at your website and your photo shows you at 35, and you're actually 60, that might be surprising when they show up.
Your bio and credentials: If someone lands on your website, it's probably because they want to know more about you. Include your bio, where you went to school, what kind of board certifications you may have. However, don't make it a boring list. I recommend starting every bio page with a short paragraph about why you chose this field. Do you feel passionately about helping people? Did you have an experience as a kid that drew you this field? Start there, then include your credentials after.
Additional things you may want to include
Paperwork: If you'd like people to fill out paperwork before they come in, have a downloads area where they can get those documents. If you want them to fill them out online, that can be set up but remember that will need to be HIPAA compliant.
Blog: Having a practice or company blog that features information about your services, medical news and information, and other relevant info can bring you more traffic and more leads. But remember, don't start a blog if you can't contribute to it consistently.
Your Team: This isn't essential, but having info about your staff can make people feel more comfortable about visiting your office.
Office Photos: Along with photos of you and your team, photos of your office can really make people feel more comfortable about making an appointment.
What not to do on your medical practice website
About ten years ago, I was contacted by an optometrist about a new website. They said they wanted a new website for their practice and it needed to be edgy. That was the word they used, they wanted an edgy site. For an optometrist.
I patiently pointed out that the biggest portion of optometry patients, almost a third of their target audience, was going to be in the 50-64 year age range. And maybe edgy wasn't what those folks were looking for when they were checking out optometry websites. Long story short, we didn't get that project. And that's okay. What I want most for everyone is to find a company for their web design and development needs that can give them what they want and need.
In all cases, it's important to think about your target audience, and what their needs are. Because that website is about you, but it's for them. You should be able to explain WHY you have put every single thing on your website and how it'll ultimately lead to more patients, which is generally what every medical practice is working toward.
Medical Website Don'ts
Don't cut corners. And that means don't make it yourself. If you are a medical professional, your website needs to look like it. If you are cutting corners on your online presence, where in the office are you also cutting corners? Your website should build trust, so hire a professional.
Don't use terrible stock photos. I have spent more time than I would care to admit removing terrible stock photos from medical office websites. When possible, I recommend getting professional photos of your office and staff. Sometimes stock photos are necessary… but make them good ones.
Don't hide the contact information. Someone shouldn't have to go through four clicks and lots of scrolling to find your phone number. Make it easy to contact your office.
Too much or too little content. You want to make sure that you are providing the right amount of information to everyone who visits your site. Some doctors put their website on the backburner, and the content gets left behind and website visitors are left with little more than some names and contact information. On the flip side, some offices will go in hard thinking pages of content will help them be first in the search engines. While content IS important to search engines, how it's used and organized is also very important.
Don't use medical jargon. There's a time and place for medical jargon. That time and place is not on your website unless your target audience is other medical professionals.
Don't make your website inaccessible. That means that people with disabilities should be able to use your website. Many folks think this would be just for the blind, but there are a host of other issues you need to consider. Yes, visual impairment is one, but there are the deaf (make sure your videos have captions), as well people with mobility issues. It's important that your text is large enough to be read, has enough contrast, and that your images have alt text and that your website can be navigated without a mouse.
---
There's a lot that can be done on a website for a medical practice that can help you generate more leads and more patients. Primarily, though, remember that your website should build trust in your practice and you can do that with good content, clear information, and strong organization.
Need help with your website? Request a quote today.
Join our list!
Our blog, delivered to your inbox. Never miss a post!