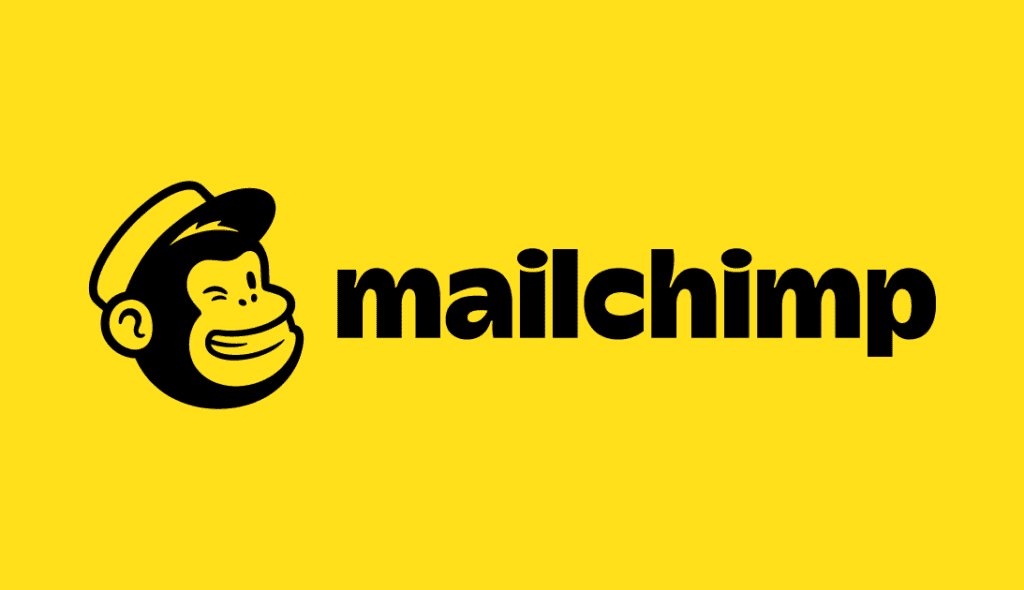 There's no "one" or "right" way to integrate MailChimp into your website, so I'm going to give you a lot of options. Some simpler than others. So let's start with the first question:
What is MailChimp?
MailChimp is an email marketing platform, used by organizations, bloggers, companies, etc. to send emails to their list of subscribers.
MailChimp is a popular email marketing platform because it integrates with so many different other apps, is easy to use, and starts off free.
You may notice if you're on a website, a place to subscribe to a newsletter with a box for your email. You can see ours at the top of our blog page. (If you are reading this on your phone, then it's on the bottom of the page, because that's how I roll.)
How to Connect MailChimp
Method 1: With a simple link
When you create a new audience in MailChimp, there are several "out of the box" options for your signup forms.
The first one is the form builder, which helps you create a signup form. But if you open that up, right at the top of the page it gives you a signup form URL. Our is this: http://eepurl.com/6w5cf
I can use that link anywhere, and it will take you to a subscribe form that you can use to sign up for my blog. All you have to do is copy and paste it where you want to add a link. Add it to emails, share it on social media. Easy peasy!
Now, if, like me, you think that sign up form is a little bland… you can also create a landing page within MailChimp for your signups. You do this by going to create a new campaign and choosing "Landing Page." Here's one I threw together: https://mailchi.mp/e389933dcb3f/sumy-newsletter
Method 2: Using their Embed Code
On almost any kind of website, you can embed the MailChimp created code to create a built in signup form.
When you login and go to your audience, one of the options is Embedded forms. From there, you can create a custom embeddable form. You can edit the style and settings and make it look how you want it to look, and then all you have to do is copy the embed code from MailChimp and embed it into your site.
One note, it's a code, so you have to use the HTML editor and not the visual editor to paste it in. Here's a simple one I created just now.
Since I use the Gutenberg editor to edit my blog posts, I used the HTML block and pasted the code in. And now I have a working signup form.
Method 3: Using a plugin
If you are using WordPress, which of course we do, you can use a plugin to connect your website to your mailing list. It can be confusing because there are a LOT of them to choose from. Since I don't actually use a plugin for this, I don't have a good grasp on which one is the best one, but I see that MC4WP: Mailchimp for WordPress has over a million active installations, so that makes me think it's a pretty good option.
Here's how it works. First, go to your plugins list and search for MailChimp, and this one should be the first one in the list. Go ahead and install and activate.
Once it's activated, you'll have a new menu item named MC4WP on the bottom left of your dashboard. Let's go there to configure. The first thing you'll need is your MailChimp API key. Don't know where that is? No worries. Login to your MailChimp account. (As of today, MailChimp has a new layout for me, so I'm going to assume they rolled this out for everyone.) On the bottom left corner is your account Gravatar. Click on your Gravatar and from the popup menu, choose Profile.
On the Profile page, you have several tabs and one is Extras. The second dropdown under Extras is API keys. Go there, and click Create Key. You'll get a new key that you can copy. Copy that key, come back to your website and paste it into the API Key box in your Dashboard under MC4WP and click Save Changes.
Once you do that, you'll see your lists show up. You can now make forms for any list, and pop them into any place in your site or template using a shortcode.
In your menu, choose Form in the MC4WP menu. I made a little video to show you how easy it is.
Method 4: Connect with your web form
If you are using a form builder like Gravity Forms, Formidable Forms, Contact Form 7, etc, you can connect those forms directly to MailChimp. However, in almost all cases, you will need an additional plugin. If you are using a premium form plugin, like Gravity Forms, Formidable Forms, Ninja Forms, then there will be an add-on for MailChimp. Here's a list to some of the premium forms and their MailChimp info:
Since I'm a Gravity Forms user, I've already written a tutorial for how to integrate MailChimp with GF. One note, that was written in 2015, so while it is likely still accurate enough, it may not be exact.
Method 5: Use Beaver Builder Subscribe module
As a longtime Beaver Builder user, I can say that one of my favorite things is the subscribe module. It's really useful in adding a subscribe box anywhere on your site. Here's a short video I made demonstrating how easy it is to add MailChimp with Beaver Builder.
---
No matter what method you choose to use to add MailChimp to your site, there are a few other things you should consider. And the main one is, WHY would someone subscribe to your site?
People aren't going to put their email address into your form for free. There needs to be a reason. So while it's a good idea to have a form on the site, there also needs to be some content with it that tells user why they should sign up.
Will they get a coupon or special savings? A free e-book? New recipes each week? What makes signing up work their while?
Don't assume that people will sign up just because they can. You need to give them a compelling reason.
---
Still struggling? No worries. You can hire us to do it for you. Contact us for a quote today.
Join our list!
Our blog, delivered to your inbox. Never miss a post!