I'd like to introduce you to my friends at Dope Yogi. Dope Yogi started as a yoga blog by two yoga teachers who wanted to share their love of yoga with the world. For over a year now they have been creating great content on the blog, with articles and instructional posts from a number of authors and contributors. They were building up content, growing their subscriber list, and then COVID hit.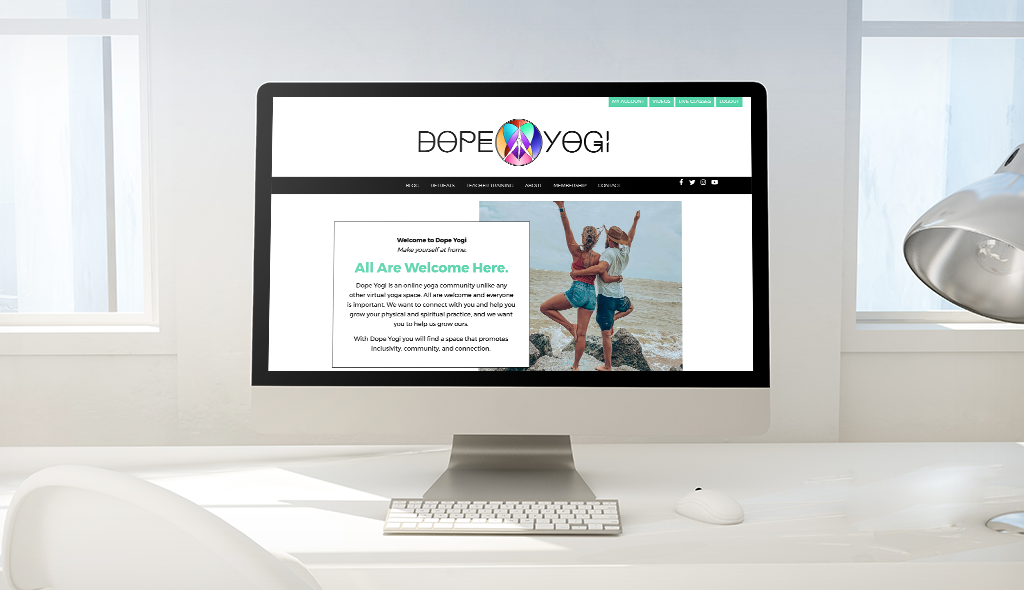 As those who participate in fitness classes probably know, those classes all stopped, which has been hard for both the students and the teachers. And for those who teach those classes, that's a lot of lost income.
Obviously, the next step was to find a way to take this business online. And while it's not the same as being in class with your teachers, it has many benefits. Clients can continue to take their fitness classes and the teachers can create new streams of revenue. It also allows people who might be hesitant to join in person to participate, and allows members to join from all around the world.
Nicole and Jeremy were eager to continue to not only see their clients in classes, safely, but provide a way for their clients to continue their yoga studies even if they couldn't hop on a live class.
So the Dope Yogi Community Membership idea was born. This membership would allow their clients to subscribe and join live online classes, as well as give their clients access to a video library. Can't jump on during the live session? Looking for a specific type of yoga that isn't live today? Access the video library and find a recorded class that meets your needs.
How does it work?
Here are the basics of this membership. You can buy a monthly recurring membership or an annual recurring membership. Once you create your account and make your payment, then you can login to the website with the username and password you created.
Once logged in, you can go to a page that shows you all the live classes or a page that shows you the video library. You can choose to join a live class (which is held via Zoom) or you can find a recorded video to follow.
You have full access to the video library and the live classes so long as you are a member. If you cancel, or your membership expires, you can no longer access the classes.
How did we do it?
There are two main aspects to this membership, the live class and the video library and they each work a bit differently.
What you need:
Videos
Membership Plugin for WordPress
Video Streaming Service
Zoom Account
Online Video Library
Let's start with the video library. First, in order to have a video library, you need videos. I have had a number of requests for this time of online lessons, classes, etc, but if you haven't started recording, then it's too soon to create. Get those videos! Next you need a way to stream your videos. Yes, it's possible to upload your videos right into WordPress, but it's just not recommended. You really should use a streaming service. For this site, we went with Vimeo. It's easy to embed into WordPress and easy to limit access to who can see the videos.
A common question is how to keep people from finding and accessing your videos on Vimeo, or from using the Vimeo link once they have access and bypassing the website. For each video that you upload to Vimeo, you need to set up your privacy settings. The two main components are that you need to make sure the video is hidden from vimeo.com (meaning you can't see it anywhere on Vimeo) and that it is only allowed to be embedded on your website.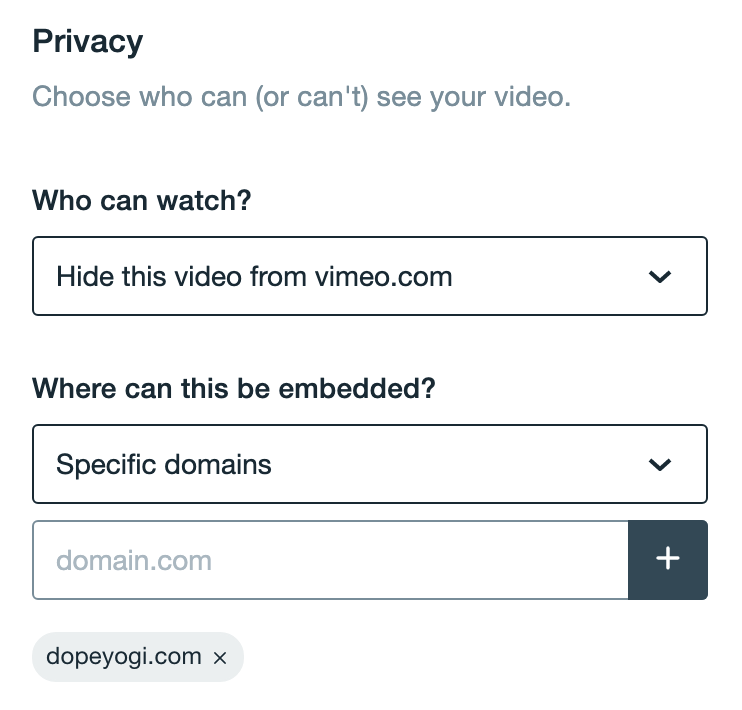 What this does is that it prevents anyone from accessing your videos unless they are on your site. They won't show up in Google searches. They won't show up in Vimeo searches. The only way to access videos with this setting is through your website.
So great, you've built up your video library on Vimeo and you are ready to embed them into your website. You have a few options.
You can add them to posts, pages, or to custom post types. All you need to embed the video is the Vimeo link, and you just paste it into your page or post. The trick here is that you have to limit access to the section of your site that houses these videos, so that only members can see them.
For Dope Yogi, I set them up with a custom post type. I created a new post type for their video library, and restricted access any post in that library. So the only way to view those videos is to buy a membership and login.
Let's talk about membership
Membership is a hot topic in the WordPress world, and if you ask five developers, you'll get five different answers. There are a LOT of membership plugins. A LOT. How do you know which one is right for you? And how to set it up?
I don't have all the answers for you, but for this site, I chose Memberpress. It's easy to set up, integrates with the payment gateways we wanted to use, and also integrates with MailChimp.
This isn't a free plugin, it does have a fee. It can cost you anywhere from $150-$350 per year depending on the features you need.
I wish I could tell you that it's easy-peasy lemon-squeezy to set up your membership platform, but it's just not, unfortunately.
After installing your software, you need to set up your membership levels, set up your payment gateways, create your membership sales funnels, and set up content restriction to keep your content hidden from non-users.
I'd love to walk you through each step in this process, but that's a whole other blog post, probably several, and it's going to be different for different websites.
Adding in Live Classes
The other aspect of this new membership site was allowing access to live classes. I have done a previous blog post about how to set up a Zoom integration on your WordPress site. There's a nifty plugin called Video Conferencing with Zoom that I recommend. You create an API connection, and you can create new Zoom meetings and users can join from clicking on a link right in your website.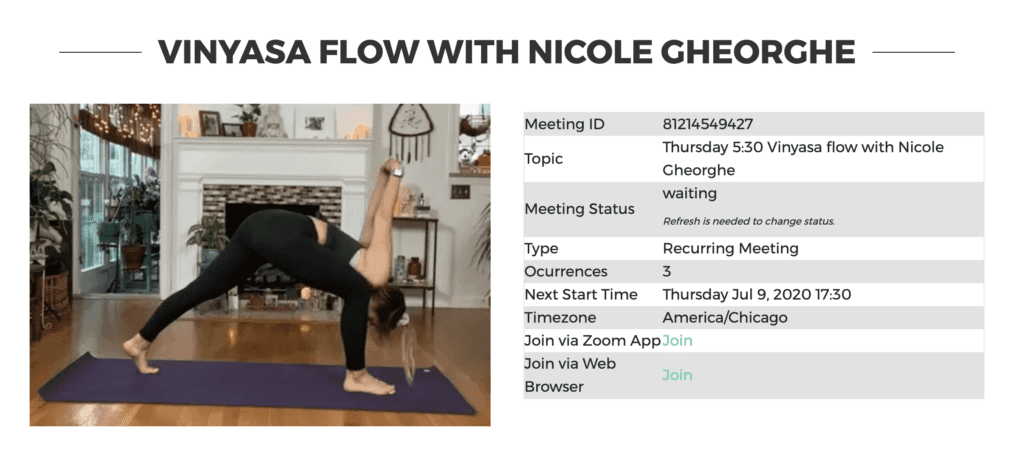 The last step is to make sure that your Zoom meetings are restricted to members only!
The Result
Since Dope Yogi had been growing their subscriber list, they already had a lot of folks reading and following their blog. Within 24 hours after sending one email to their list, they had fourteen new subscribers, before they even started advertising!
The added benefit of offering a system like this is that it takes the geographic limit off your client base. Your members can be anywhere in the world and still participate.
---
Looking for a place to get more help with Yoga, definitely check out Dope Yogi and sign up for a membership!
Need help with moving your business online? Request a quote today.
Join our list!
Our blog, delivered to your inbox. Never miss a post!