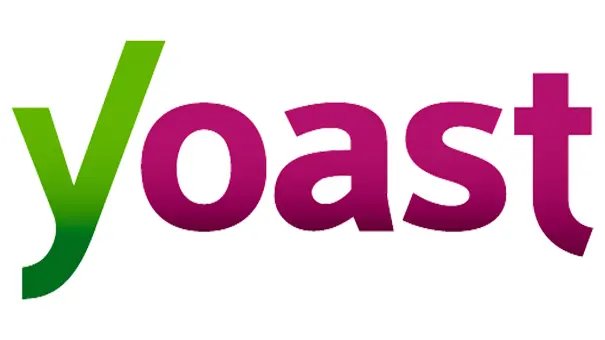 I like the Yoast plugin. I have been using it for years. I install it on every site I create. It's got a lot of great features and I think the folks there know what they are doing. Our team is even going to Yoastcon in Nijmegen next year.
But there are two versions of Yoast – the free version and the premium version. Besides the price, did you ever want to know the difference? Is it worthwhile to get the premium? I have answers for you!
What comes with the free version of Yoast?
The Yoast SEO plugin is pretty powerful even before upgrading to premium. Out of the box, it generates your XML sitemap, which you can submit to Google for proper indexing. It has a wizard that walks you through the whole set up. It can connect to Google Search Console and show you any errors you may have. It also gives you control over your breadcrumbs.
In my opinion, the best feature though is the Snippet Preview. The snippet is, in an ideal world, what Google and other search engines will display when your site shows up in the results. With Yoast, you can select your title, slug, and description and plan your snippet appropriately. This doesn't guarantee that Google will show what you choose, but you have a better than average shot if you designate it.
The plugin also helps you keep your metas in the right length (orange is too short or long, green is just right.)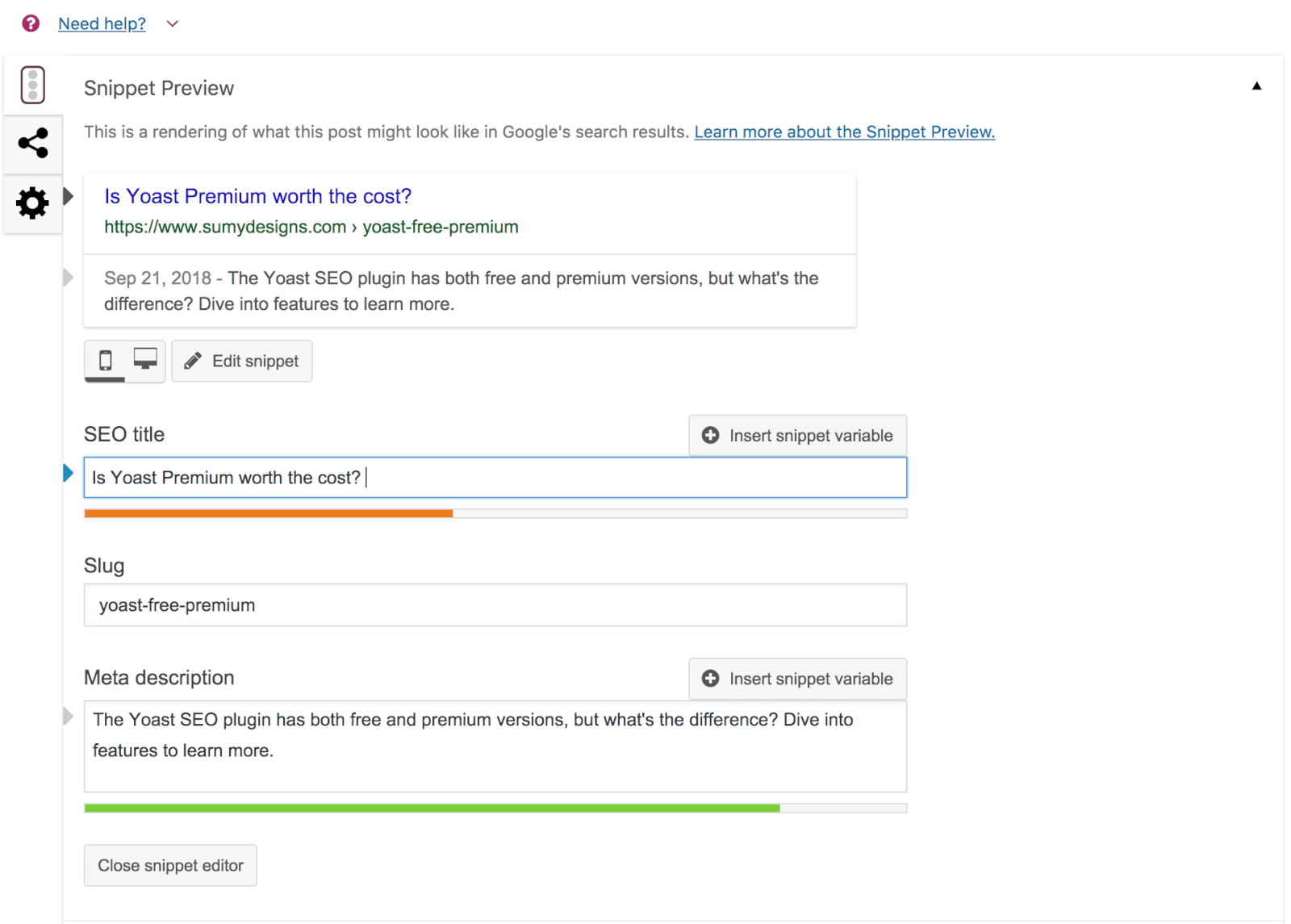 A key feature for me is the ability to choose a focus keyword and get an analysis of whether I'm doing everything I should be doing to target that keyword. It tells me what I'm doing right and what I should do to improve the post for that keyword.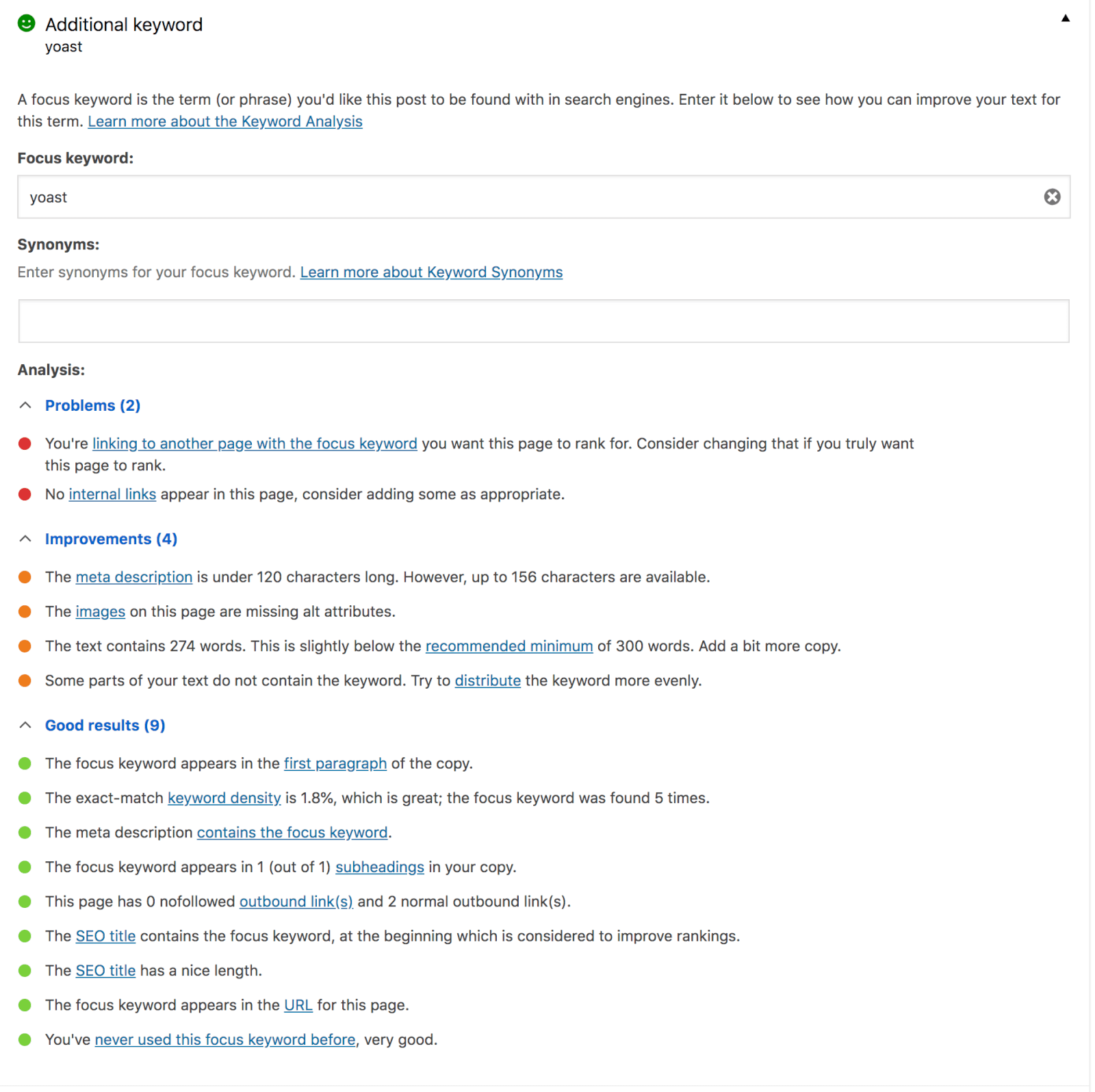 So this is all pretty powerful. Why should you pay for premium if this is so good? The free version is fantastic and I highly recommend it.
Yoast SEO Premium has some really nice added benefits
Redirect Manager: I'm just going to start off with my favorite feature. If you change your slug for the page, the plugin automatically redirects the old URL to the new one. No more going to your .htaccess file or your redirect plugin to redirect that post after you change the URL. It's done for you like magic!
Internal Linking Suggestions: This plugin has a meta box that shows you related content that you can link to. In general, we undervalue internal links, so these suggestions help you find posts or pages that help you add relevant internal links.
Focus Keyword Export: This is amazing. How much time have I spent pouring over my pages and posts to review the keywords I've used in the past. With this tool, you can export it into a CSV file and have it all in one place, making it easy to see what you've done and what you should still be doing.
Content Insights: Look at insights to see what words you've used the most so you can evaluate whether they are appropriate for your post.

---
In my opinion, for most people, the free version of Yoast SEO is sufficient. However, if you are serious about SEO, then I think the premium version is well worth the investment.
Join our list!
Our blog, delivered to your inbox. Never miss a post!