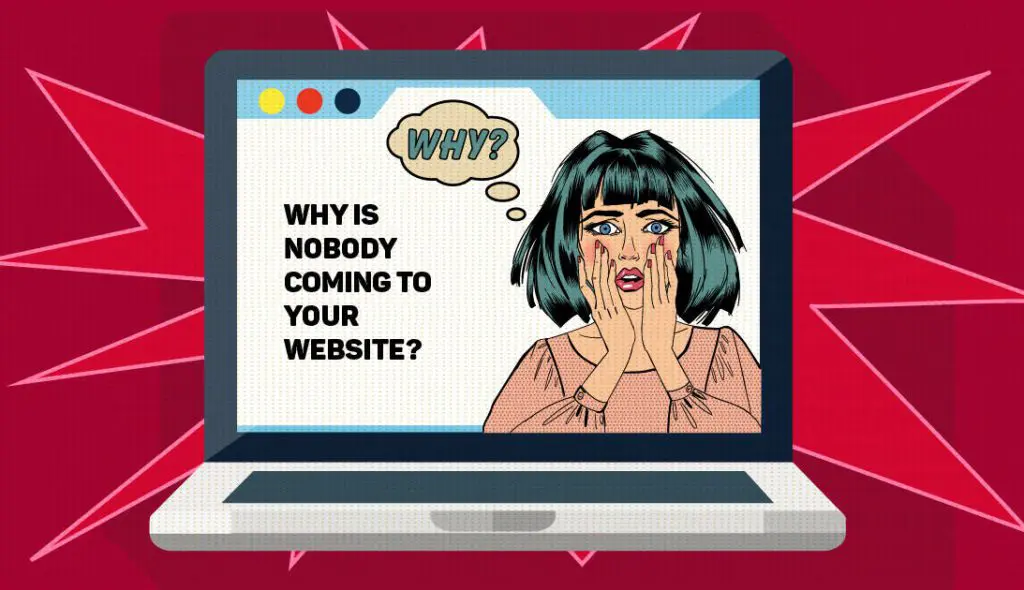 So you've got a fabulous new website but nobody's coming? Is it time to panic?
Not yet! There could be lots of reasons why you are seeing issues. Let's explore a few options. First, I want to confirm how we know that nobody is coming to your website.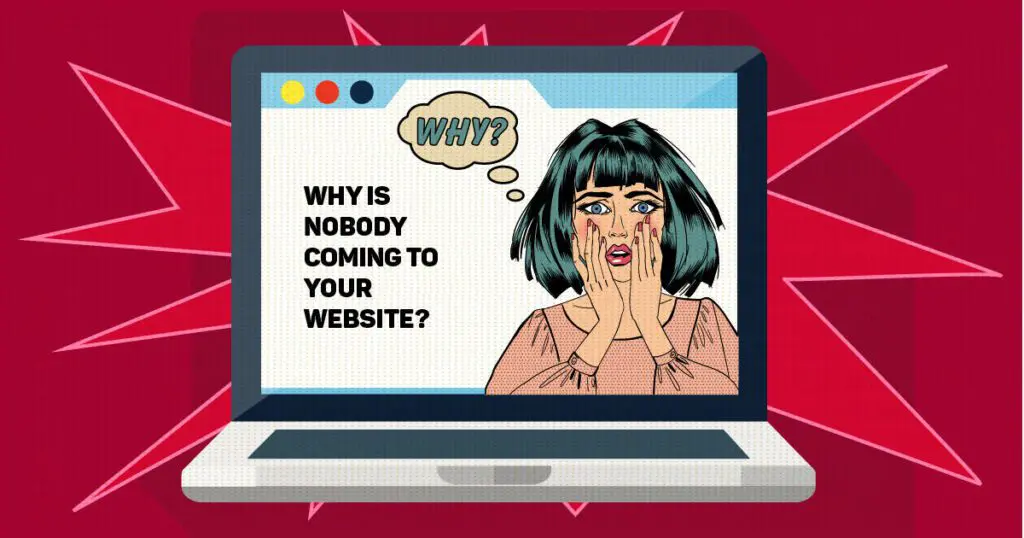 Do you have Google Analytics installed?
If not, you should. Google Analytics is the absolute best tool for understanding who is coming to your website and what they are doing. It's pretty easy to install, and provides you with a ton of great data that you can use to make your website better. One caveat – it does take time to build up enough data to make educated guesses about what may or may not be working for you. Don't rush to make changes after a few days or even a few weeks. It can take three to six months before you have enough data to understand what's working and what's not.
What if you have Analytics installed and you've checked and nobody is coming to your website? First question, is it installed right? I know this seems silly, but if you aren't registering ANY visits, then it's quite possible that you have traffic but you installed your tracking script wrong. It should be showing traffic from you at the very least.
Once you've confirmed that you have it installed, it's working, and you still aren't getting traffic, I have a few reasons why you may not be seeing the results you'd hoped.
Your site is new!
Hey guess what, your site is so new that nobody even knows it exists! Not only do your customers not  know about it, but neither does Google. Google is great (and somewhat scary all at the same time) but they mostly aren't reading your mind. You have to make sure that everyone, including Google, knows your website is alive. A few items in my checklist to get your site found:
Tell people about it. That's right, broadcast that you have a new site. Share the link on social media. Send an email blast to your customers. Paint it on your storefront windows and glue it on the back of your truck. Tell the world it exists!
Tell Google about it. Google is smart, but they won't magically know you have a new website. You have to tell them. How do you do that? It all starts with something called Google Search Console. If you haven't used it before, you should sign up now. (And if we made your site for you, this is something we've already done.) Set up your account, link it to your website, verify it, and then submit your XML sitemap. Your XML sitemap is Google's roadmap to the pages of your site, it helps Google know where all your content is, but also helps Google to know when you're publishing new content.
Tell Bing too. People forget about Bing because about 80% of users start with Google. But that's still 20% of users who are using other search engines. Bing has a search console too which works a lot like Google's. Go ahead and set up that account, submit your site and XML sitemap so they can start indexing your site's content. (What about Yahoo? Yahoo search is powered by Bing, so if you set up Bing, you're covered in Yahoo.)
Don't forget to add the URL to your Google Business Listing. If you have a Google Business Listing (and you should), be sure to update it with your URL. This free listing puts you on the map for your local customers and is super important!
Other reasons why nobody is coming?
Your site isn't mobile friendly.
With Google's new change to mobile-first indexing, if your site isn't mobile friendly, it's going to lose rank in the search engines. Google has changed the way they index websites and they are looking for your mobile content before your desktop content. If your competitors have responsive websites and you don't, expect your customers to start going to the competition's website.
You aren't creating new content
I feel as though this is something I harp on a lot, but the truth is, new content creates new traffic. The more content you create, the more opportunities you have to be found. SEO alone won't help your cause if you aren't creating new content. Google wants to know you are an authority on the topic and having a five page site with 200 words on each page, that does not build credibility with the search engines. If you're an expert on something, don't be afraid to share your knowledge. In my opinion, sharing your knowledge and expertise will always come back to you with big returns.
Nobody is linking to your site
Links to your site shows Google that other people find your content valuable. They are like a thumbs up. If nobody is linking to your site, then it's possible Google and Bing don't know how valuable your content is. But don't buy links or bug people for links, let the links come naturally. Here are a few Dos and Don'ts for link building.
DO'S
Create great content that people want to link to
Share on social media
Comment on other websites/blogs with relevant content
DON'TS
Pay for links
Send spammy emails asking for reciprocal links
Create new sites for the sole purpose of linking to your main site
In truth, it takes time to build authority in the search engines, but you can do a lot to increase visibility for your site. Be sure to spread the word! You can't expect hoards of people to show up if they don't know about you yet!
Join our list!
Our blog, delivered to your inbox. Never miss a post!