I've said it before and I'll say it again. Reviews matter. In particular, third party reviews matter. That's not to say testimonials on your website aren't great – they are. BUT, everyone knows you are choosing which reviews to put on your site. Whereas reviews on third party sites, such as Google, Facebook, Zillow, etc. hold a lot more weight because you can't control those reviews.
I've been in the market for someone to paint my house, and the first person I called had 30 positive reviews on Google, and the reason I contacted this company was entirely based on those reviews.
How do you get reviews?
Of course, some people will login and leave you reviews out of the goodness of their hearts, because they understand the power of the reviews for your business. But the truth is most people won't leave a review unless they've had an exceptionally good or an exceptionally bad experience. But what about everyone else?
Most people who are happy with your service will leave reviews for you if you simply ask them to. But you are busy running a business and don't have a lot of time to dedicate to contacting each of your customers and personally asking for reviews.
You can automate that!
We do offer an online review service, that takes care of this for you so you can be pretty hands-off. However, if you just want to do it yourself, I have a pretty simple way to speed it up.
You know how on your typical contact form, someone submits an inquiry and you then get an email with their information, right? Well, we can reverse this. You submit a form and the customer gets an email asking for a review.
What you need
A form plugin for WordPress (I use Gravity Forms, but most any of them will do.)
Text for your email.
Links to where you want the review to be placed.
Step one:
Create a simple contact form using whatever form builder you like. All it needs is a place to put their name and their email address.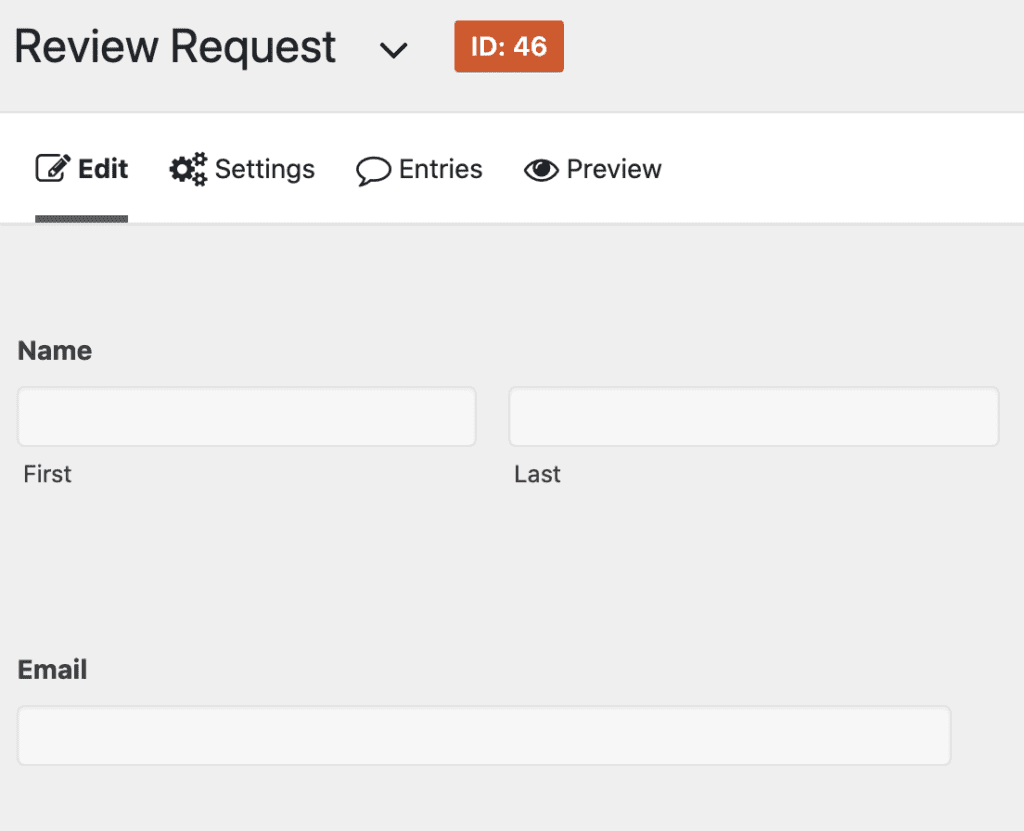 Step two:
Go to your notification settings for this form. Instead of sending a notification to yourself upon submission, the notification will go to the client's email address that you input.
In the "send to" you'll put the email field from the form and the "from email" will be yours.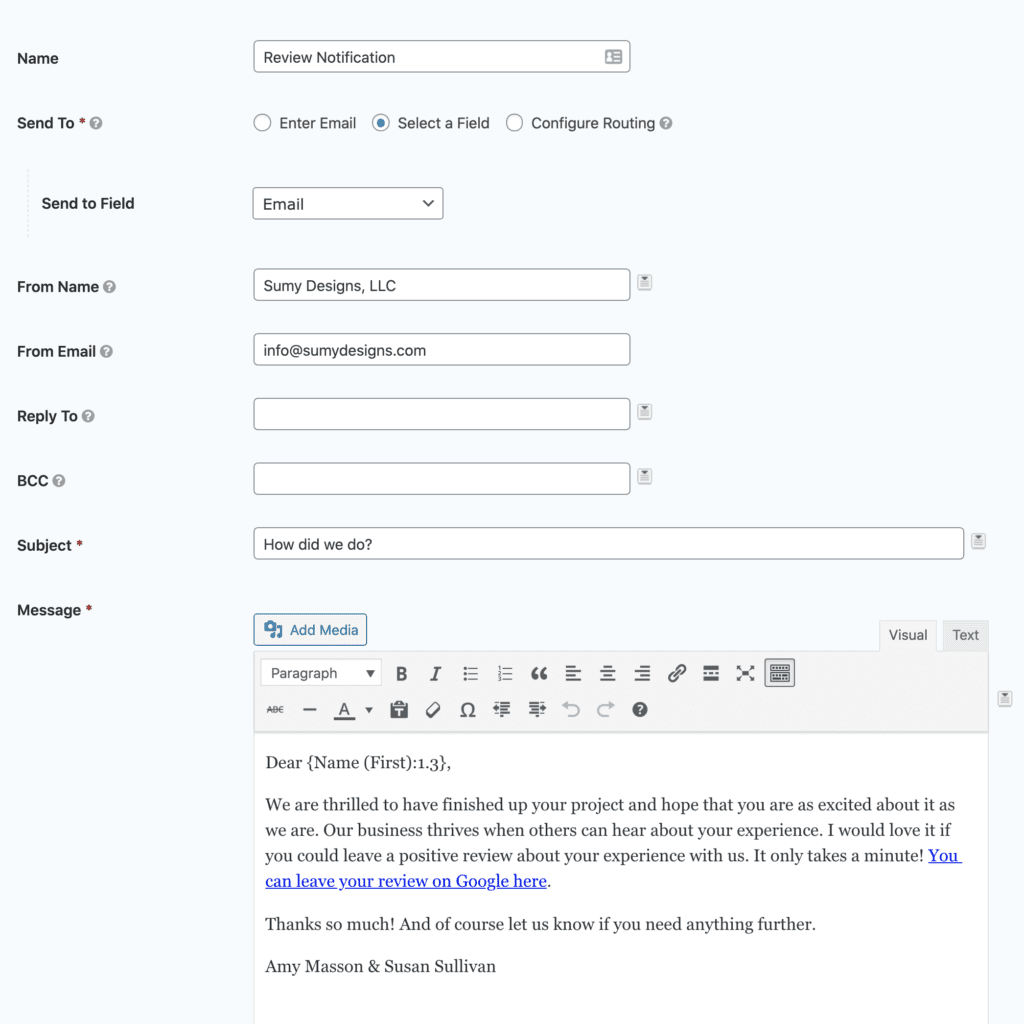 You can write whatever message you want, just be sure to make it generic enough that it can work for almost anyone and any project, but personal enough so that your customers will want to respond.
And don't forget to include the link to the place you want them to leave the review! This is super important. Otherwise, they are likely to just hit "reply" and send you an email testimonial, which is great for you to use on your website but doesn't get you a third-party review.
Should you include multiple links to review on different platforms?
Some people will say yes, but I'm going to say no. Most people will only do ONE action at your request, and asking them to leave reviews on more than one place is too much and might lead them to them leaving no reviews at all.
Choose the place where the reviews would benefit you the most. If you are a local service business, then that place is probably Google. If you're a realtor, then Zillow is a good option.
Include the link that takes them directly to where to leave the review, and not just to your profile page. The easier it is for them to leave the review, the more likely the are to do it.
Step three:
Put your new form on a hidden page on your website. It needs to be hidden because we don't want spammers finding this page and submitting the form. You can password protect the page or set it to private within your WordPress settings.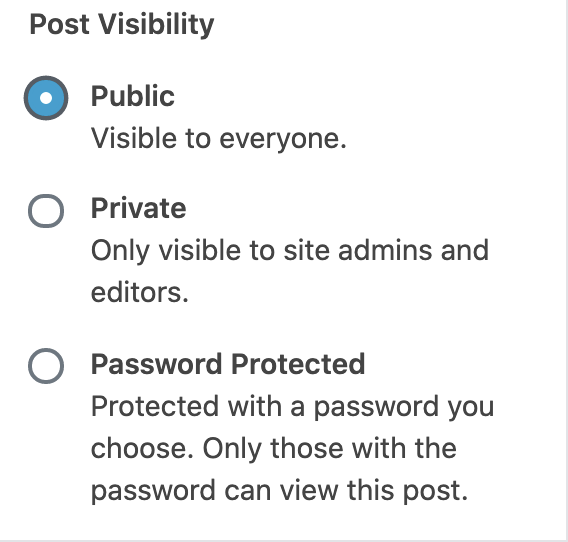 When you set a page's visibility to "Private" that just means that a user has to be logged into your site to see what's on the page. I like this option best, because it keeps your page out of the search engines and hidden from the public, but allows you to access it.
Set up your visibility for the page, then publish it and bookmark the URL.
Step four:
Test your form by sending it yourself. That's right, don't just start sending it to your clients. First, submit your own name and email address to make sure it works. Then proofread the email you get and test the link.
Ask a friend or colleague if they will proof it too. It's easy to overlook an error if only one person is reading it.
Step five:
Start entering your names and emails. As you finish up work, you can login and submit that form with new clients and try to garner new reviews.
A few tips
Don't input a bunch of emails at once. If you send 100 emails from your website, it'll start to look spammy and you could get your email, website, or IP blacklisted. This is a good method for requesting reviews as you work with clients, not in bulk.
Use a transactional mail service, like SendGrid or MailGun. These services help with the deliverability of your email, keeping your messages out of spam. (I will follow up with another post about how to set up one of these next week.)
Send from your @domain business email, and not Gmail or Yahoo. Not only will they look more professional, but they'll be more likely not to end up in spam folders.
When you do get a review, respond to them! Responding to reviews on third party sites shows you are active and care about what others are saying about you online.
Are there other options?
Of course. This is just one very simple way to send review requests. You could set up an email list in your newsletter management system, like MailChimp, MailerLite, or Constant Contact, and add your customers to a special segment that gets an automated follow up email.
I actually have a list I use for sending a series of emails for after a website is complete, and one of those emails asks for reviews.
You can also use a program like Alfred to save canned emails and easily send it right from your mail program.
Is this better than using your online review service?
No, but it's cheaper. 🙂 Creating this form is a simple way to automate that initial request for a review. It's easy to do, and easy to use, but it only sends one request and doesn't track responses or send follow ups.
When you use our review service, we are able to track who leaves reviews, follow up with additional requests for reviews if the client doesn't respond, and get notifications when those reviews are left so we can follow up. It also allows us to display the feedback left on your website automatically. We have a system that is much more complex than this simple form, so if you are really interested in getting more reviews, then that might be an option you want to explore. Get more info here.
Join our list!
Our blog, delivered to your inbox. Never miss a post!