SEO stands for Search Engine Optimization, but what are local SEO services? Local SEO is a strategy that creates a better online visibility for your business or website within your local market. Local SEO is the process of driving quality local traffic to your website. This is particularly important if you have a brick and mortar establishment. Restaurants, salons, coffee shops, lawyers, etc. The kinds of places that people in your town need to go to for services.
It's fun to rank your keyword nationally, but if your coffee shop is in Los Angeles, getting found in New York may not increase your bottom line. I'm not saying you shouldn't shoot for the moon with your SEO, but you should definitely take some time to figure out what local SEO services you should be using to help your local customers find you.
Now, of course, all of these tips are designed to go into effect after you have a great website that already has technical SEO completed. These tips won't be very effective if you don't have a website, have a one-page online business card, or just a Facebook page.
Claim your Google My Business Listing
This is super easy and free. Google keeps a business directory called Google My Business or GMB for short. If your business has a physical address, then it's probably already in it. But that's not enough, you need to control that listing. And if you're the business owner, you totally can.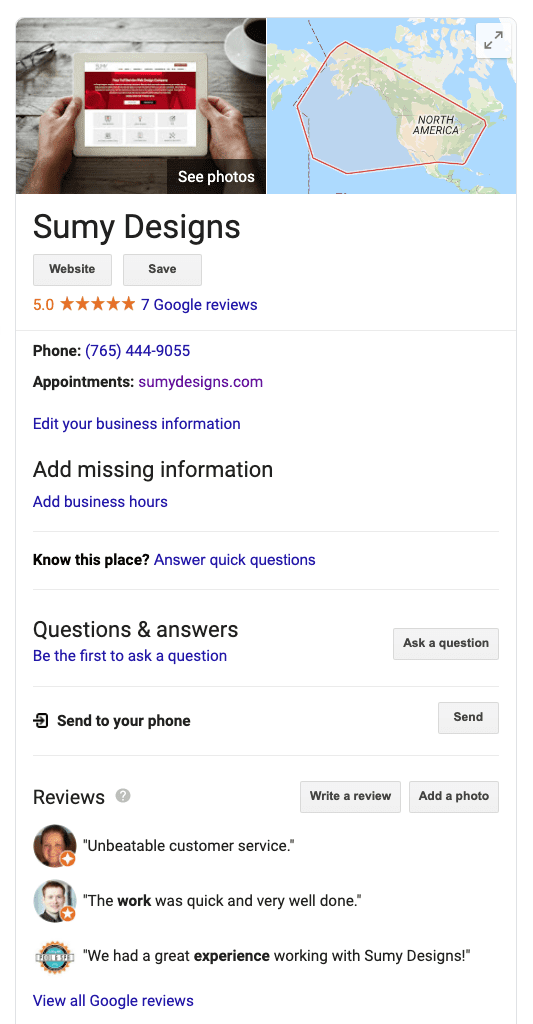 First, go to Google and search for your business by name. If you're already in the GMB directory, and there isn't a business in your area with the same name, your business should show up in a knowledge graph (which is the box to the right of the search engine results (SERPs). Here's an example of how our own Sumy Designs knowledge graph looks.
If your business is already listed but not claimed, there will be a notice on the listing asking if you own this business. You can click that link to get started. If you aren't already in GMB, you can go to https://business.google.com and enter your business name to start the process.
The process is simply. Enter your business information, and then you'll be prompted to verify your business either with a text, phone call, or postcard. Once you are verified, you can really put your Google listing to work.
Start by optimizing the listing. That means adding photos, your logo, a description, picking the right category, adding in your website, phone number, and hours as well. Really take your time and think about your answers in these sections, don't rush through it. This is one of the best advertisements you can do and it's totally FREE!
Additionally, Google has something called Google Posts, and it's a great way to create new links back to your site every week. It's like a blog post, but on Google, with a link to your site. You can link to your own blog posts, to different pages of your site. You can use it to display photos or share coupons or specials. Don't miss this great opportunity to draw organic traffic to your site. It only takes a few minutes once a week to post.
Bing Places
Another option for local SEO services is with Bing Places. Yes, Google does dominate the search market with more than 80% of searchers using it. But… that does still leave some searchers finding you in other places so the question becomes, why not set up your business listing in Bing? They even get you the option to import all your GMB info right into Bing.
Yelp
Many business have a love/hate relationship with Yelp, and I get it. It creates a place for people to leave reviews for your business that can be glowing or terrible and I've read horror stories about nightmare customers hurting businesses with terrible reviews.
However, your business might actually benefit from being on Yelp. If your business relies on local traffic, then Yelp is a great option to drive more organic traffic to your website. If your business is a restaurant, bar, club, coffee shop, gym, law firm, etc, then having a Yelp page that's well-optimized can lead to more traffic to your site.
A few notes about Yelp:
Be sure to claim your listing.
Optimize your listing the same way you did with GMB and Bing, make sure any info someone might want is there.
Add photos. Add a lot of photos. Yelpers love to see photos of your business to help them decide if they want to go there. Have professional photos? Use those.
Respond to reviews. If people take the time to review you on Yelp, or anywhere actually, you should always take the time to leave a response, especially if the review is negative.
Get More Reviews
Reviews matter when it comes to your online visibility. Not only do positive reviews help people who see your listing decide whether they want to do business with you, but having reviews affects your placement in the SERPs.
I have a local reviews story for you. In my town, there used to be a fitness facility that had two locations in town. There are quite a number of gyms in my town for the size of it, but this one dominated the search results and I'm convinced that it's because they had more reviews than any other gym in town. And not just by a few, by a lot. They had at least twice as many reviews as any other gym.
Fun fact – their reviews were actually terrible. People did not like this gym and they weren't afraid to talk about it online. (Gym is no longer in business, so I can't point you to this as an actual example.) But they were number one in the local search results.
One thing to know about online reviews is that most people won't naturally go to leave you a review unless your business is either exceptionally bad or goes out of its way to provide exceptional service. If you do a solid job at a fair price, you probably won't get any accolades for that.
The solution here isn't to kill yourself to do an above average job (although doing an above average job is great and I recommend!). The answer is simpler than that… simply ask your customers to leave you a review.
Many people are happy to leave you a positive review if they've been satisfied with your service. We offer an online review service where we can help facilitate this, but there are other ways as well. Consider setting up an automated campaign in your newsletter manager. After you finish your work with a client, you add their email to the list and an email goes out asking them to leave you a review online. Be sure to include links to the places you'd like reviews left. GMB, Bing, and Yelp are great places to start.
Write Local Content
One of the best ways to draw local traffic to your site is to write content specifically for your local customer. What do they want to know? When I work on websites for realtors, one of the first things I tell them is that home buyers can look at listings anywhere. It's nice to have listings on your site, but that's not why your local customers are coming to your website. They can go to Zillow or Realtor.com for that. They are coming back for your local expertise. The information about the community, city, town, county that you have that they would like.
This is application to any business. If you can find ways to write about your community in a way that relates to your business, then you should definitely do that.
Notice I said that it needs to be relevant to your business. What that means is that you shouldn't be writing newspaper articles about things in town that aren't related to what you offer.
As a for instance, I got a newsletter from the place where I get my car serviced, and it had an article about local summer camps for kids. The first thing I thought was, "Why is my mechanic emailing me about summer camps?"
So when it comes to writing local content to increase your local SEO services, be sure it's RELEVANT to your business.
A few tips for various industries:
If you're a contractor, you can write a blog post about local construction work you've done in town.
If you're a realtor, you can write about local parks, local schools, etc. Anything local is fair game for realtors.
If you're a gym, you can write case studies of your customers who have increased their stamina, lost weight, or more.
Any local business can write about online specials.
These are just a few examples of how you can leverage the power of content to help your local SEO ranking.
Free Local SEO Services
One thing I'd like to note here is that everything I listed in this post is absolutely free. You don't have to pay to get listed in any of these directories. You don't have to pay for any of these. You just have to invest your time and effort into making these resources work for you.
---
Need help getting started with local SEO? Contact us today for a free quote.
Join our list!
Our blog, delivered to your inbox. Never miss a post!