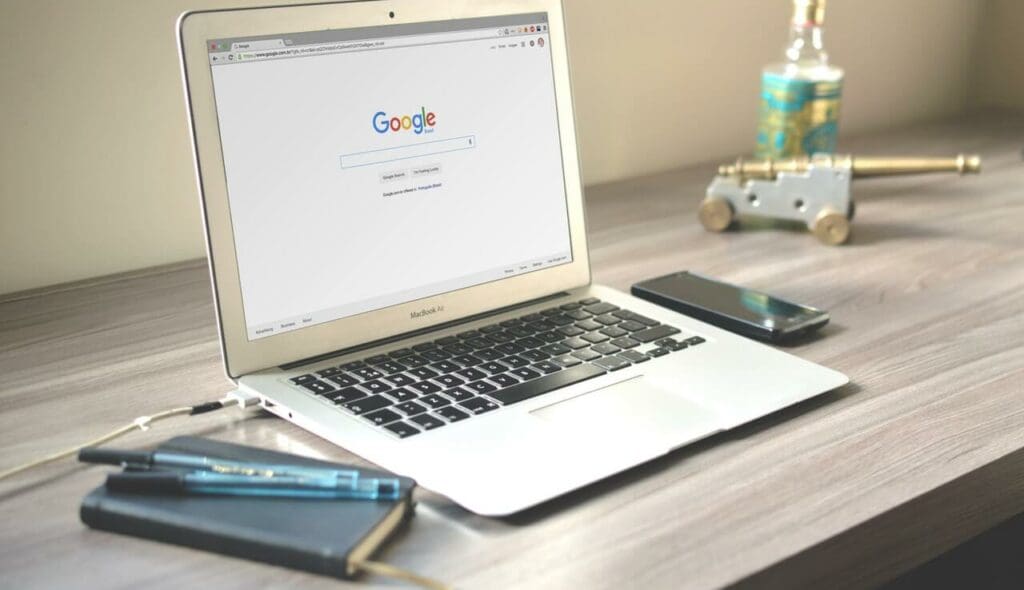 You've probably never heard of or used Google Posts. So what is it? It's a fantastic way to jazz up your Google local business listings.
Let's start with a brief intro of the Google My Business listing. If you own a business and don't have one, you need one. This is essentially the "Yellow Pages" of Google. When someone searches Google for information about a business/restaurant or whatever on the map, the Google My Business Listing is what shows up. If you've optimized that listing, it'll show if you're open, your hours, photos and reviews. If you are a restaurant or any other business open for business on a regular basis, this is an essential tool you need. It's free and easy to set up.
Start by going to Google's My Business page and claiming your business. You'll have to enter your business name and address, and verify it through either a phone call or a postcard. Often times Google will require you to receive a postcard at your business address in order to prove you are the real owner.
Once you've verified, you can do all sorts of things to optimize your listing. You can add your business hours, your logo, photos of your building, both inside and out. You can add a description, choose the right category, link to your website, add your phone number, etc. It's a great option. Here's what ours looks like on the map.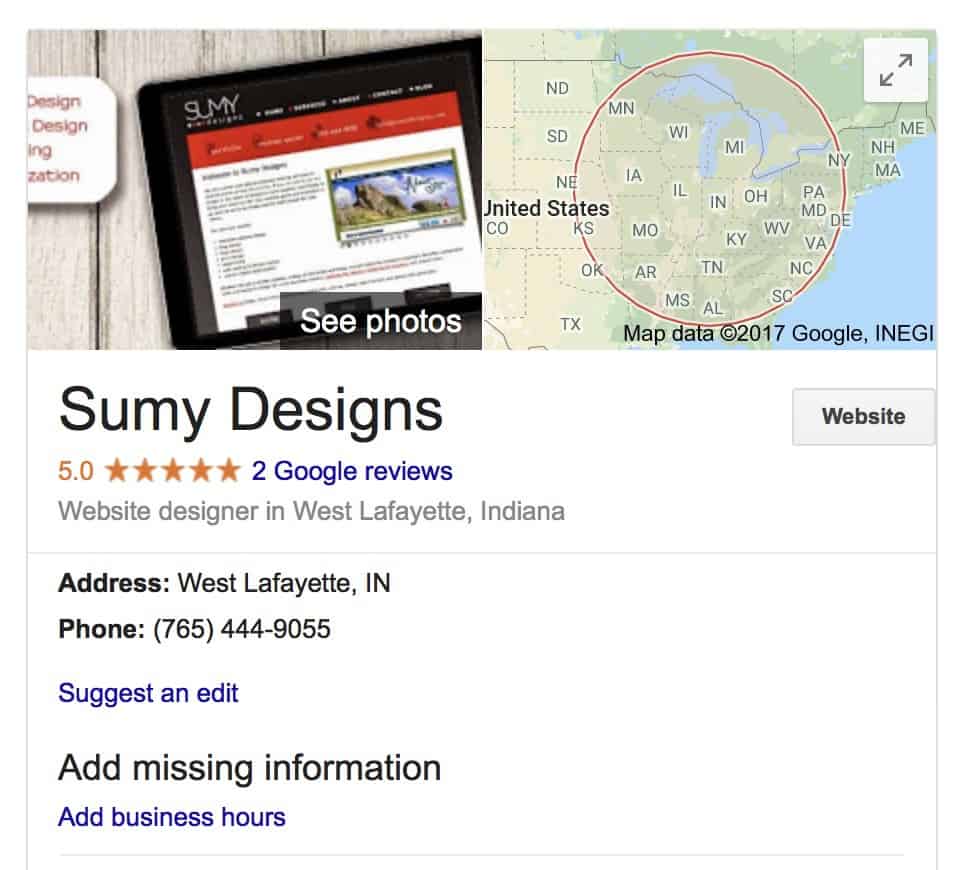 It doesn't have hours or an address because we work from our home offices and we don't keep traditional hours. But it has reviews, photos, our phone number etc.
So what are Google Posts?
Google Posts is a quick and easy way to share new information on your business listing that will show up when someone Googles you or your type of business. It can be new content you write within Google, links to new blog posts, info about upcoming events or specials, or even links to old posts that are relevant.
Here's what our listing looks like after I added a post.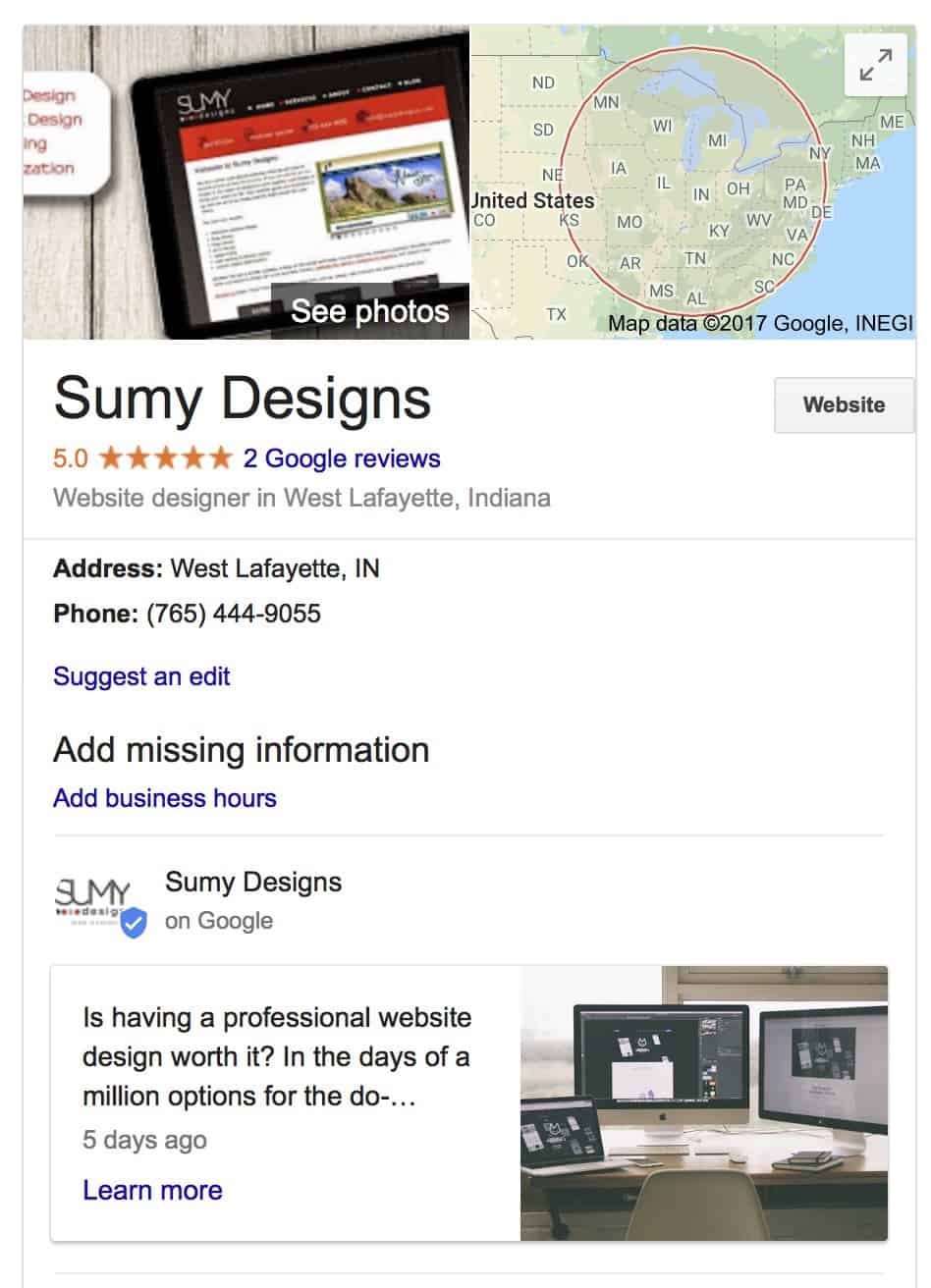 If you want to witness this feature "in the wild" just open Google and type in Sumy Designs.
It is an especially nice feature to add when you have mobile users on searching for you. Check it out here.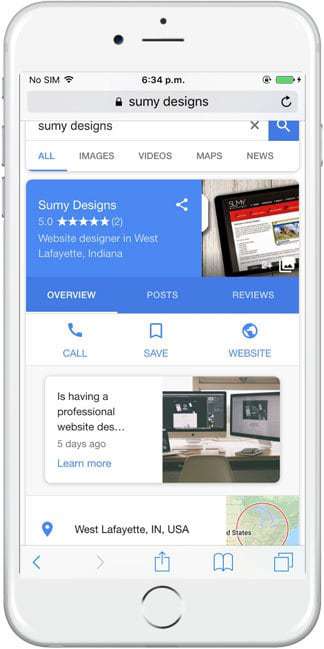 Google posts start in January 2016 for the presidential campaigns to use, then it slowly start to roll out for other users. It expanded to museums, sports teams, etc but only just rolled out to businesses in June of 2017. It is my opinion that this is one of the most under-used features. Most businesses are overlooking this and that's a shame.
Why should you use it?
This feature gives you an edge – a new way to engage with your customers and potential customers. And chances are, your competition isn't using it. Here are a few reasons to use it:
highlight new products or services
showcase upcoming events
share specials and deals
tell people about your business
There is actually a never ending list of reasons to use Google Posts.
How do you do it?
It's not that complicated, however, you do have to have a Google My Business Listing, so if you haven't done that, you can't use this feature. Your business has to be verified to post to your listing. Once you do have it, here are the steps.
Login to your Google My Business account.
Locate your location (if you have more than one) and click on it.
Once your listing loads, look on the left menu and you should see an option for Posts.

Click on Posts and then you can write your post. Only about 100 characters will show, so if you have more to say, write a blog post on your website and link to it. If it's a short blurb about and event or special, you may be able to fit it in.
Add a photo if you have one. It definitely adds more interest to your post and studies show that posts with photos get more clicks.
Preview and then create post.
A few notes about Google Posts you should know about
They don't last forever. It'll show up on your listing for a week and then it disappears. There are no options for choosing length or making it sticky. It is a temporary listing, at least for right now. I did my first one and on the sixth day, I got a notice that it was about to expire so I could post a new one.
If you post more than one during that same stretch, they will both show up in a carousel.
Initial reports are indicating that the Google reporting for Google Posts isn't accurate, so you'll want to set up a campaign in your Google Analytics account to see the actual traffic or boost from the post.
Will Google Posts help with SEO?
This is a great question. It definitely helps with visibility, credibility and conversions but does it help with actual SEO? In terms of Google map searches, initial research suggests there is a small impact from using Google Posts. Some tests indicate that these impacts may actually last long after your posts have expired as well. But as with anything regarding SEO, doing just this one thing isn't enough.
A few tips for using Google Posts
Keep it brief – nobody wants to read your PhD dissertation. It will only show 100 characters, so either get it all in 100 characters, or else link to a post/page with more information.
Add a good photo – visual enhancements make a big difference. If you can use your own photos – of your business, work you do, new product, etc – that will make a bigger impact than a stock photo.
Make sure you have a Call-to-Action – everything you write in this post should point to the next step that the person reading it should take. The post shouldn't just be "Hire me, I'm great!" but have a specific goal attached to it. Rather, "Call me to fix your leaky roof today, because I'm great!" And that may not be the best phrasing, but it's better than the first example.
When you start posting, think about what your goal for the post to be. So many people don't have a goal, just want to throw something out on the web. That's not a good marketing strategy. Have a goal and create a post that helps you meet that goal.
This is such an easy feature that most businesses can benefit from taking advantage!
Join our list!
Our blog, delivered to your inbox. Never miss a post!