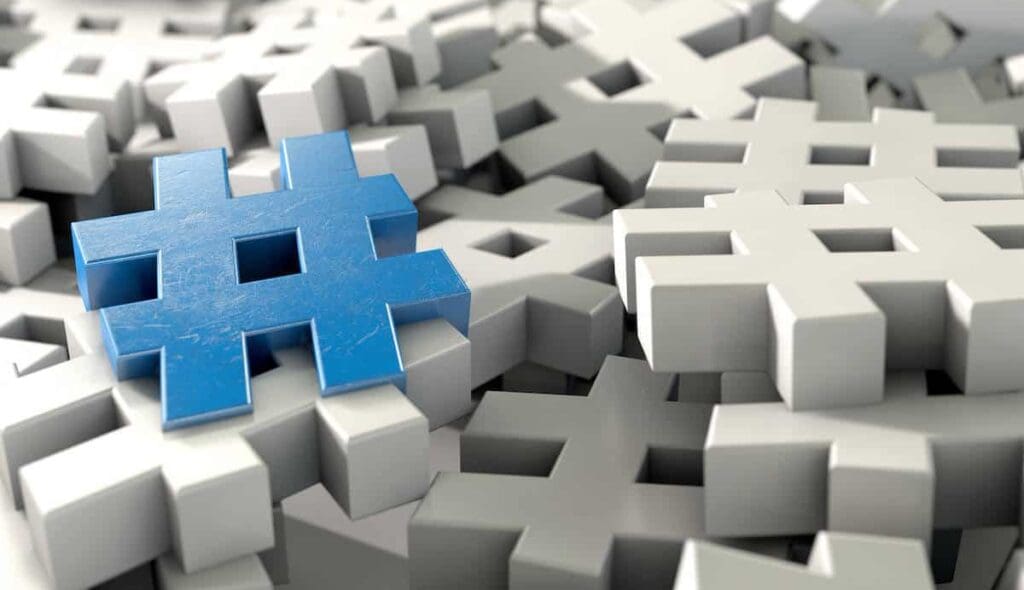 I want to take a few minutes to talk to you about hashtags. About what they are, what they are for, how to use them, and how to choose them. I see people using hashtags wrong all day long everyday, and it pains me. So I want to give a lesson in how to choose hashtags for social media today, so you can leverage traffic on these platforms to increase your visibility.
So what actually is a hashtag?
A hashtag is a word or phrase preceded by a pound sign (#) that's used on social media. Anything can be a hashtag. Here's an example of a post we shared on Twitter with hashtags.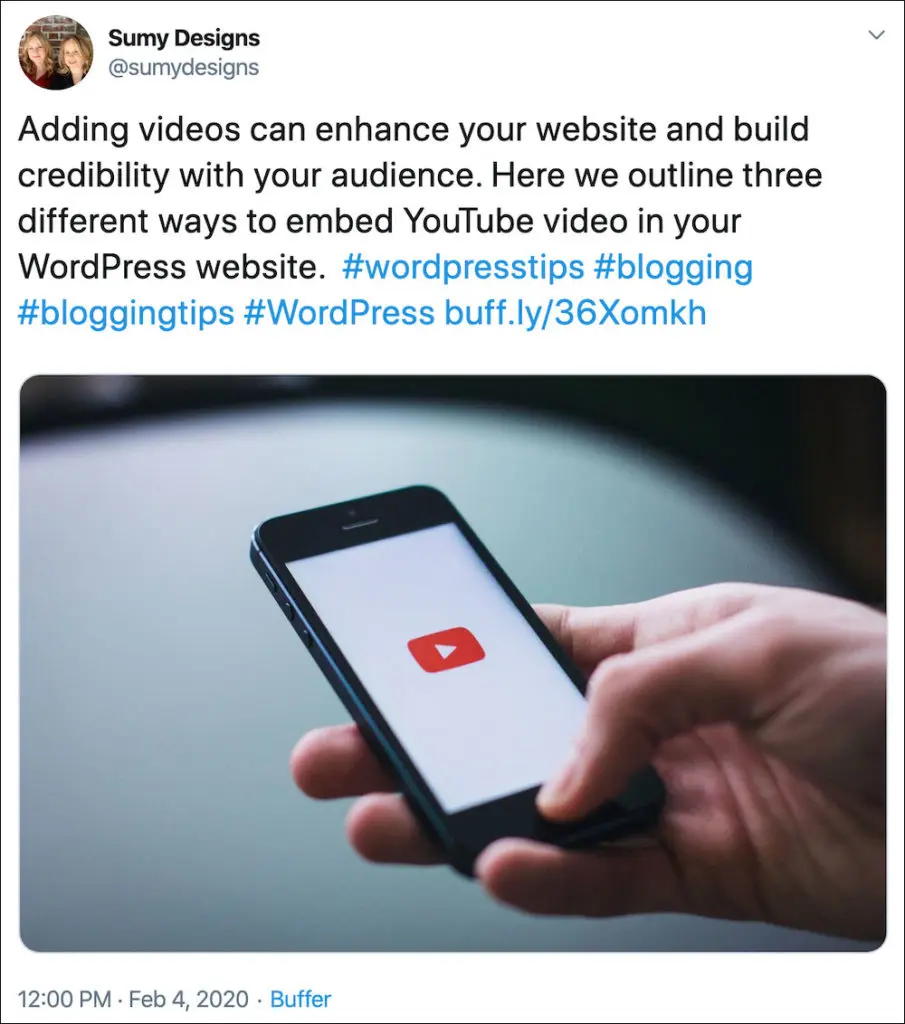 What is the purpose of hashtags?
The purpose of a hashtag is to group content, photos, or other information together on social media. When you post a tweet or share a photo on Instagram, the only people who are likely to see that post are people who already follow you. But there may be other people interested in what you are posting about, they just don't know you are posting about it. A hashtag is a way to group your content with similar content so people who are looking for it can find it.
Let me share a few examples.
My favorite conference I go to every year is WordCamp US. While there, I post a lot of tweets about what I'm doing, the sessions I'm going to, the networking I'm doing, and the things I'm learning. So do a lot of other people at the same conference. I don't know everyone at these conferences (although I'm meeting more every year) but I'm usually interested in what other conference goers are doing and what experiences they are sharing. So while at the conference, I'll use the hashtag for the conference, which is #WCUS. You can check out tweets from last year's WCUS using this hashtag and see what other folks posted about.
Coming this spring, I'll be attending WordCamp Europe for the first time, and you can already see what people are posting about the event now at the hashtag #WCEU. You can see Instagram posts using the same hashtag if Instagram is where you hang out.
In these examples, hashtags allow us to connect with other people at the same event and are super useful! Of course, these are conference examples, but this can be the case for any kind of event you might attend. As of the time I'm writing this, the Daytona 500 is happening and I can see that the hashtag #Daytona500 is trending. Someone who is interested in racing might use this as a way to see what other people are saying about the race, particularly people who are there when perhaps they can't be.
When else might hashtags be useful?
If you spend much time on Twitter, you'll notice that certain things start to trend. Trending is a word for when there's a topic that a lot of people are talking about. This can be news, politics, or even just funny jokes. One of my favorite hashtags was #1LetterWrongMovie, which is a joke thread where you change one letter of a movie title to change the meaning and make it funny. Or having a bad day and just want to see photos of cute puppies? There's a hashtag for that at #puppiesofinstagram.
On Instagram, people can actually follow hashtags so you can keep up to date with those puppies if you want, without having to keep searching for that hashtag.
People use hashstags to chat about all kinds of topics, like running, TV shows, music, and parenting. What makes these hashtags work and useful is that many people are using them to share info and events about common events and happenings.
How do people do it wrong?
What I see online is people using a ton of hashtags without any thought or consideration for why the hashtag might be useful or not. When it comes to using social media for business, it's important to choose a hashtag that is relevant to your business, relevant to the topic you are writing about, and that people are actually using and looking for. If you hashtag a word or phrase that nobody is using or reading about, it's not going to do anything to get your post in front of other users.
Some Hashtag Don'ts
Don't use too many hashtags. There are people who believe that if they shove as many hashtags into their post as possible, then they'll get more traffic to their post. And maybe this is true to some extent, but what is also true is that traffic to your post is only useful if those people are interested in your business. Getting hundreds of people to see your post doesn't do much if none of them are interested in your products and services.
Don't use hashtags in every post. Hashtags are a way to group similar content together, to join and share information. Not everything you post needs that. You should be engaging with your followers regularly, not just trying to drum up traffic through hashtags.
Don't use unrelated hashtags. Don't tag celebrities in your post that isn't about celebrities just to draw traffic. Don't use unrelated hashtags for brands or trending words to
Don't hashtag useless words. See my example below. Just because you are using the words sale and Wahoo in your post, doesn't you need to hashtag them. Most likely nobody is looking for those to find more information and way less likely that someone looking for what you offer is going to find you through a hashtag on a useless word.
Don't hijack hashtags. Just because something is trending, doesn't mean you need to jump on the bandwagon and try to use it for your own purposes. I mentioned earlier that #Daytona500 is trending because it's race weekend, but if your business doesn't involve racing, then don't try to use that hashtag to draw traffic to your post. This can definitely backfire on you.

Where to use hashtags
You may have noticed here that I've only referenced Twitter and Instagram in this post. Why? Because that's really the only places where hashtags are useful. I see it all the time when people put hashtags in their blog posts, or use their blog tags as hashtags.
Hashtags have zero use in your website. Zero. A hashtag is a way to group social media postings together by topic. WordPress has a category and tag system that allows you to group your blog posts by topic, and this is a similar concept to hashtagging on social media. But hashtags on your website are useless.
You may also notice I didn't mention Facebook hashtags. Can you use hashtags on Facebook? Yes. But most likely, they won't do anything for you. If you are using Facebook for personal use, using hashtags doesn't help because most users profiles are private – you aren't going to pull up strangers posts to join in the conversation. Facebook is a different concept.
If you are posting to your business Facebook page, then you can use hashtags. But, they will probably still not draw you much traffic for your business.
How to choose hashtags
Finally, now that you have learned what hashtags are for and what not to do, how do you find hashtags that are useful for your business? Do you know what is not the best method? Guessing! Don't just hashtag random words and hope it draws more traffic to you. So here are a few ways to choose hashtags for Twitter and Instagram.
Go to either social network and search for hashtags that you think might be relevant. Check out how many posts are using them, who is using them, and what kind of engagement they are getting.
Check out what hashtags your competitors are using. That's right, you should be keeping tabs on your competitors social media. That doesn't mean you should copy their hashtags, but it'll give you some ideas that may work for your business.
Look at trending topics. While you shouldn't hijack a hashtag to draw traffic to you or your brand, if you can contribute to the conversation in a relevant and useful way, then you may be able to leverage a popular hashtag.
Use hashtag tools like Hashtagify, tagdef, Ritetag, and KeywordTool to find popular and relevant hashtags.
Hashtags can be confusing when you get started, but they can be useful for your business if done well.
Join our list!
Our blog, delivered to your inbox. Never miss a post!