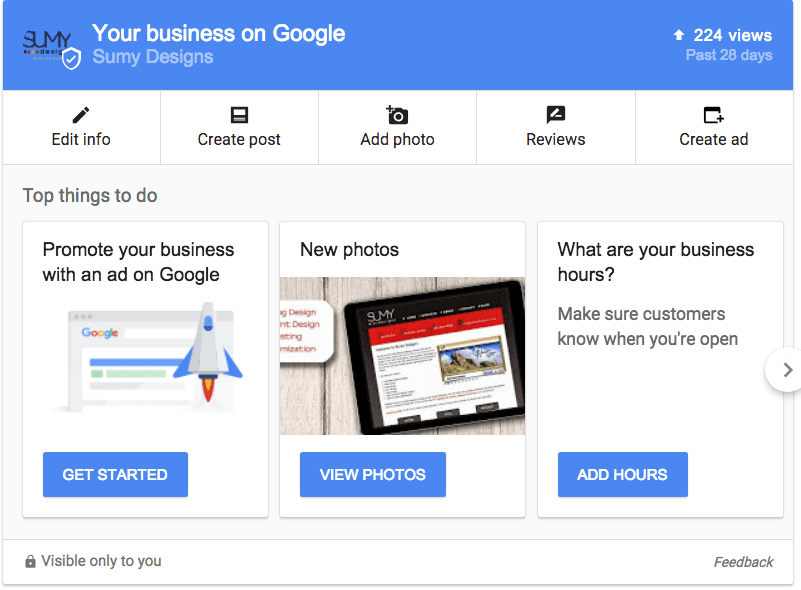 If you have a business, then you need to have it listed in Google. Did you know you can set up a Google My Business listing absolutely free? It's true! It helps your customers not only find you, but find valuable information about your business. The Google Business listing gets you on the map.
What do I mean map? When you do a Google search for a service business or store, at the top of the results are paid ads and then local listings on a map. The map is crucial, because it isn't just about organic rankings or SEO, it shows businesses who offer what you are looking for right there in your own town.
Let's use an example. In the image below, I have searched for "personal training." You can see the results.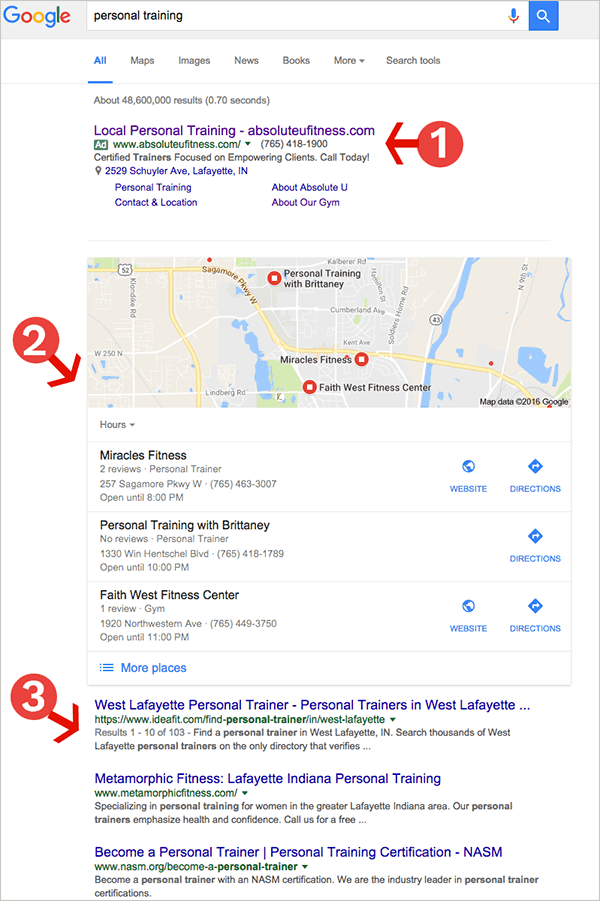 This is a pay-per-click ad. This gym is using Google Adwords to get to the top of the listings. (Which can be a great option if you are a local business looking to get increased traffic right away.)
These are your map listings. It shows me three listings right away, but gives me a toggle menu with the option to see more listings. This is great because it shows me all businesses that are within my area. This is getting on the map, which is vital.
These are organic listings and can be in your area or could be in other locations as well.
Your business needs to be on that map.
Did you know that your business might already have a listing in Google even if you didn't set it up? That's right, Google finds and adds businesses to their directory all the time. But if you don't claim your listing, then you're missing out on important insights.
So first, Google your business name. If you see a listing to the right with your info, then you're already there. You just need to claim it.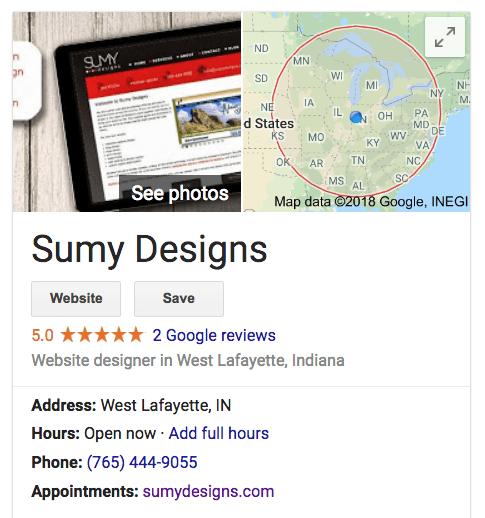 If you haven't claimed your listing, there will be a link on the listing that says, "Own this business?"

If you own the business, click the link and claim it. 
If your business isn't already on the map, or if it is but nobody has claimed it, then you will have to verify that you are the person in charge of managing that business. When you claim a business in Google, they want you to verify it so they will send a postcard to your business address. This postcard has a verification code on it, and once you get it you'll need to login to your Google Business account and enter that code. Don't wait too long – it will expire if you don't enter it!
Optimize Your Google Business Listing
You not only need to claim your listing, but you need to optimize it. Don't go with whatever info Google has auto populated, you need to fill it all in. Don't leave any fields empty. Hours, website, address, phone and be sure to add photos. Set up a profile photo, a cover photo, and additional photos of what you can do.
The more information you can add, the better positioned your business will be when people search for you.
Want to take it a step further? Submit a Google Post to make your listing stand out.
---
The two questions I get after this is:
1. How do I get to the top of the list?
The two things you should do to see your business rise to the top of the map list is to fill out your business listing completely. Don't leave out parts, like hours, etc. The more information you have, the better. The other thing you need to do is get reviews. Reviewed businesses will get a better ranking than non-reviewed businesses (even if the reviews are bad, oddly.)
Ask your clients to review your business on Google. You can even send an email blast to your clients, with a link to your Google page, and ask them to leave you a review. When people come to your business, give them a postcard or business card with a link to your Google page and ask them to leave you a review.
Reviews are huge! Try to get them.
But don't enter them yourself. Google is smart and will know if you are doing it. The reviews need to be from people logged into their own Google accounts.
2. How do I get people to click on my listing?
This all comes down to how much information you include. Did you do everything I said? Did you add in photos? Did you add in a detailed description? Did you put your hours, a picture of the front of your business, and a picture of you? Did you add a link to your website? Select a category? A completed listing will get you a better conversion than an incomplete one.
Secondly, have you added a call-to-action? Think about your customer and what they are looking for. Does your listing spell out that you are the person that will give them what they are looking for? They aren't landing on that map by accident, they searched for something you offer. Give them an incentive to click. New customer special? What makes you stand out? Write it up in your business listing and give them a reason to click.
Google Business Listings are absolute gold and if you don't sign up, you are missing on a great free resource!
Join our list!
Our blog, delivered to your inbox. Never miss a post!