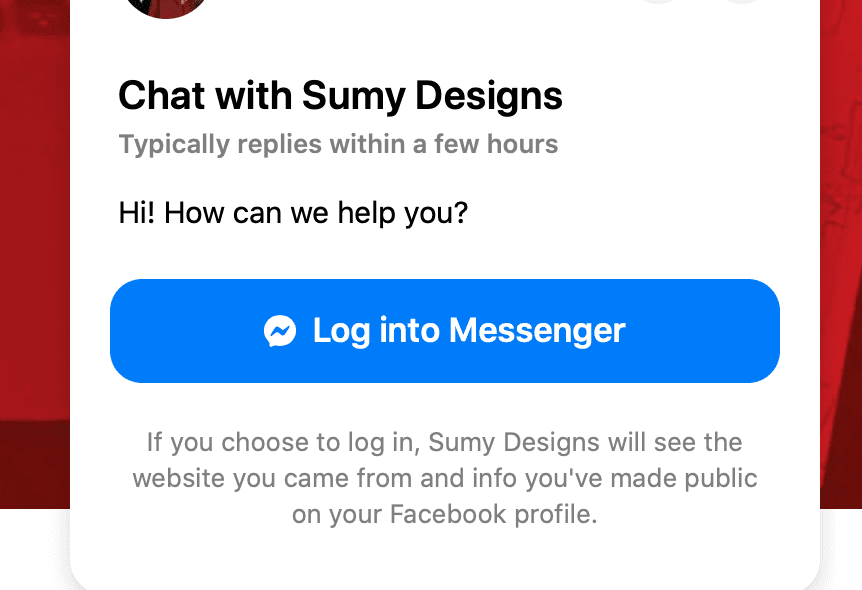 I'm an admin on a lot of different Facebook pages. One thing I've noticed over the last year is that more and more people are contacting businesses via Facebook messenger. Love it or hate it, if you have a business Facebook page, you will probably get messages through it.
What I've noticed is that a lot of business is being conducted over Facebook messenger. This will vary by industry, but if you use Facebook a lot, and/or also advertise on Facebook, and have been wondering about adding live chat to your website, then it might be a good idea to consider adding Facebook Messenger to your website.
What is Facebook Messenger?
For those who aren't familiar with it, Facebook Messenger is an instant messaging platform built into Facebook. You can use it while you are logged into Facebook on your desktop, or you can install a separate app for it on your device. It allows you to chat with friends or other people who use Facebook. If you buy or sell items on Facebook Marketplace, it's usually how you communicate with buyers and sellers.
Why put it on your website?
I have talked to a lot of business owners who are interested in adding Live Chat to their websites, but this can be difficult for a few reasons.
It can have fees depending on what chat you use.
You need to have someone who can respond to chats or you need to pay a service to respond to chats on your behalf.
You may need extra software or apps to use the chat.
If you already use Facebook and Facebook Messenger, adding it to your website is a natural extension of communication for you. You don't need to learn new software. You don't need to get new apps. You don't need to hire someone to monitor it, because you area already using it. If your customers are on Facebook, then this may be a great option for you.
How to add Facebook Messenger to your website
It's actually pretty easy if you have a WordPress site because there's a plugin for that. It's called The Official Facebook Chat Plugin and it's available in the repository. And it's free!
It's super easy to install. Add the plugin to your site and activate. Then there will be a "Customer Chat" menu in your Dashboard. Go there, and it will walk you through selecting the account you want to use for chat.
You must have a Facebook business page to use this plugin. It doesn't work with your personal profile.
Advantages of adding Facebook Messenger on your website
It's easy to set up.
Most people already know how to use it.
If you are already using it, it creates more channels for your customers to communicate with you.
It's free.
It puts live chat on your website.
Some drawbacks
Not everyone uses Facebook, so if you want chat to engage with potential customers and they aren't on Facebook, then this chat may not be the right option. This plugin does give you an option to allow people to chat as guests on your website, so they don't necessarily have to use Facebook. But, if they are someone who doesn't like Facebook, it can turn them away.
It can create additional work for you if a lot of people actually start using it.
---
Ultimately, it'll be up to you to decide if adding Facebook Messenger is a good option for your business, but it's free and easy, so it may be worth a try even if you end up not keeping it.
Join our list!
Our blog, delivered to your inbox. Never miss a post!