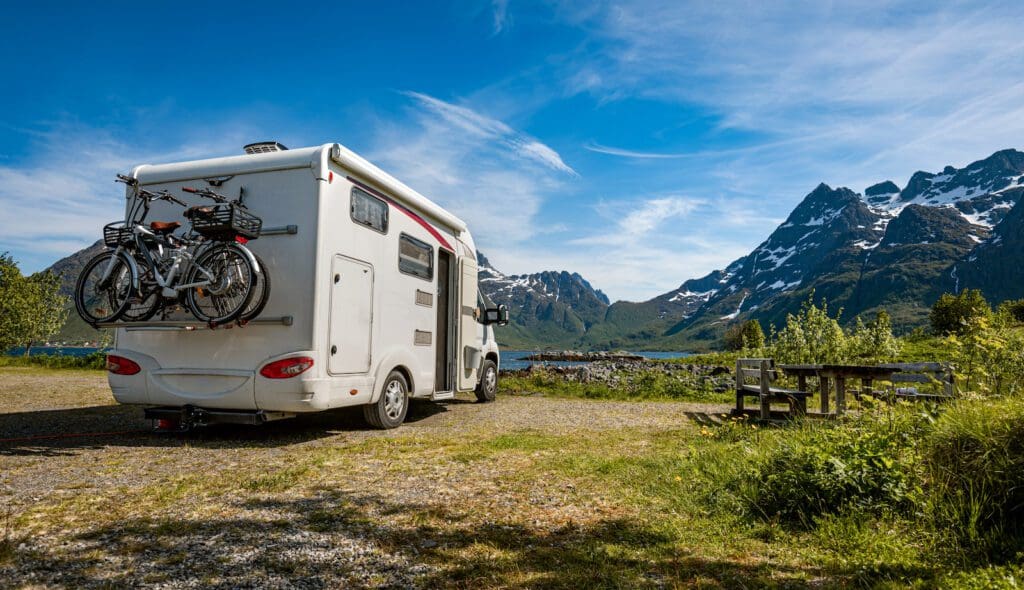 If you own or manage a campground, especially one in a touristy area that sees an influx of visitors, and you want a piece of that traffic, it's super important that you take some time to work on your campsite website design. You may not realize how important this piece of the puzzle is for your business, but you can't skimp on this if you want to attract touring campers to your campsite.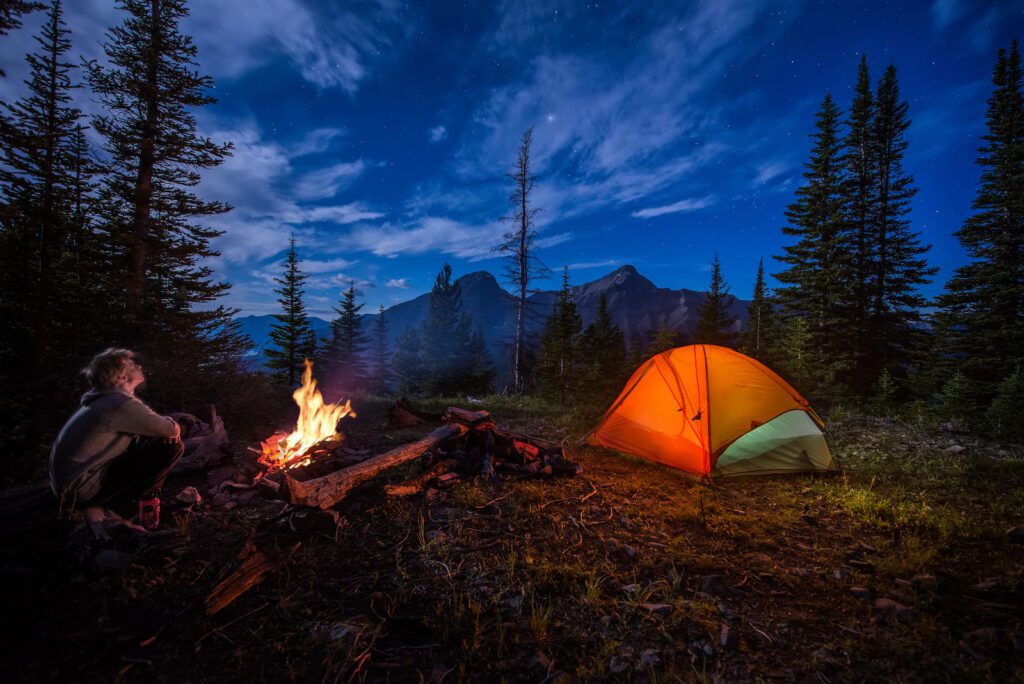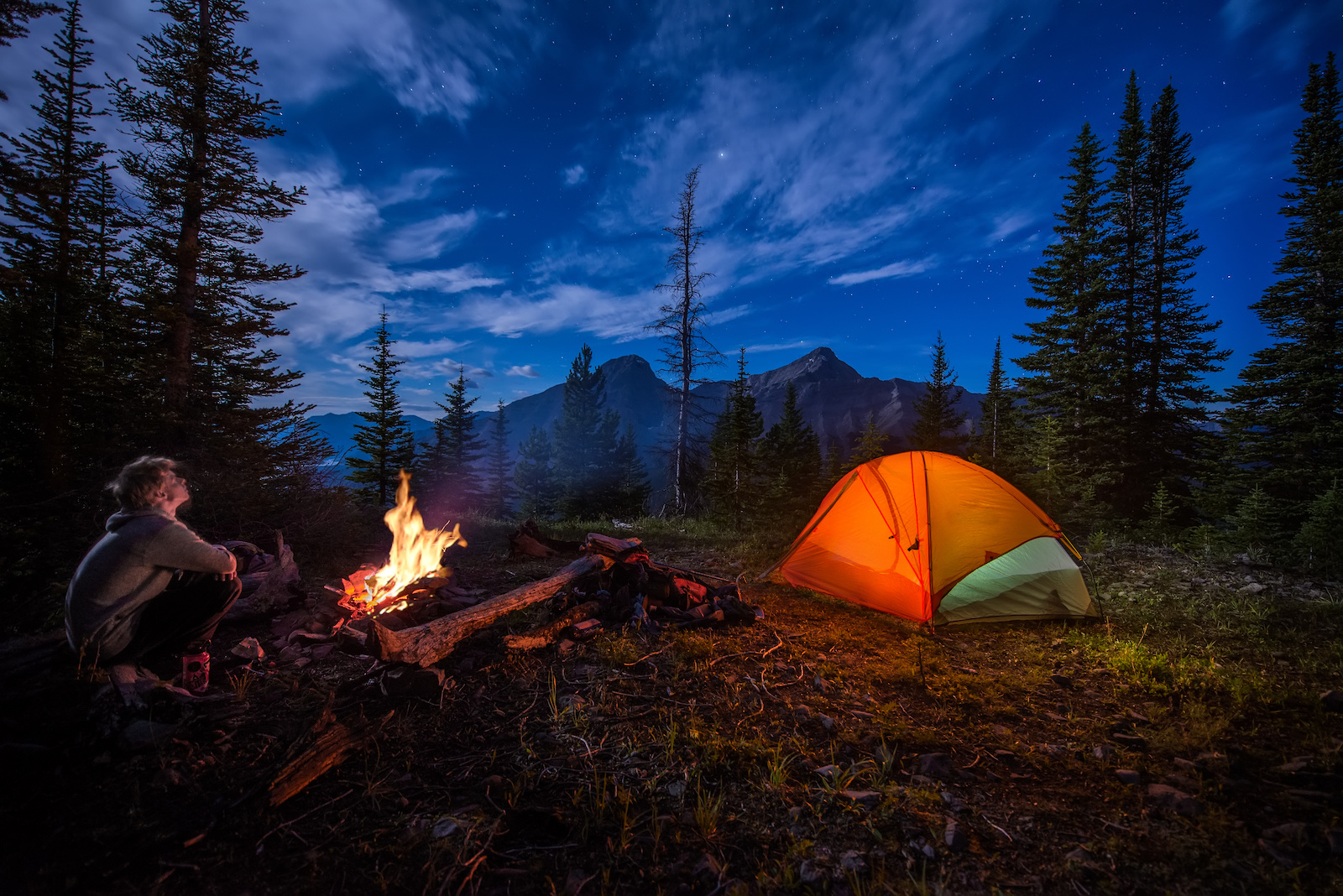 If you are a seasoned camper, then you are probably familiar with subpar campsite website design, but you are also probably familiar with what a good one looks like. When someone is looking to find a great campsite for their vacation, they have a number of things they are looking for. There are plenty of fantastic campgrounds that have really poor websites, but your website should be a reflection of your resort. If your website looks fantastic and is easy to use, you are more likely to get campers to make reservations. Which (I hope!) is increased revenue for you!
Important DOs when it comes to your campsite website design
Make it Mobile Friendly.
This is one of the most important things that gets forgotten when campgrounds don't update their websites from years past. People use phones now to access your website, so your website needs to be mobile friendly. If you do nothing else with your website, you need to do this one thing. Make it mobile-friendly. It's 2022. It's important for a lot of reasons. One is that not everyone even has a computer anymore, so a lot of people will ONLY see your site on their phone. And if your site is hard to navigate, then they will move on to the one that's not. But more importantly, a lot of folks travel around in their campers and RVs and need to be able to find your website and information about your campsite while they are on the go.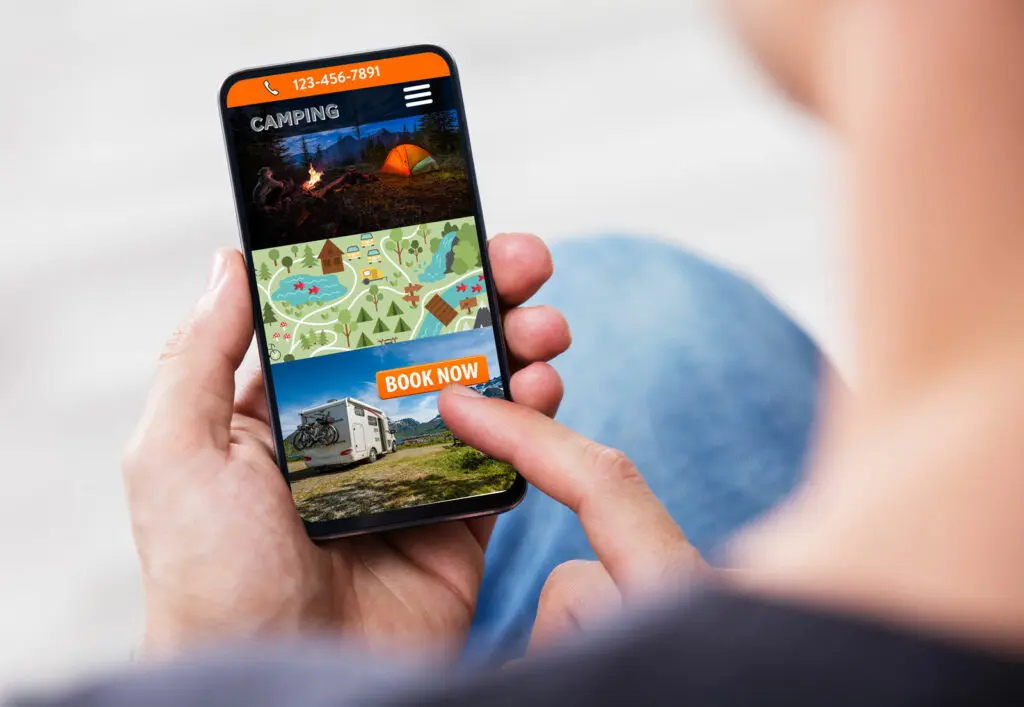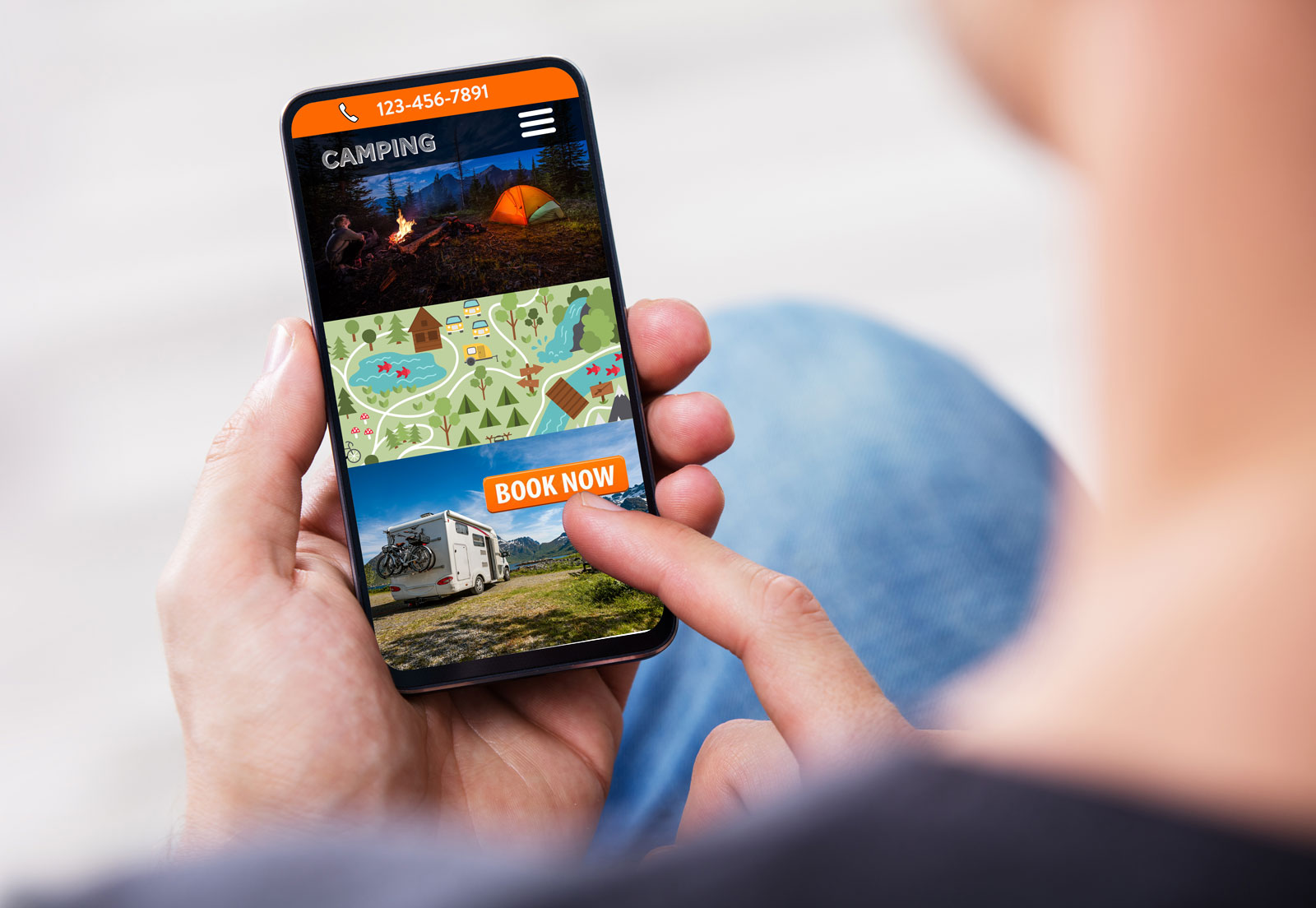 Share your Amenities.
Not every campground is created equally, and a lot of folks want to know what yours has to offer. Some folks travel around for months at a time, or even live in their RVs while working remotely, and so they need to be choosy about campsites so they can be sure to set up in a place that works for them.
Does your campsite have WIFI? And is it GOOD WIFI? Be sure to let people know if your campground has great WIFI.
Does your campground have good bathroom facilities? Are there pit toilets or do you have nice bathrooms with showers? For people who are living van life, having great bathrooms may be a higher priority than folks traveling in an RV.
Is there a pool or other recreational activities? For families traveling with kids, knowing what the campground has to offer to keep them entertained is super important! List everything you have that kids and families may want to have access to. Swimming, horses trails, volleyball courts, playgrounds, water sports, fitness room, etc. I recently saw one that had mini golf and a life size chess set, which looked really fun.
Is there a camp store? Can people find basic necessities and snacks? Firewood? Knowing you can quickly grab items you need can be a big plus.
Include Photos
Your campsite website design needs to include a lot of photos. And not stock photos, but real photos of your campground and your amenities. Photos of the entrance, the things to do, the camping sites, the bathrooms. People want to see what it looks like so they can tell if they want to book there. That's why it's so important to get really good, high quality photos of your campground. Get photos taking in the best light of the day, from the best angles. If you can swing it, hire a professional photographer to take the photos. I'm not joking when I say hiring an expert can make a huge difference. They can choose the right lighting, the right angles, the right arrangement, and more to make your website photos really showcase your campground. This is super important, and I wouldn't skimp on the photos.
Have a campsite map
Listing the types of campsites you have, as well as the types of campsites (RV vs. Tent) is important, but having a map so folks can see the layout and the structure of your campground is huge. This can be as simple a line drawing that shows where all the lots are in connection to the entrance and the amenities. Or, it could be as fancy as something similar that when you click on the lots, you can see photos and descriptions of what's available. Both provide value to your clients.
Online Reservations
I cannot stress this enough, in 2022, if your facility requires reservations, you absolutely must make it so people can make those reservations online. It's no longer optional. People are busy and they want to see what you have to offer, then book on the spot. Yes, it's going to cost more to incorporate online booking, but it will reduce administration time and it will increase bookings. And the good news is you don't have to reinvent the wheel. There are lots of ways to do this but one easy way to get started is with a third-party software such as Campspot or CampLife.
In addition to the ability to online booking, these are user friendly, allow online check-in, online signature collection, provide interactive campground maps, and do all the online payments for you. You can set it up, and let your campground manage itself.
Of course, the downside to these is that they have ongoing fees, either per reservation or monthly (or both) but often times those fees can be passed on to the customer.
There is booking software you can use specifically for WordPress, if you want to potentially reduce your ongoing fees. One example is WooCommerce Bookings. It works in conjunction with WooCommerce and WordPress to allow people to book your reservations online. I have set up an inn with this software before, and it does what it needs to do, but it's a lot of work to setup and manage and lacks a lot of features you'll get from the software specifically for managing campgrounds. For my money, I'd recommend one of those.
Phone Number
While online reservations are super important, some people still want to call. Be sure you include a clickable phone number at the top of every page of your site. People shouldn't have to go looking for your phone number if they have questions or want to call to reserve a campsite.
Some DON'Ts to avoid when it comes to your campsite website design
Don't autoplay music or videos.
Don't make the navigation hard to find or hidden.
Don't put personal or unrelated content on the site unless you can relate it back to camping in some way.
Don't keep out-of-date information on your site.
Don't make the fonts too small. Your text should be a minimum of 16 pixels. MINIMUM. And don't make your fonts too fancy. Text should be readable for everyone.
Don't use crummy web hosting that leaves you with a slow website.
Don't engage in link exchanges to build backlinks to your site. Use only appropriate link building techniques.
Don't use stock photos. If I look at your website and see gorgeous campgrounds, but your campsites look nothing like that, I'm going to know something is up.
Don't forget your contact information.
---
Are you getting confused about what web design services you need? Contact us today and we'll help you get your campsite website design in top notch shape in no time!
Join our list!
Our blog, delivered to your inbox. Never miss a post!