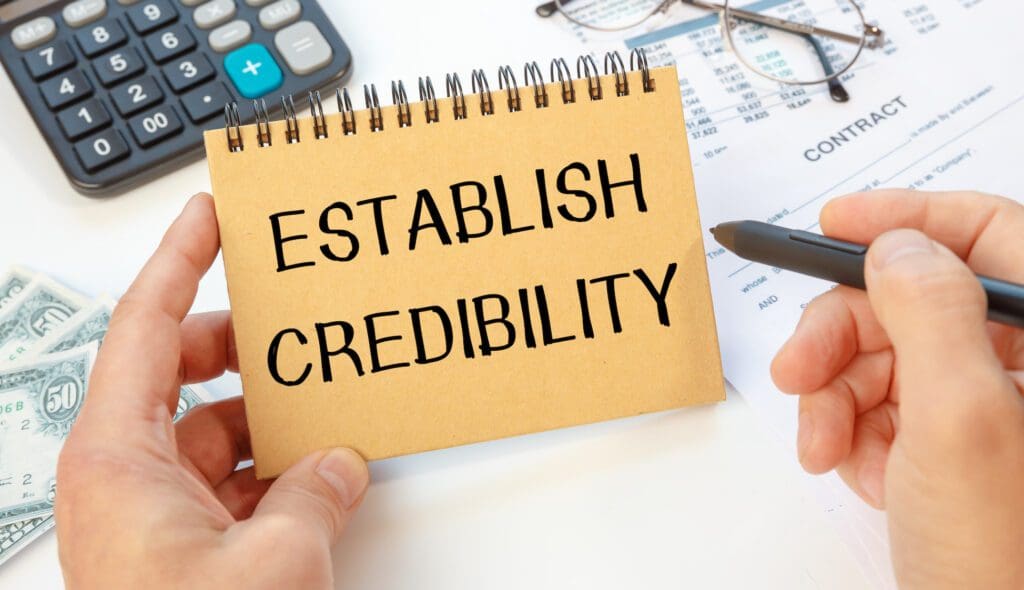 Anyone can make a website. Even if you aren't a professional website developer like me, it wouldn't be too complicated to pay for a DIY service and start posting your content. With the right amount of time and effort, those can function and look great. But is your website credible? That's a different question.
Back in my teaching days (a long, long time ago) one of the things I did in the classroom (I was the computer teacher) was to talk to kids about how to evaluate and critique websites to find out if the material you are looking at is credible or not.
Why does it matter?
It depends on the purpose of your website. If it's just a place to express yourself, then it may not. If it has an intended purpose, like to drive sales, to promote you, your business, your charity, your activism or some other mission, then credibility is vitally important.
You can't achieve any of your website goals if your website isn't credible. One of the top things I tell potential clients when I talk to them is that we're not just going to give them a website that looks good, we're going to help them have a website that converts their visitors into action. What that action is will vary depending on the content of the website, but the number one driver of any action is whether the website is credible.
What drives website credibility?
This will vary by industry and the purpose of your website. If you are interested in hiring a contractor to work on your website, you wouldn't hire someone without learning about their experience and seeing photos of their work. A photo gallery adds credibility, but another important aspect would be a current photo gallery. Seeing work someone did ten years ago isn't as relevant.
If you're a writer, having your articles, columns, and books listed on your website is key, as well as your photo and a bio.
If you're an activist, your website should list your affiliations, your memberships, who you are and why you are an activist and what your mission is.
E-commerce sites need to add a lot of things to build credibility because simply listing products isn't enough, you need to have a return policy, a privacy policy, and information about who you are and why you are selling these products. I have clicked through on many ads I've seen on Instagram, for product I thought looked neat, but then when I landed on the site, I couldn't find any information about who was behind it. Is this order going into a void? If I don't have information about who the company is, that's a big red flag.
Appearance is important too
No matter what anyone says, we do judge books by their covers. That means that having a professional website is going to play a role in your website's credibility as well. That means more than just having it look good, it's the entire user experience. Is it easy to navigate? Is it easy to use on all devices, especially your phone? Is it accessible for people with disabilities? Do you have social cards so that your links look great when you share them? There are a lot of little things that add up.
When your website looks like you put time, effort, and/or money into it, it shows people that you stand behind it. That lends to your credibility.
Tips for Maintaining Credibility on your Website
Also date your articles. When someone comes to your website to read what you've written, be it a medical journal, a technical article, or just a blog post, it's important to know WHEN it was written. If I find a piece on website development that was written ten years ago, it might not be relevant anymore. Without a date, I won't know that.
Include the author name on all articles. Unless your website is an author website in your name, and you are the only author, then it's really important to include names of the authors of those pieces, particularly if you have multiple authors. Posting anonymously gives people pause and makes them wonder who is behind it. Why should your article be trusted if we don't know who wrote it and what their motives are?
Use real photos. Most people can tell a stock photo a mile away. There is a time and place for stock photography, but if you can use real photos of you, of you, your business, your products, your community, do it. Just make sure you use photos you own, don't pull them off Google.
Don't forget your contact information. Nothing says "I'm real!" like several forms of communication. I always recommend people have a contact form on their site, because people do like filling in forms, but that is definitely one sided communication. If you want your website and business/organization to really look legitimate, you should also include an email address and a phone number. People may not call you, but having the option does create a more credible website, and that's the whole point. Also, if you have a phone number, some people will call you because some folks are just phone people. 🙂
Link to other reputable sources. Some website owners resist having links from their site to other websites, but look at it this way. A link is just a bibliography for what you have written about. It shows people that you aren't writing a single-sided piece, that there are other sources that agree and or support you.
Frequency: How often are you posting? If the last article you wrote has been a while, you might consider adding something new. Consistently added quality content goes a long way toward creating authority on your website.
---
I can't stress enough how important is it to build credibility with your target audience if you want your website to perform well. A website is an extension of you, your business, your organization or your mission and goals. If it leaves people wondering if they can trust you, it's not serving your business well.
Even if your business is a "word of mouth" business, people still want to look you up before they work with you, and what they find on your website can lead them to take action or not. You never get a second chance to make a first impression. Make it a good one by making your website's credibility a priority. You won't regret it.
Join our list!
Our blog, delivered to your inbox. Never miss a post!