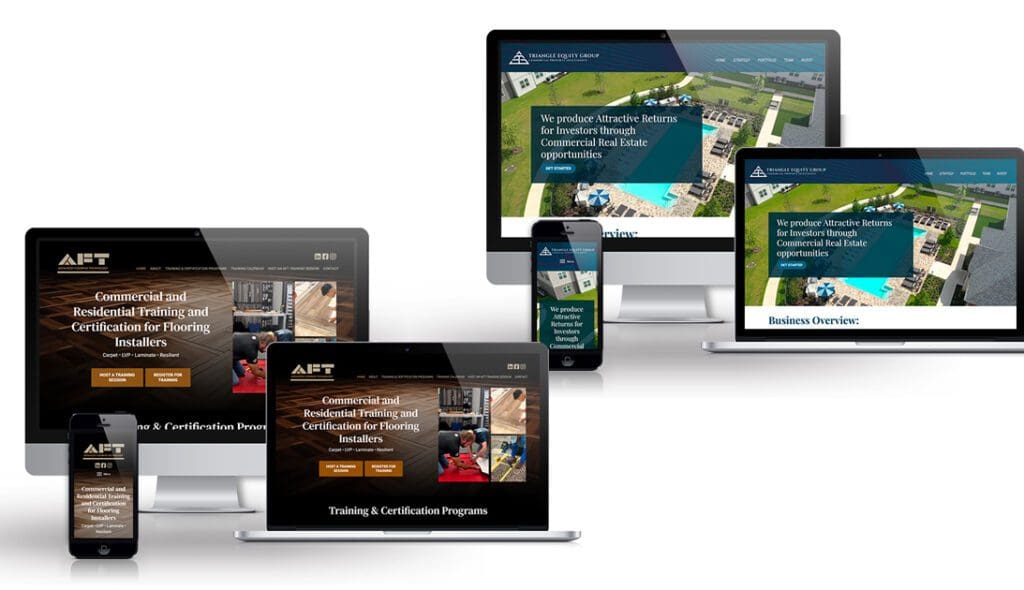 I think the majority of businesses or individuals looking into website packages don't have a lot of experience with what's involved, how long it takes, or what's included. So I thought today I might do a post that highlights what to expect in your website package, what is included in Sumy Designs website packages, and how to find the right one for you.
What should be included in all website packages
Every agency is going to have a different process for onboarding clients and managing their website process. This post isn't meant to be the definitive guide for what should and shouldn't be included in any website package from a company offering web design services, but it's what you can expect to be included when you work with Sumy Designs. And personally, I think a reputable company will have similar items included in their website packages.
Site information architecture and site map development
Website Information Architecture (IA) is the structural design and organization of a website's content, features, and functionality. It focuses on creating a clear and intuitive structure that helps users navigate and find information efficiently. The goal of information architecture is to enhance the user experience by presenting content in a logical and easily understandable manner. This involves the categorization, labeling, and structuring of content to facilitate seamless navigation. Before we talk about what your site should look like, we're going to talk about how your users will navigate your website.
Every business is different, and will have some uniqueness to what they need in terms of their website's content and functionality. Should the blog be front and center? Your e-commerce store? What is the priority? These are the things we plan for in this first step of your project.
Building a sitemap
Together, we will create a sitemap that outlines exactly how your navigation will be laid out, so you can see the different paths people can take to get to your content. We use a website called Gloomaps that lets us create a sitemap that we can create with our clients and save for the project. (It's easy to use and free.) It could look something like the example below, and can be more or less complicated depending on your site.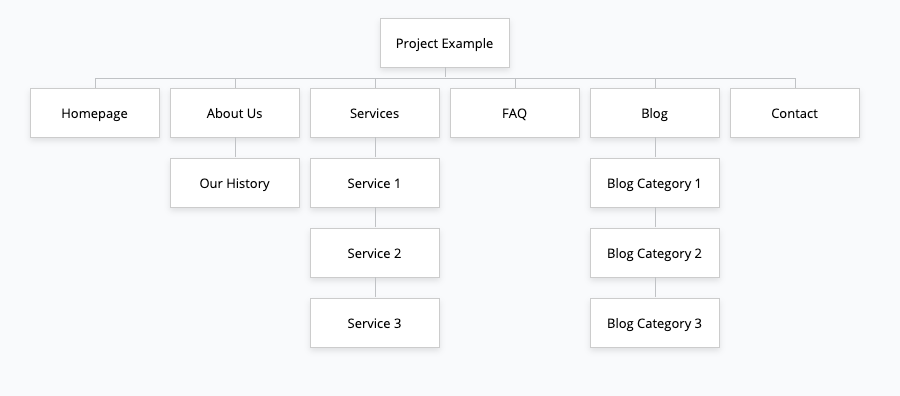 Website Design
The next step of the process is the website design. We work with you to understand your target demographic, your personal and business aesthetic, and your website goals to create a custom design that uses your branding and navigation. This includes design of all global site elements, in coordination with your brand, including the header, menu, sidebar, footer, typography, design patterns, and color palette.
This process includes creating a custom template design for your home page and default interior pages. By default interior pages, I mean the standard layout that most pages, after the homepage, will use. You want these to be consistent throughout, but that doesn't mean we can't use different content layouts to get your message delivered.
If you have a blog, this step will a custom template design for the main blog archive and the individual blog posts. We want the page that shows your blog posts to look great, as well as each individual blog post when people click through. Check out our blog archive to see what I mean.
I can keep giving examples, but I think you get the idea. Whatever the primary purpose/function of your website, we're going to create a custom design for that part of your website so you know what it will look like when your users land on that page.
Every designer is going to present your website design differently depending on the tools they use. There are a lot of different tools for designing. Adobe itself has a wide array of products that are suitable for this process. We currently use Adobe XD to design and share your website pages with you. These are static designs, not interactive, so while you can view them in your web browser, they won't include any functionality at this stage in the process.
Website/Theme Development
Another thing always included in our website packages is the website development. During this part of the process, we develop a custom, responsive WordPress theme based on the website design. This is what takes the design from being a static vision, to being a working website.
The theme is what controls the global aspect of your website – the header, footer, the fonts, colors, sizes, etc. It's what makes it so that when you add new posts and new pages that everything is consistent and cohesive.
Page Layout
Once we have the theme set up, the next part is setting up all the pages and content. This is where we create all the pages your site needs, get them set up with all your content and images, set up the navigation, the calls-to-action, and all the other necessary aspects of the content of your site.
You may be asking this question: Is content writing included in website packages? For us, it is not included by default, but we can work with you to help you with your content. We have some guides to help you develop your own content, or we can refer you to a variety of writers who can write content for you. We've even been known to use ChatGPT to get some started content for a website.
Functionality Set Up & Plugin Configuration
A lot of sites are mostly informational in nature, but almost all sites will need some kind of functionality, even if it's just a simple contact form. The next thing that we include in our website packages is setting up your functionality. This may include setting up additional plugins. If you need a contact form, we'll set up and configure Gravity Forms. If you need a membership site, we might set up MemberPress or PaidMembershipPro. Need e-commerce? We'll configure WooCommerce. Whatever functionality your website needs, setting it up and configuring it is part of this process.
We will install and configure all plugins you need to make your website functional.
Website Launch
The last main component of all of our website packages is the website launch. And this is where we take your site from staging, a separate server where you can see and test your website while it's in development, to making it live on your domain. This might include transferring the site onto your own hosting account, adding Google Analytics, setting up plugins for security and other things that would have been determined in your proposal.
---
A few other things that should be included in website packages
Discovery. Part of this process is going to be your web design company learning about your business, your competitors, and your target demographic. This is an important step in our process. We can't develop a strategy for your website without it.
Training. If you are getting a new website and intend to manage that website, you will need some training to do it well. We typically do these via Zoom and provide you with a recorded call. We may also provide written or video tutorials for reference later.
Spam protection. If you have a form, you will have spam if you don't configure some kind of spam protection like Akismet.
URL Redirections (if needed). If you had a previous site before getting your new website, then it's likely that you may need to redirect old pages to the new pages if the page structure has changed, or old posts or pages have been removed. You don't want anyone hitting error pages.
What is often not included in web design packages
Copywriting. This can often be added to your package, but I think in most cases is not included by default.
Domain names. Some agencies will purchase your domain name for you, but I am of the opinion that you should buy your own domain name in your own account, so that if something were to happen, be it the company you use going out of business or you deciding you need to move on, you have what you need.
Web Hosting. Same situation as domains. Some companies offer this, but having your own account ensures that you maintain ownership of everything about your website.
SEO. SEO is not included in your web design package by default, but it may be added on. If you want SEO, make sure that's something you communicate and is written into your contract, rather than assume that's part of the package.
Set up third-party accounts. Accounts like payment gateways, marketing or ad accounts, or email newsletter accounts like MailChimp. Those are things you will need to set up on your own, and perhaps grant your web design company access to. But setting up those accounts for you is not a standard part of our packages.
---
Join our list!
Our blog, delivered to your inbox. Never miss a post!