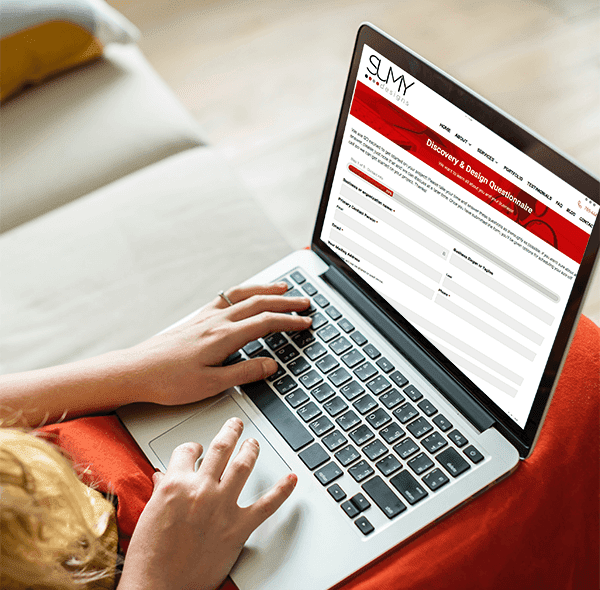 Whether this is your first website or a redesign of an existing one, you may be asking yourself what exactly is involved in the process of getting a new website design?
Our team follows a step-by-step model to make sure that we meet your needs, complete the project in a timely matter, but also that we educate you on the process from start to finish. Below is breakdown of all of these steps so that you can learn what to expect when you get started with a new website design.
Website Design Phases at Sumy Designs
Phase One: Discovery

What discovery means is that we are going to spend some time learning about your business. We will begin by asking you to complete a pretty detailed discovery questionnaire. Don't be shy, this is where you need to tells us everything we need to know about you, your business, and what makes it great. Don't be afraid to toot your own horn! Nobody else is going to do it for you!
We'll also take a look through your competitors' websites to get an idea of what they are doing. We need to know who you are competing with and how we can make sure that your website is competitors with what is being offered elsewhere online.
We'll also take a look at websites you like, so we can learn about your aesthetic. These websites may not be related to your field, but will give us an idea of what you think looks good. We'll examine these sites and ask you questions about why you like them, what appeals to you about them, and learn more about what you think makes a website design look fantastic.
During this phase, we'll also schedule a kick-off call, which is when the whole team gets together via video call to go over the project together. This gives you an idea of what to expect, as well as an idea of what we expect out of you during this phase. We'll show you how to use the shared DropBox to give us your content and photos, and answer all your questions.
Phase Two: Design

This phase is really where the magic happens. You'll work with our amazing graphic designer, Susan Sullivan, during this website design phase. She'll take everything we learned during discovery along with her own innate design sense and skill and create an original concept for your website.
This concept Susan creates for your website is typically just the website design for your homepage. The rest of the site, including interior pages, blog posts, and shopping cart if needed are based on the homepage template, with variations for content and graphics.
When you get the initial concept, it will come in an email via PDF. If you are wondering what that concept looks like, have no fear. I've included one that you can download and review here.
The concept includes information about the color palette, typography, as well as a responsive guide so you can get an idea of how that site would look on various devices.
Once you receive your website design concept, we ask that you take some time and really review it in detail. Set some time to look over it with all your decision makers and evaluate what you like and what you don't like.
It's important to really think about the concept because the next step is providing feedback and requesting changes. It's important that during this step you are honest with us about what you like and what you would like changed. If you are worried about hurting our feelings, then we can't know how to make changes that will give you a design you'll love.
One thing to keep in mind during this phase is that the entire concept is not just a website design, it's created "by design." What that means is that everything has a purpose, and it's just thrown into the concept to make it pretty. Yes, we want the website to be beautiful and professional, but we also want it to work, which is why we design websites with a strategy.
You will continue to work with Susan with your feedback through a number of revisions if needed. You'll provide feedback and she'll make revisions until you are thrilled with how the website looks.
Phase 3: Development

Once you have approved the design of your new website, then we switch to development, which is when the fun really gets started. Susan sends the files over to Amy to get started building the site.
What happens next is that I will build your site on a development environment. A development environment is just a place, either on our computer or on a hidden URL, where we build the site that Susan designed. I take all of the work that Susan put into website design and create a real, functional website. This means that instead of a PDF, we'll be creating something you can view in your web browser.
During this phase, we'll also begin setting up all your interior pages, so we hope you've put that DropBox we shared to good use and gotten most, if not all, of your content uploaded. The website can't be completed if your content isn't ready. When it comes to content, remember that perfect is the enemy of done and you can always change your content later.
Once we get your website built and all your content put in, we'll send you a link to view it on a hidden, private URL that's hidden from search engines. You'll be able to test it on your computer, your tablet, and your phone to make sure it looks and works how you expected.
Phase 4: Testing

Now is your time, while the site is still in development, to really go through it and make sure it looks and acts as you expected. It's time for you and your team to open up the website on every device and make sure it looks great. It's time for you to read your content and make sure you are satisfied with it. It's time for you click all the buttons, test all the links, and submit all the forms. Use the website like you want your clients to use the website. Make sure it's meeting all your needs.
I'll provide you with a document you can use for recording anything you find amiss or any changes you want. Note, this is not the time to come up with new design ideas! That should have been done during phase 2. Once you finish reviewing the site, you'll provide us with the website design changes document we provided you and we'll go through your change requests and update the site. After it's been updated, we'll ask you to go through the site one more time prior to launch to make sure it's perfect. We aren't perfect, so it's always good to have a few sets of eyes making sure nothing was missed.
Phase 5: Launch!

Possibly the most exciting phase of the process, it's our website launch phase. This is when we take your website and release it to the world! If you have an existing website, we'll archive it and put it in your DropBox, so you have a copy. Then we'll do all the technical things needed to put your new website on your domain. Sometimes this involves helping you select and set up your web hosting account. Sometimes it involves making DNS changes to your domain so it knows where your site files are located. This can be different depending on your web host is, what kind of hosting you have, and if you've had a website before. Don't worry, though, we've done this a lot!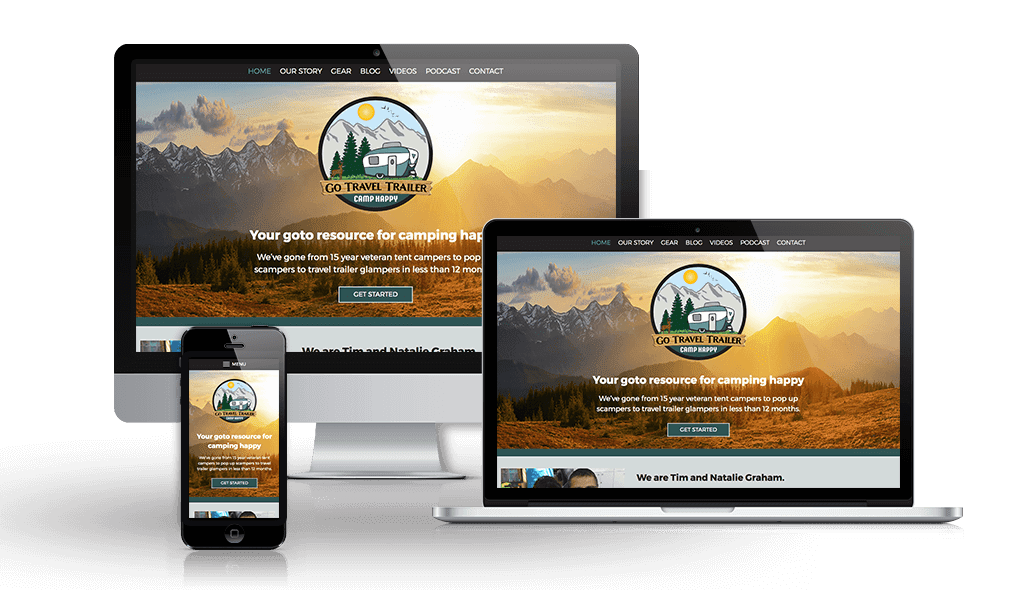 At the end of this phase, we'll make a full backup of your new site and put it into the DropBox for you to download and store. We'll also provide you with the completed design file for you to download as well, so that you always have everything you need in the event that we're unavailable for some reason.
Phase 6: Training and Support
Once you've celebrated your website launch, then it's time to think about what happens next. First, we'll schedule a video training call. This is a call we make using Zoom, where you can see us and we can share our screen with you, and you can share your screen with us, where we walk you through how to make changes and updated to your website. It's your website and we want you to own it, which often means adding blog posts, products, or changing your content. Remember, I said your content wasn't set in stone.
It's also the time to talk about ongoing support. Long gone are the days of "set it and forget it." Now your website needs care. There is software to update and backups to run to make sure that your site is functioning at it's best. Don't worry though, we've got you covered. We offer a variety of website support plans to help you as much or as little as you need.
What about SEO?
If you've also hired us for our SEO services, then we will have been working on that during this whole process. SEO has it's own set of phases from discovery to on-page optimization and monitoring.
One thing you get from Sumy Designs when it comes to website design is a personal touch. We are going to be with you throughout the process. We'll answer you emails, we'll get to know you, and you'll feel comfortable working with us. We want our clients to feel like they know us as well. Although most of our communication will be mostly via email, we want you to know that we're here for you when you need us, we don't think your questions are stupid, and we want you to succeed.
We don't just develop websites… we develop relationships.
Join our list!
Our blog, delivered to your inbox. Never miss a post!