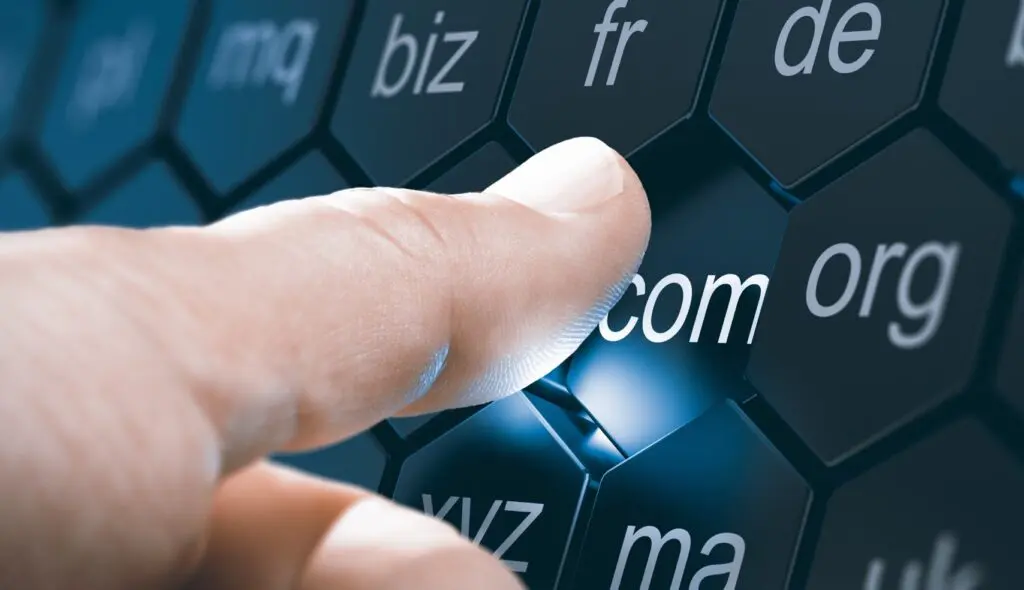 Have you gotten a notification recently about Google Domains being purchased by Squarespace and aren't sure what that means for you? I've been getting questions, so I'm here with answers. First, here's the notice I received:

Squarespace recently announced that it entered into an agreement to purchase all domain name registrations and related customer accounts from Google Domains. As a valued customer we wanted to make you aware of the following important information.
What happens now?
There is nothing you need to do at this time. Your domain will continue to operate and be managed by Google until it is time to move to Squarespace. That won't happen until after the transaction closes and the migration process begins, which will likely take place over the next few months.
What happens next?
All customers will be moved to Squarespace Domains in the coming months. You will be notified once your domain has moved. Squarespace Domains is an independent domain registrar service provided by Squarespace.
Squarespace has publicly committed to continue to utilize Google Cloud DNS infrastructure, meaning reliability and performance regarding DNS will remain unchanged during the migration.
The purchase is currently subject to regulatory approval and other customary closing conditions. Upon the closing of the transaction, your domain account will be owned by Squarespace but you will continue to manage your domain(s) via Google Domains as you do today, with Google's Privacy Policy and Terms of Service continuing to apply.
Learn more about Squarespace's plan for domains here.
Squarespace and Google are committed to a seamless transition. For a limited period of time post-close until your account is migrated to Squarespace, your account will be managed by Squarespace utilizing Google's infrastructure. After this migration period Squarespace will be solely responsible for providing domain services to you. During the migration period after the closing of the transaction, your customer and, if applicable, billing information will be migrated to Squarespace. Upon migration – which will be at least 30 days from today – your data will be governed by Squarespace's Privacy Policy and Squarespace's Terms of Service will apply. Additionally, if you have a Google Workspace subscription billed by Google Domains, billing and support services for such subscription will be transitioned to Squarespace. Following closing of the transaction, you will receive instructions from Squarespace on how to manage your domain(s) via a Squarespace account (including DNS, WHOIS, and renewal settings).
You will continue to have the ability to transfer your domain(s) to another registrar prior to such migration or at any time thereafter.
In the meantime, if you need help with anything related to your domain please contact us. You can also learn more about Squarespace here.
To start, what is Squarespace?
Squarespace is an all-in-one website building and hosting platform. Basically, a DIY website platform that is good for someone who wants to build their own website without a lot of technical skill.
What does this mean for you?
You will have a new domain registrar
If you registered your domains at Google, what this means is that your domain registration will be moved to an account at Squarespace and in order to manage your domain, you will need a Squarespace account. One of the benefits of buying a domain from Google was that, since most people already have a Google account, you didn't have to remember a new login. Regardless of whether you go with the flow and keep your domain registered with Squarespace or migrate it to a new registrar, you will now have to remember where your domain is registered as well as a new login for it.
Because once you get your domain and website up, most people don't need to make many changes to their domain, it's pretty common to forget where it's registered or how to access it. So I predict down the road, a lot of folks will forget their domain even got moved, making it harder to get access when they need it.
The price may go up
Squarespace has committed to honoring the current domain registration price for the first year, but after that, it may go up. Currently, Google domains are priced at $12 a year for regular domain extensions (.com, org, etc) and at Squarespace it's $20 a year.
Expect sales pitches
Squarespace isn't primarily a domain registrar, they are a SaaS (Software as a Service) company, and acquiring Google domains is a way to gain access to millions of clients who may need to build websites. This is a strategic move, so I would expect emails or calls after the migration to sell you on their platform.
What are your options?
There are basically two options here.
Do nothing. Make a note of any emails from Squarespace, and after the migration, be sure you login/create your account and know how to access your domain registration and make sure you have a valid credit card on file for renewal fees.
Migrate to a new registrar. Technically, this is already what's happening when your domain moves to Squarespace, but if you don't want it on Squarespace, then you can preemptively transfer it to the registrar of your choice.
What are the pros and cons of moving to a new (not Squarespace) registrar?
The main benefit of doing this is that you take control of your domain and put it in an account you create and avoid the possible confusion or loss of access. This way you know where it is, what the account login and password is, because you set it up and managed it.
The main downside of this plan is that transferring domains between registrars can be a hassle and can take up to a week.
However, if you already have other domains at another registrar, now is a great opportunity to migrate the ones at Google to your other account so that you have all your domains in one place.
---
How to transfer your domain to a new registrar
If you decide you'd like to go ahead and migrate your domain on your own, first you need to decide on a registrar. I wrote a pretty in-depth blog post about my feelings on web hosting and domain registration and you can go read it here.
Here are the steps for transferring your domain to a new registrar:
Check Eligibility: Before initiating a domain transfer, make sure your domain is eligible for transfer. The domain should be at least 60 days old and not within 60 days of expiration or renewal.
Prepare the Domain: Unlock your domain at your current registrar. This removes any domain transfer restrictions. Also, disable any privacy protection services temporarily, as they can interfere with the transfer process.
Obtain Transfer Authorization Code (EPP Code or sometimes called Auth Code): Obtain an authorization code (also known as an EPP code or transfer key) from your current registrar. This code acts as a security measure to ensure that you, the domain owner, are authorizing the transfer.
Initiate Transfer at the New Registrar:

Create an account with the new registrar if you don't already have one.
Initiate the transfer process on the new registrar's website.
Provide the domain name and the authorization code during the transfer setup.

Confirm and Pay: Review the transfer details and ensure that the domain name and contact information are accurate. Pay any transfer fees required by the new registrar.
Accept Transfer Request: The current registrar will receive a transfer request notification and will usually send an email to the domain's administrative contact for approval. Follow the instructions in the email to confirm the transfer. Some registrars might require you to log in to their portal to approve the transfer. Some don't require that, and you just have to wait.
Wait for Transfer Approval: The transfer request might take a few days to process, during which the current registrar has time to approve or deny the transfer. If you've followed the steps correctly, and the domain is eligible, the transfer is typically approved.
Domain Transfer Completion: Once the transfer is approved, the domain will be transferred to the new registrar. The process can take a few days to a week, depending on the registrars involved.
Where you choose to register your domain is up to you. However, my recommendation is to use a company that is an actual registrar, and not one that is a domain reseller. I could sell you a domain, but I'm not a registrar, so I would be making the transaction on your behalf at one of these other companies. The main thing you probably need to do at your domain registrar is manage your DNS. You can do that at any registrars, but some are easier than others. For most people, you will probably ask your web developer to take care of DNS changes because they can be confusing and scary and one wrong move can shut down your email or website. But personally, I find the GoDaddy DNS interface easy to use and their domain prices are pretty low.
---
"My domains aren't even registered at Google, why did I get an email about this?"
A lot of web hosting companies are taking this news as a way to drum up business for their own company and encourage you to migrate your domain to your existing account with them. A lot of web hosts sent out blanket emails to all of their customers to alert them to this change and encourage them to transfer their domains. This might be confusing if your domain isn't registered at Google right now!
---
In conclusion, basically all domains registered at Google are going to move to Squarespace within the next few months. If you don't want your domain registered there, you can move it somewhere else now. Otherwise, the only change is that you will login to Squarespace to manage it and you'll pay Squarespace the renewal fees.
Feel free to ask questions in the comments.
Join our list!
Our blog, delivered to your inbox. Never miss a post!