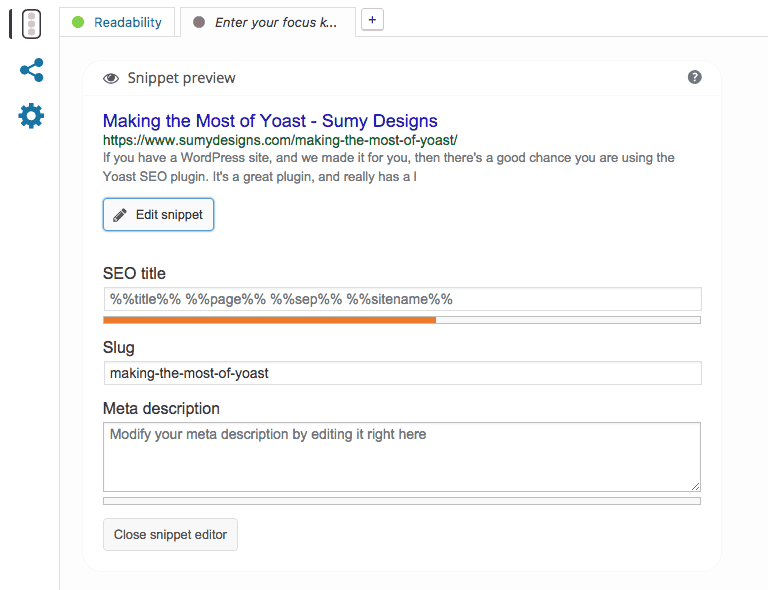 If you have a WordPress site, and we made it for you, then there's a good chance you are using the Yoast SEO plugin. It's a great plugin, and really has a lot of great options for helping you to optimize your site for the search engines. What I really want to do today is focus on your website snippet and how you can effectively optimize that.
What's the snippet?
The snippet is essentially what someone will see in the Google search results when your web page is one of the results. For example, if I search for "Sumy Designs SEO" (this is a real screencap of this search) here's what you see: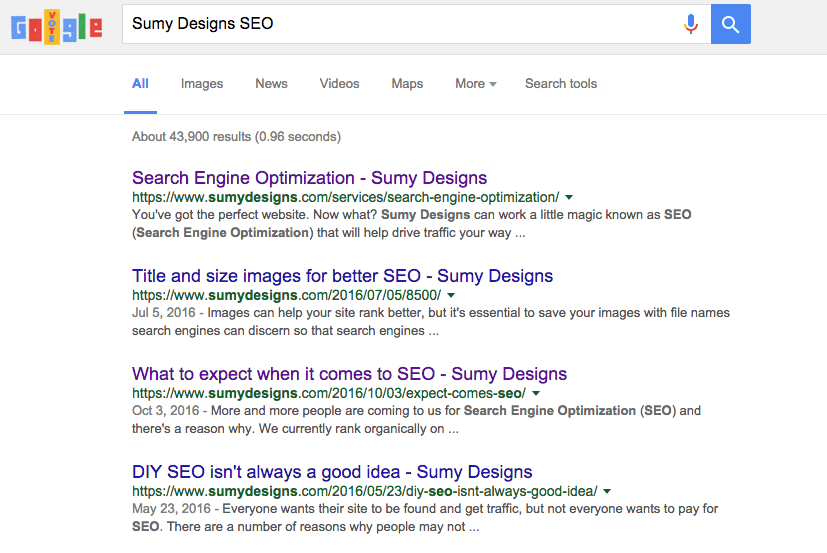 Your snippet is the 1) title 2) slug, and 3) description of a particular page in the search results.

If you don't specify what you want here, then the search engines will just pull the page title and content directly from your page. And that can be good enough. But with Yoast, you can actually specify exactly what you want here, and it doesn't have to be exactly what is on your page.
Why should you optimize the SEO snippet?
That snippet is the first thing someone will see when they search for your site. If you take the time to plan for what it looks like, you can try to write something that fully encapsulates what the page is about and encourages users to click on it, rather than just showing a preview of your content. It's a way for you to try to get searchers to click on your website link rather than the other listings that show up. And that's what you want. Thats what everyone wants!
How to change your snippet.
When you have Yoast installed, below your post writing area, you have a snippet editor. If you click the "Edit snippet" button, then you have the opportunity to change your snippet to whatever you want.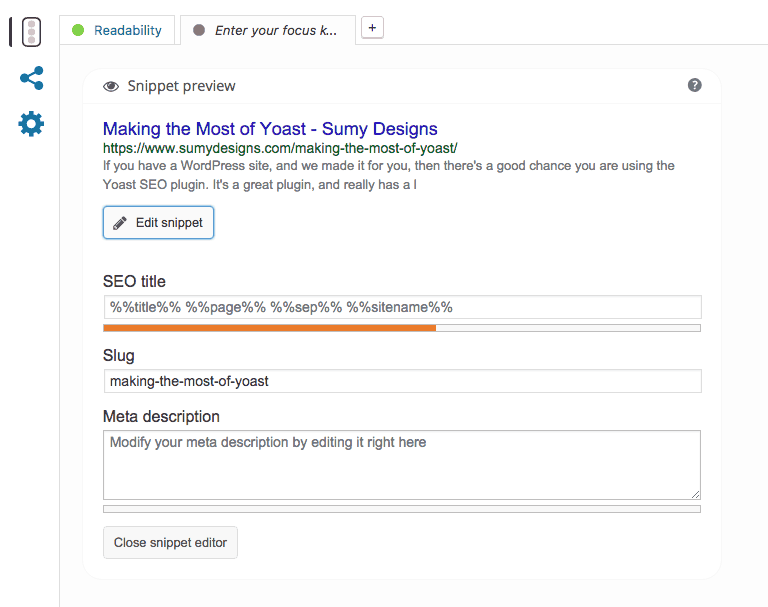 You can put in a great title that captures the searcher's attention. You can change your slug to properly define the page, and you can put in a meta description that describes your content and encourages users to click your link. When you're done, just click the "Close snippet editor" button and you've done it! Easy peasy.
Tip: Don't forget to include a reason why someone should click on your link. Are you an award winner? Have certifications? Are you offering a discount? Are your rates great? Whatever it is that makes you a good choice, list it in the description and get a step ahead of the competition who don't go that far. It doesn't take long and it's not hard to do.
Join our list!
Our blog, delivered to your inbox. Never miss a post!