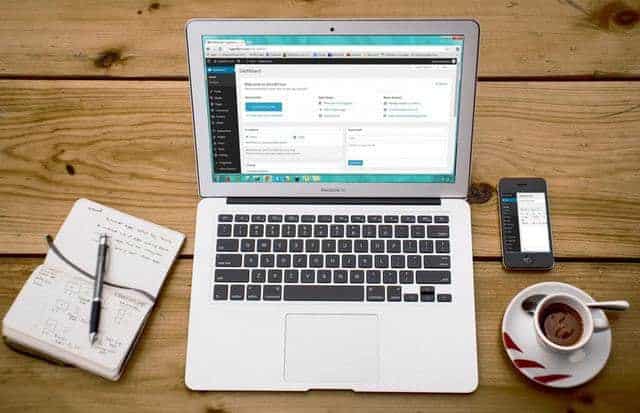 Yes.
People aren't following blogs like they used. In the early days of blogs, we used tools like Sage and Google Reader to add blog RSS feeds and see when blogs had updates. I remember back in 2005, when I followed a dozen mommy blogs, and each morning I'd get my coffee and check my feeds to see what was updated on the blogs.
With the death of Google Reader and other feed readers, and with people's generally increased levels of busy-ness, people aren't reading blogs as much. Blog readership is for sure down.
But that doesn't mean you need to stop blogging.
Once upon a time, a blog was more of a story. People followed your blog because they wanted to read your story. When I would find a blog I liked, I would go back and read the archives. Folks just aren't doing that as much anymore.
But that doesn't mean they aren't reading blogs anymore.
When I check out my traffic in Google Analytics, the page that gets the very most traffic in this site is the homepage. The page that gets the second most traffic is a blog post.
What this means is that people aren't following blogs, but they are still reading blogs. They are just reading them in a different way. Instead of following a story from start to finish, they'll click through on an interesting title in social media or find a blog post through search that answers a search query.
What does this mean for the business owner?
When it comes to blogging for business, the goal is to create new content that builds expertise, authority and trust for your website. People will still find your blog posts when they are searching. They will still read your blog posts when they are looking for answers to their questions.
More importantly, Google will still see that you are creating new content, hopefully quality content, on your subject area to help establish your business as an expert.
Blogging still has a lot of value for the business owner. (If it didn't, I wouldn't do it so much.) Not only that, it adds value for your customers too. Just because people aren't reading every post you write, doesn't mean they aren't finding your posts valuable.
Don't equate a reduction in overall readership with a reduction in blog value. Sharing your knowledge and content will increase the value of your websites and your business.
Join our list!
Our blog, delivered to your inbox. Never miss a post!