One of the main tasks when it comes to SEO is finding the best keywords for your business. But how do you go about that? Most business owners I talk to think of what words they'd search in Google to find their business, and that's what they go with. But that's not the best route to take to find keywords. One reason is that as a business owner, the terms you use may be different than the words someone else, particularly someone who isn't in or familiar with your industry, uses to find you.
If you go to Google and type in anything, you are going to get results, even if you type in nonsense. You'll almost never try a search and get zero results. But just because you see results, doesn't mean it's a good search term.
I've had a lot of folks come to me with their keyword ideas and get frustrated when they aren't ranking for what they think they should be ranking for, but they get frustrated because they aren't choosing the right keywords… they just don't know that.
There is a method to finding the best keywords for your business, and it's so important if you want to be found. Don't just guess and hope you got it right.
Brainstorm
To start with, come up with a list of terms you think would be good keywords. This isn't necessarily a list you will actually use. You might use these terms. But you might not. This just gets you started on where you think you might want to land
Research
Once you have an initial list of keywords, you'll want to begin your research. And this does not mean going to Google and typing in the keyword to see who pops up. This only shows you who is on the top of the list for that particular search when you perform the search. Google tailors search results based on many factors, such as your location and your search history. What you see in a Google search is not the same as what someone else will see.
But the biggest problem with that type of research is that it doesn't give you much information about the keyword. When choosing keywords, there are three main factors that I look at to determine if the keyword is a good keyword:
Search Volume: This is the volume (or number) of searches for a keyword in a specific timeframe. Is anyone even using this keyword in searches? If I do research and I see that there is no search volume, meaning there's not really enough data on the keyword to give me an idea of how many people might be using it to search, then that keyword is no good. What's the point of ranking #1 for a keyword that nobody is using?
Keyword Difficulty: This is an evaluation of how hard it is to compete for that keyword. It's all well and good to find the number 1 keyword that people are searching for when it comes to your industry… but if it's too competitive, you are likely not going to break into the ranks for it. It can be really hard for a small business to compete with some of the mega companies when it comes to SEO, so finding keywords that are less difficult but similarly useful is ideal.
Search Results: A lot of people don't pay attention to this factor in their keyword research, but I find it really important. If you research this keyword and you look at the top ten results for it, are those business similar to yours? Do they offer the same products and services that you do? If not, then that search may not be the best search for you. Funny story, years ago I spent a long time trying to optimize a page on this site for 'websites for writers' because I thought that keyword would be great. It has a decent search volume and didn't appear to difficult, but I could never seem to make any progress on it. It doesn't until I look at who was actual ranking that I figured out my problem. That keyword wasn't bringing up web designers… it was bringing up websites with resources for writers. Those are two different things. If Google doesn't think that my website is the right answer for that search, I'll never rank for it no matter how much I try.

The other consideration here when looking at the actual search results is if you think you can compete with the folks who are showing up in the top of the list. If you can see the top ten spots are filled with mega companies who are spending hundreds of thousands on SEO every year, chances are you aren't going to be competitive.
These are the three factors that I consider when I'm choosing a keyword. Is anyone looking for it? Is it attainable? Is it relevant?
If your keyword fits all three of those criteria, then it's probably a good choice. Here's my Venn diagram of this trifecta.
The next question is, how do you know if your keyword meets all three of those criteria? That's where research comes in to play. You can't just guess at these, you have to research. And to research, you will need to use some tools.
Keyword Research Tools
And this is where most people get stuck when it comes to doing their own SEO. They want to do SEO, and they want to get that organic traffic, but they don't want to pay for the tools you need to achieve results. When it comes to any kind of project, better tools typically give you a better results.
(Related but unrelated, this weekend I was trying to install under-cabinet lights. I spent a lot of time with my drill and regular drill bit trying to make a hole through a cabinet big enough to get the wire through. Finally gave up and went to the hardware store and bought a special bit. My hole was then drilled in under a minute. Having a better tool, that I paid for, made all the difference. The project still took me four hours, but would have taken much more time had I not gotten a new bit.)
Anyway, when you need to know the data on your keywords, you're going to need some tools. I pay for a variety of SEO tools. The first one I use is KWFinder by Mangools. I like it because I can put in my keyword, and the location of where I want to be found (which is especially important for locally based companies that aren't servicing people nationwide) and see all three aspects of my keyword trifecta.
Here's a screenshot from a research search. I wanted to know if "keyword research" would be a good keyword for this post.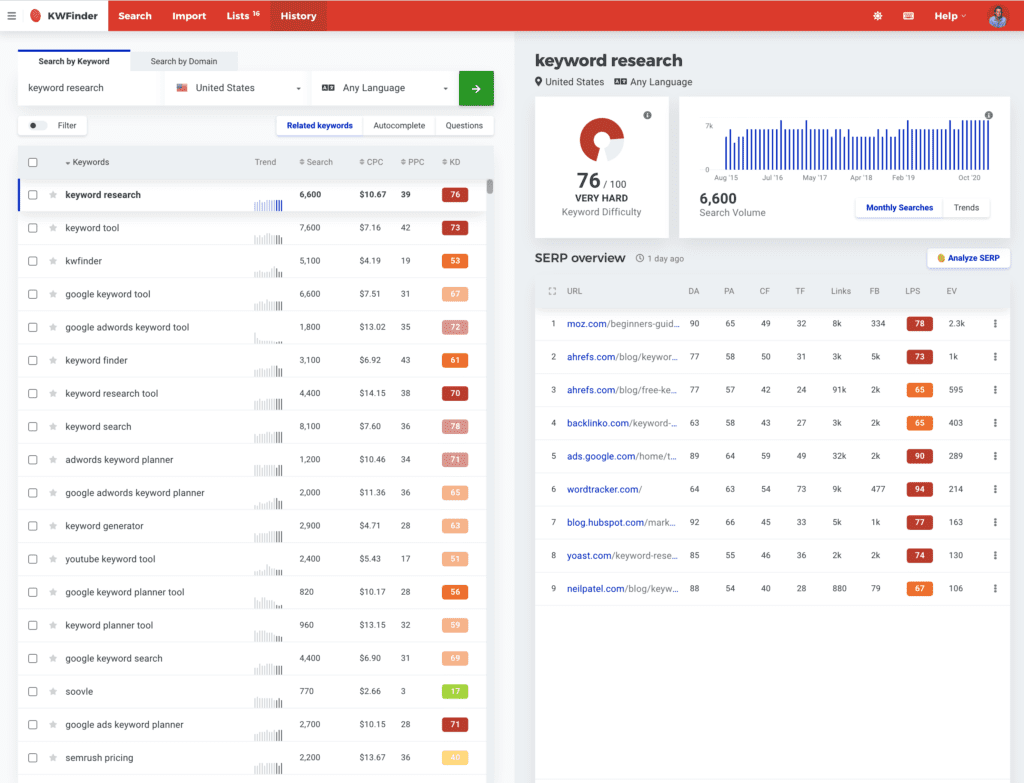 My research shows me that this keyword phrase has a lot of searches, but is going to be very hard to attain a top ranking for, and that the results for the top spots are companies I would likely not be able to compete with on my own. So this would mean I wouldn't want to use this keyword.
Other Paid Tools
I also have a Moz account, which allows me to do keyword research as well as track my SEO campaign performance. I have SEO friends who prefer Ahrefs. Both are good, I just started with Moz so that's where I've stayed.
Not ready to invest in a paid tool?
I get it. It can get pricey with monthly fees if you are trying to optimize just one site. There are some free keyword tools you can use to get started.
What happens when each tool gives you different answers?
This is going to happen. Each tool has its own algorithm that creates results for you, and none of them are without flaws and you will get different results in them. My best advice is to review the results you get from the various tools and evaluate the keywords you want to use based on the information from all of them. They usually won't be wildly different. But if one says that the keyword is going to be super hard, and another says it'll be easy, then maybe you need to look at a third to make an informed decision.
Need help finding keywords for your website? Contact us today to learn more.
Join our list!
Our blog, delivered to your inbox. Never miss a post!