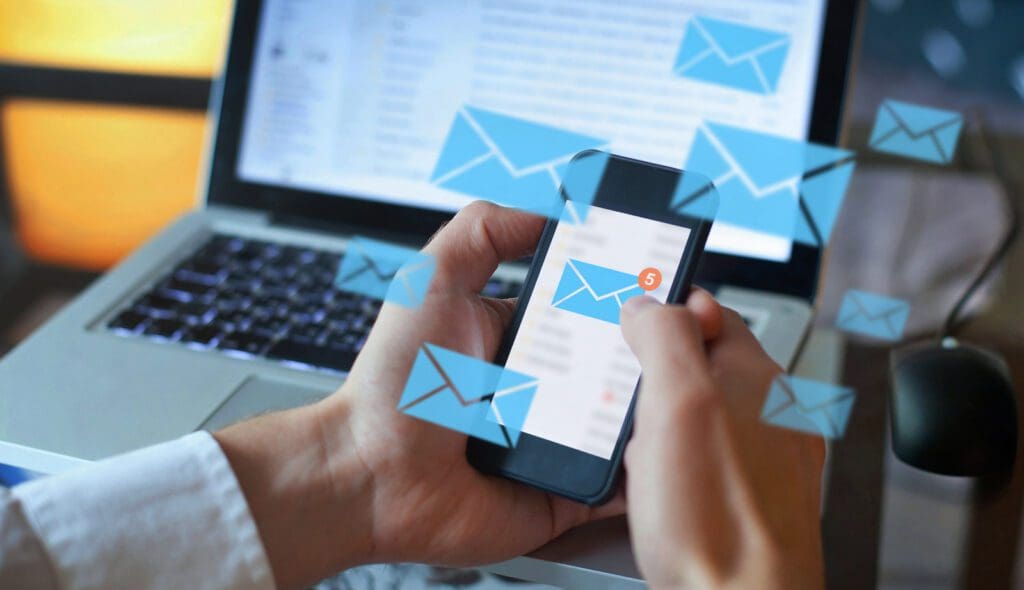 Have you ever gotten an email and wondered, how did I get on this list? Well, there are lots of ways, some ethical and some not so ethical. And we don't always know how it happened. For example, one year I started getting tons and tons of emails from a window replacement company. They were constant, several a day. I would unsubscribe using the link in the email, but they wouldn't stop. Then I showed up to the State Fair, which I had bought tickets for online around the time when the emails started, and when I walked through the gate, there was a booth for that window company. In fact, they were all over the fair. And my assumption is that the fair was selling emails to their vendors. (Or giving them away for free.) Of course, I have no proof of this, but it seems fishy to me.
If you want to build an email list, there are ways to do it right and ways to do it irresponsibly, and it's important to do it right if you want to build an email campaign that people want to subscribe to.
Dos and Don'ts of building your list
DO:
Add an email subscribe box to your website. This allows people to sign up because they are interested in what you offer. Of course, just having a subscribe box usually won't get people to sign up, so I recommend you add an incentive. Why should people subscribe? What benefit will they get? One of the most compelling offers for businesses that sell goods is a coupon. Sign up and receive 10% off or something like that. Or if you're a writer, subscribe and get a free ebook. Or the first chapter of the new book. Offer a reason why someone should subscribe.
DON'T
Add your friends, family, or addresses that came to you via group emails from your kids' school or soccer team. (Unless of course they have specifically asked to be added to your list.) You should never add someone to your email list unless they have given you permission to be added. Doing so is very unethical
DO:
Include a way for your existing subscribers to share your message so that they can forward your email to people they think may be interested and of course, always include an easy way for someone new to subscribe to your email. Referral subscriptions are one of the best kinds to get, because folks have recommended your campaign to people they know. This has a lot more validity than randomly subscribing on a website.
DON'T
Buy an email list. Just don't do it. I get messages all the time offering to sell me a subscriber list. There are companies out there that harvest email addresses, sort them into interest groups, and sell them in mass quantities. I've had multiple people ask me about buying these lists. I never, ever recommend it.
DO:
Encourage people to subscribe on social media. Your followers are probably already interested in what you do if they are following you, so encourage them to subscribe to your list and be sure to give them a compelling reason why signing up would be beneficial. Be sure to include a link to a specific landing page where they can sign up. (Like this one.)
DON'T
Harvest emails from your employer's database or other places where you may have access to people's personal data. This is highly unethical.
---
The most important part of building an email subscriber list is to create content that people want to subscribe to. Without great content, without a compelling reason to subscribe, why should someone get on your list?
How to properly manage an email list
Of course, building your list is important, but did you know there are laws regarding your email list and how you send emails? A lot of people don't, and make mistakes that could actually get them in trouble and even fined. Here are a few things you should know before you begin to send emails to your list. This information has been pulled from the Federal Trade Commission website about business compliance with the ICAN-SPAM Act.
Don't use false or misleading header information. Your "From," "To," "Reply-To," and routing information – including the originating domain name and email address – must be accurate and identify the person or business who initiated the message.
Don't use deceptive subject lines. The subject line must accurately reflect the content of the message.
Tell recipients where you're located. Your message must include your valid physical postal address. This can be your current street address, a post office box you've registered with the U.S. Postal Service, or a private mailbox you've registered with a commercial mail receiving agency established under Postal Service regulations. (I've routinely had folks ask me to remove their address from the bottom of their newsletters, but it's required.)
Tell recipients how to opt out of receiving future email from you. Your message must include a clear and conspicuous explanation of how the recipient can opt out of getting email from you in the future. The best way to do this is with a text link on the bottom of your email that automatically removes the person from the list.
Honor opt-out requests promptly. Any opt-out mechanism you offer must be able to process opt-out requests for at least 30 days after you send your message. You must honor a recipient's opt-out request within 10 business days. You can't charge a fee, require the recipient to give you any personally identifying information beyond an email address, or make the recipient take any step other than sending a reply email or visiting a single page on an Internet website as a condition for honoring an opt-out request. Once people have told you they don't want to receive more messages from you, you can't sell or transfer their email addresses, even in the form of a mailing list. The only exception is that you may transfer the addresses to a company you've hired to help you comply with the CAN-SPAM Act.
Monitor what others are doing on your behalf. The law makes clear that even if you hire another company to handle your email marketing, you can't contract away your legal responsibility to comply with the law. Both the company whose product is promoted in the message and the company that actually sends the message may be held legally responsible.
Additionally, always use an email marketing service for sending emails.
That means something like MailChimp, MailerLite, ActiveCampaign, etc. DO NOT send emails directly from your email account. Here's why:
Sending from your email client looks spammy and can get your email address and domain blacklisted.
Services send mass emails in ways that prevent it from looking spammy, such as not sending all the emails at once and instead sending them in batches.
Emails using email software look more professional, have lots of bells and whistles to make your campaign stand out.
Email marketing services meet the CAN-SPAM Act standards and can help keep you from getting in trouble or fined.
They will monitor your email address reputation and keep your email from become blacklisted as a spammer.
They provide reporting on who is opening and interacting with your messages (which you can then use for additional email automation.)
There's a lot more to email marketing than just adding people to your list, and it's important to know the ethical guidelines and legal ramifications of this type of advertising before you start sending messages.
Join our list!
Our blog, delivered to your inbox. Never miss a post!