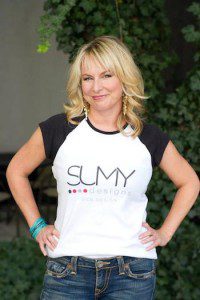 Hi, I'm Susan Sullivan. I'm co-owner and web designer at Sumy Designs. I represent the creative side of the Sumy team. This fact will impress you even more when you know I have degrees in English and Anthropology. I graduated from Ball State University many years ago, but not many, many years ago, a distinction that grows more important with each passing year.
For several years during my university days I worked in a computer lab in the Fine Arts Department. It was in this computer lab that I had my first taste of Apple computers and design software. Since I worked in the computer lab I was required to learn most of the early design programs, such as Aldus Pagemaker, Macromedia Director and QuarkXpress, and tutor students as needed. Almost all of this tutoring was done on the Macintosh SE and Macintosh II. It was love at first sight and my affair with Apple is still going strong to this day.
Right out of college it wasn't my earned degrees that got me a job, it was my experience from working in a computer lab. I accepted a job at a stock car racing organization developing photos and designing newsletters and magazine advertisements. I learned several important things about myself – I completely and totally loved photography and design. And I completely and totally hated car races.
As soon as humanly possible I transitioned out of the world of race cars and into the world of advertising where I worked as a graphic designer for a major health care distributor. I worked there for several years before I moved up the corporate ladder and accepted a job in Advertising and Marketing for a large international book distributor. I was fortunate enough to work with many well-known authors and top publishers. The knowledge and skill I developed was vast and it was a job sent from heaven until the company was purchased by [Insert soulless corporation].
Fortunately, this many years into my career, I was in a position to quit. But with so much design experience and technical knowledge under my belt, I still wanted to utilize my creative skills. I also wanted a work schedule which allowed me to spend more time with my family and less time enforcing the shenanigans of soulless corporate drones. It only made sense to start a business. But what type of business? My sister and I had many discussions about our combined coding and design experience as I began the transition out of the corporate world. Sumy Designs was formed shortly thereafter and we were on our path to become web designers.
Amy and I have worked hard at Sumy Designs to build our web design business. It wasn't easy, but we've learned a lot and our we've grown into a very successful small business. This hard work and dedication has provided us with the ability to stay on top of the design and technology world, a work schedule which allows us spend time with our families and has supported our unfortunately fortunate Apple addiction. It's been eight years that I've been working as a web designer and I love and appreciate my job more and more everyday.
Join our list!
Our blog, delivered to your inbox. Never miss a post!