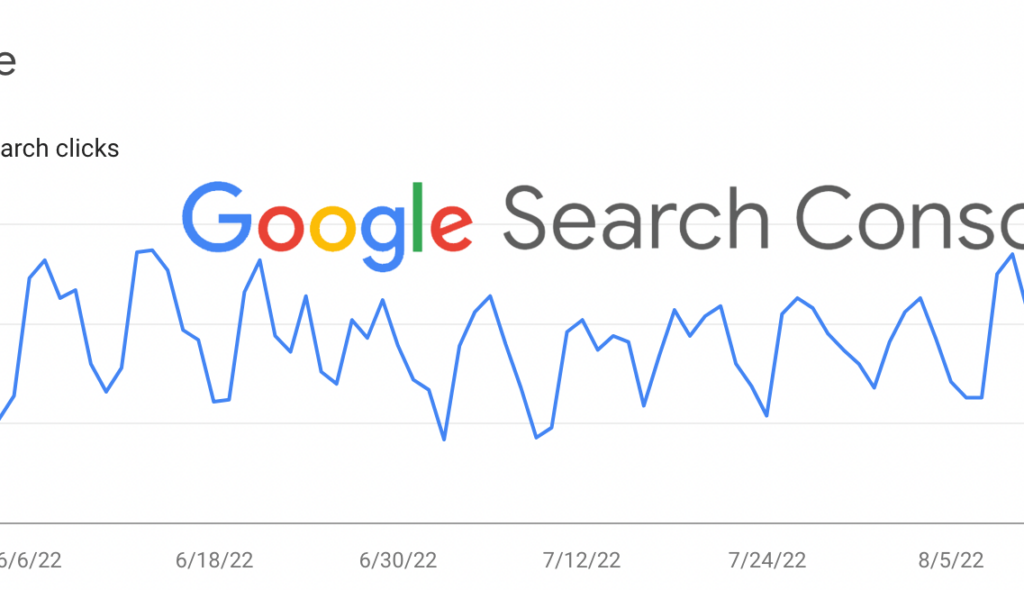 If you don't know what Google Search Console is, or what it's for, then today's post is for you. Don't feel bad, a lot of people don't know, or don't understand how to use it. But it is a super useful tool available for website owners to understand how Google is indexing their website. So let's start with the basics.
What is Google Search Console?
Google Search Console is a web service by Google (previously named Google Webmaster Tools) that lets website owners check on the indexing status of their websites, as well as see what search queries are bringing up their site, any crawl errors there may be, or other search engine issues you may want to know about.
It is a super useful tool to make sure your site is showing up in the search engines. If you care about SEO, you should care about Google Search Console.
How is Search Console different than Analytics?
Google Search Console is tracking what URLs of your site are being crawled and indexed in searching, basically that are available for being found in the search engines, as well as what pages of your site are being served up for various searches. It isn't tracking traffic to your site other than the clicks you are getting from those searches.
How to Set it Up
Login to your Google account and make sure it's the one connected to your Google Analytics account. If you don't already have analytics set up, go do that right now.
Enter your domain (or URL-Prefix) to Add a Property. You can choose between adding it as a domain or adding it as a URL. The difference can be complicated to explain and probably not super useful but I'll try.

Adding as a domain allows you to manage all search information for your whole domain, including subdomains and prefixes and connects to every aspect of your site. This is typically recommended by Google, although it requires adding a DNS record to your domain, which is can be scary for some.
Adding as a URL-prefix creates a profile for just one version of your site, so for example it would include www.sumydesigns.com but not support.sumydesigns.com and it would only include https://www.sumydesigns.com but not http://sumydesigns.com. However, this version doesn't require you to do any DNS changes and can be verified using Google Analytics or by adding a single meta tag to your site. And this works too, especially if you aren't using subdomains or other variants.

Verify your site by either adding in the TXT record for a domain property or by connecting to your Google Analytics account. (There are several ways to verify for the URL-prefix, but if you already have GA set up, this is the easiest.)
Submit your sitemap. What's a sitemap? An XML sitemap is a blueprint to all the pages of your site. Submitting it to Google lets them know where to find all your pages. Once you login, go to Sitemaps. It will look something like this.


Then you simply need to paste in the location of your sitemap. If you are using the Yoast SEO plugin, then your sitemap will be located at sitemap_index.xml. Just paste it in and hit submit. It'll tell you if there's an error or a problem.
After this, you just have to give it some time to start gathering data. Usually it takes a few days.
All About the Data
When you login to Google Search Console, the first thing you'll see is an overview of some performance data. Here's what the first one looks like.
Performance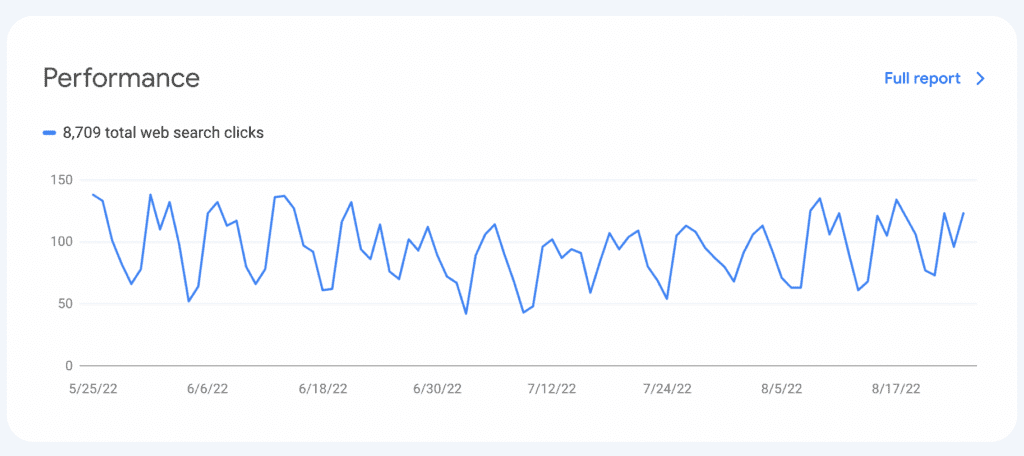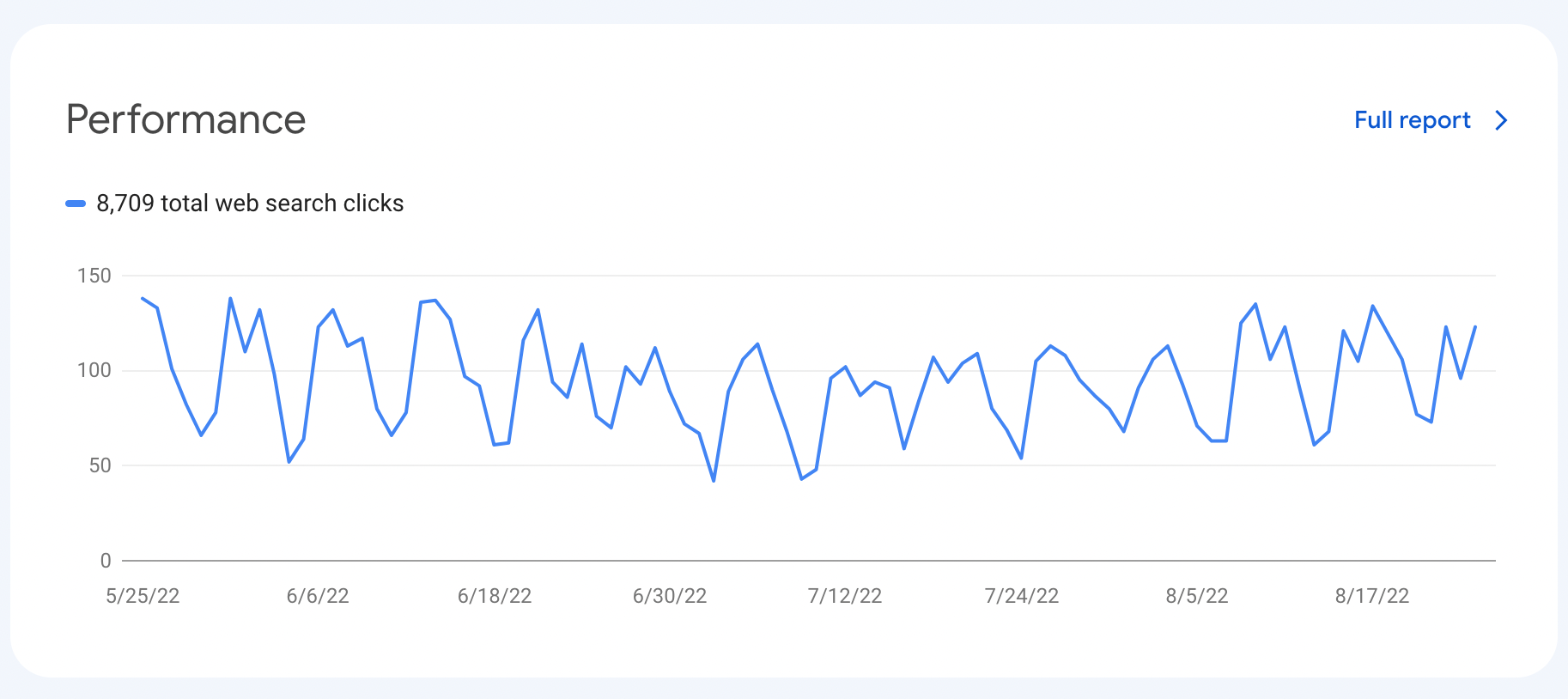 This graph shows you how many times your website got clicked on in the search results over a period spanning three months. This isn't how may pages were viewed, because a lot of people will find your site via social media, referral, etc. This is just the number of times your site got a click from the search results.
Indexing
The next block you will see is going to show you the indexing. Indexing is the number of pages of your site that are indexed in the search results. Basically, indexing is when Google crawls your site and makes it available to be found in the search results. You can have a website, but that doesn't mean it'll come up in the search results. You need it to be indexed.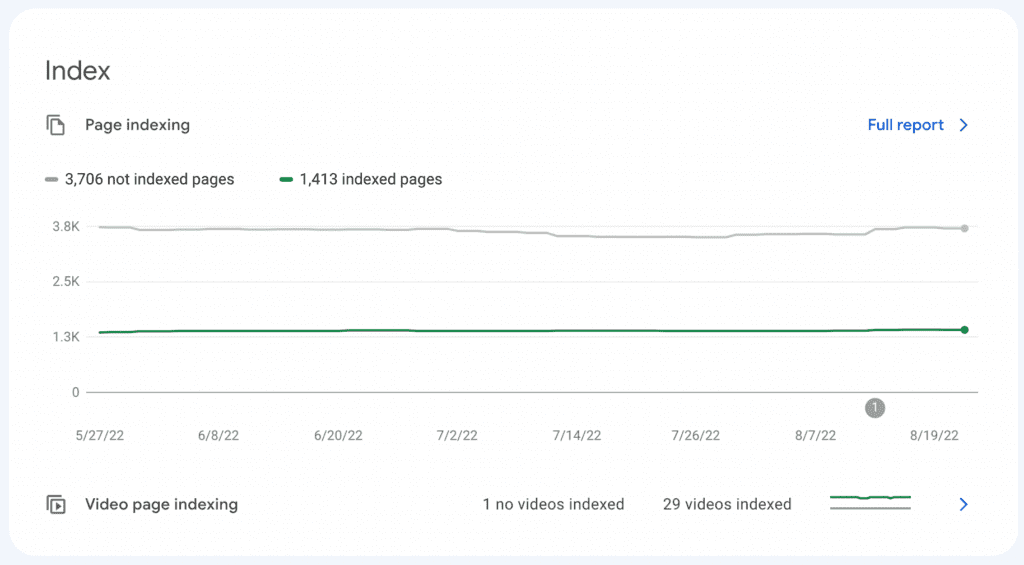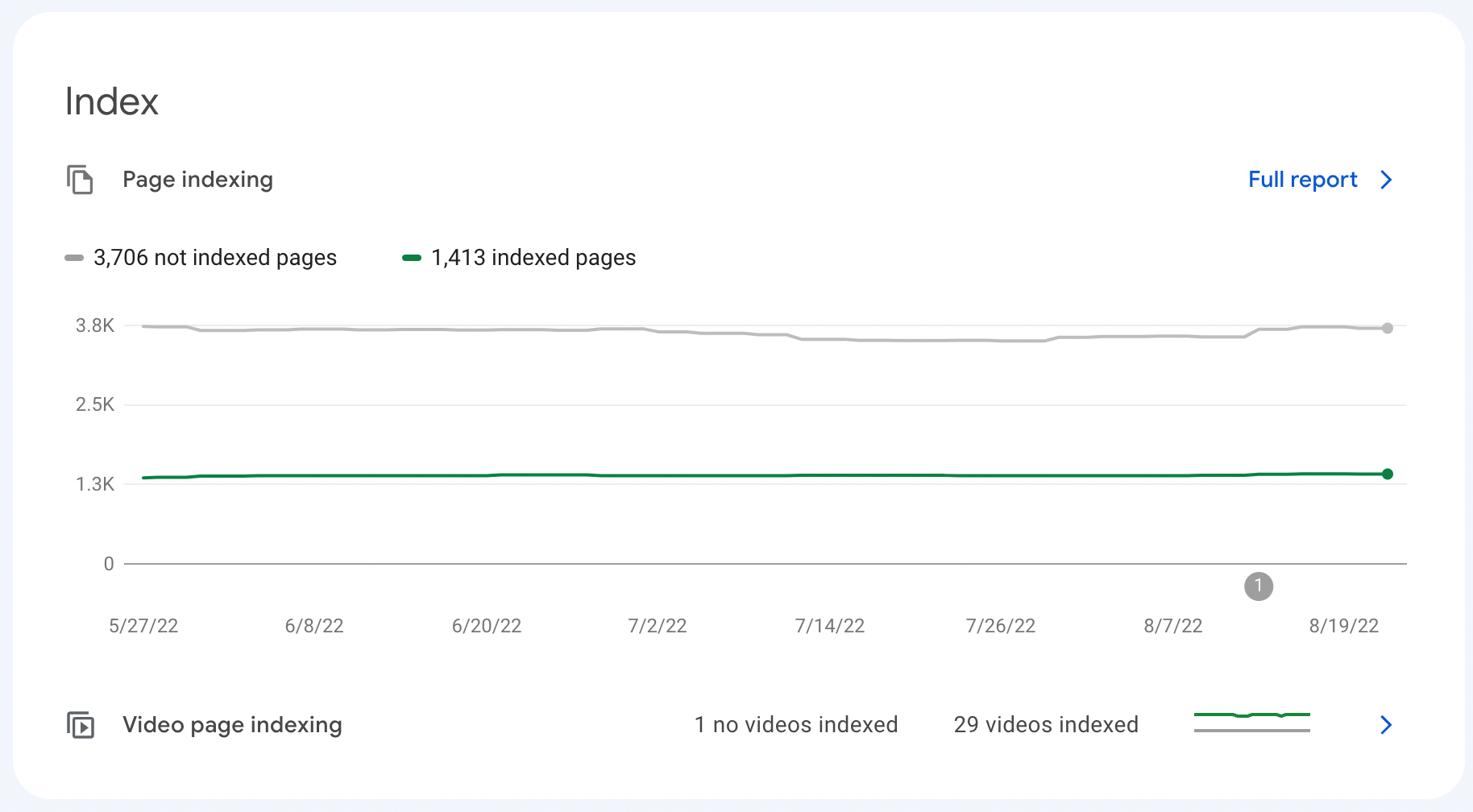 For this example, you can see that there are 3,706 pages NOT indexed, and 1,413 pages indexed. This is a pretty big site. And if you see data and see that some of your pages aren't indexed, don't panic. It's pretty normal for Google not index everything. Sometimes it's even a good thing. So let's explore this a little bit.
Why wouldn't Google index every page?
Sometimes we don't want Google to index every single page. A "page" doesn't always mean a "page." Sometimes it's a tag archive, a category archive, a blog post, an event, an event archive, etc. Every new tag generates a "page" that displays everything tagged with the same tag. So technically it's a page, but often not a high quality page. It's not uncommon for these types of pages to not get indexed since they are often thin on content and low quality.
If your site is new, it could be a while before the pages get crawled and added to the index.
Occasionally your pages will get crawled and Google may deem the content to be low quality and choose not to index it.
Your pages load too slow or aren't mobile friendly.
You're accidentally blocked search engines from crawling your site via the robots.txt file. (It happens!)
You've received a Google penalty for having malware or phishing on your site.
All of these are fixable problems, and using Google Search Console can help you figure out what the problem is so you can fix it.
For the example above, there are over 3,000 pages not indexed. That's not always a red flag. Sometimes we intentionally block low quality pages. Sometimes we redirect pages that aren't performing. Sometimes we exclude pages that are used for other purposes, like tag pages or single testimonial posts. I routinely go in and revamp old blog posts to be more relevant to current times. When I do that, I redirect the old URL to the new one. That means the old URL gets dropped so the new one can be found. And that's what I want. Sometimes I intentionally block pages from being found in the search engines, because I want them available for my use but not found by random strangers.
Essentially, it's okay to not have every single page indexed… what we want are the high quality pages indexed so they can get ranked higher. But if you see a lot of pages not indexed that you didn't intend to be that way, you may need to start looking into why that is.
Experience
The next section of the overview is experience, which basically measures things like page speed and mobile friendliness.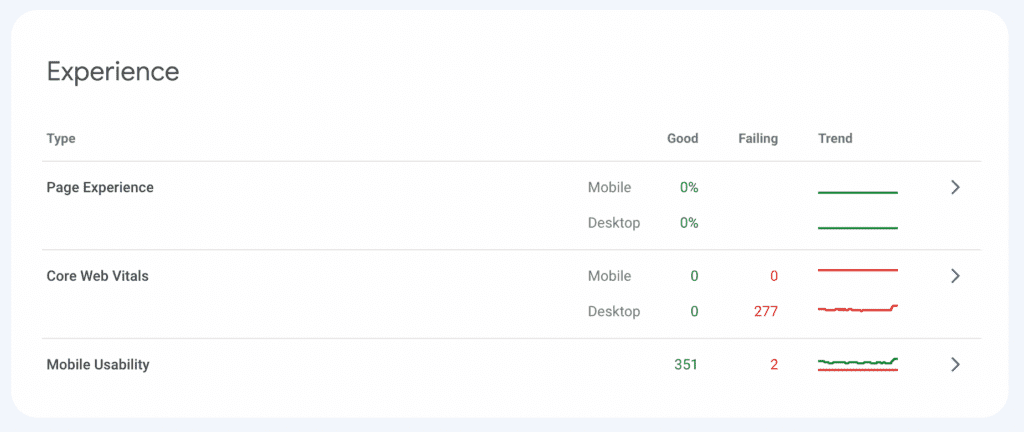 This is good information to have because your page experience does affect your search ranking. You'll see that this site has some issues with the desktop Core Web Vitals. If you see something like this, though, there's a good chance that when it was crawled that perhaps the server was having an issue and it couldn't load properly. Sometimes just asking for a refresh will fix it, but you are able to go through it, page by page, and look at the report to identify issues and fix them. And if you can fix them, you should!
That's it for the overview, but don't worry, we can drill down into much, much more data! Have I mentioned how much I love data?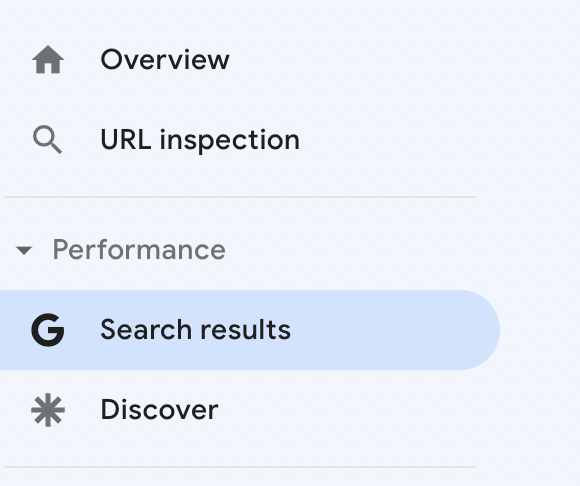 Drilling Down into the Data
The search console navigation is going to be on the left of your page and there is a lot of stuff in there. The first options are about performance. What you can do here is look at which of your pages are being served up in the search results, what keywords are getting clicked, what your average click through rate is, and what average position you hold for various keywords. So let's start on the Search results area.
When you click on search results, you'll start with a three month graph of your total clicks and total impressions with options to look at your average CTR and average position.
Terms:
Clicks: The number of times a search result was clicked on to your site.
Impressions: The number of times your site showed up in the search results (with or without a click.)
CTR: The percentage of times an impression resulted in a click through to your site.
Position: The average placement of your site the search results.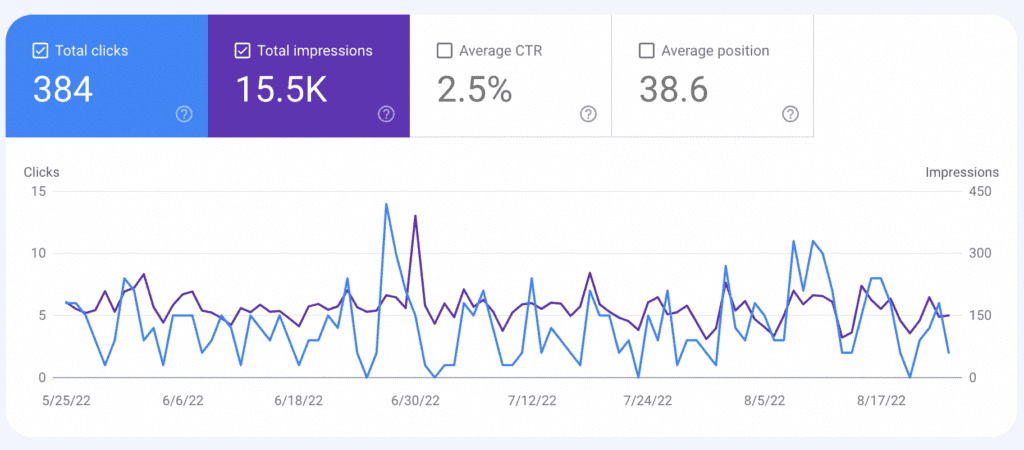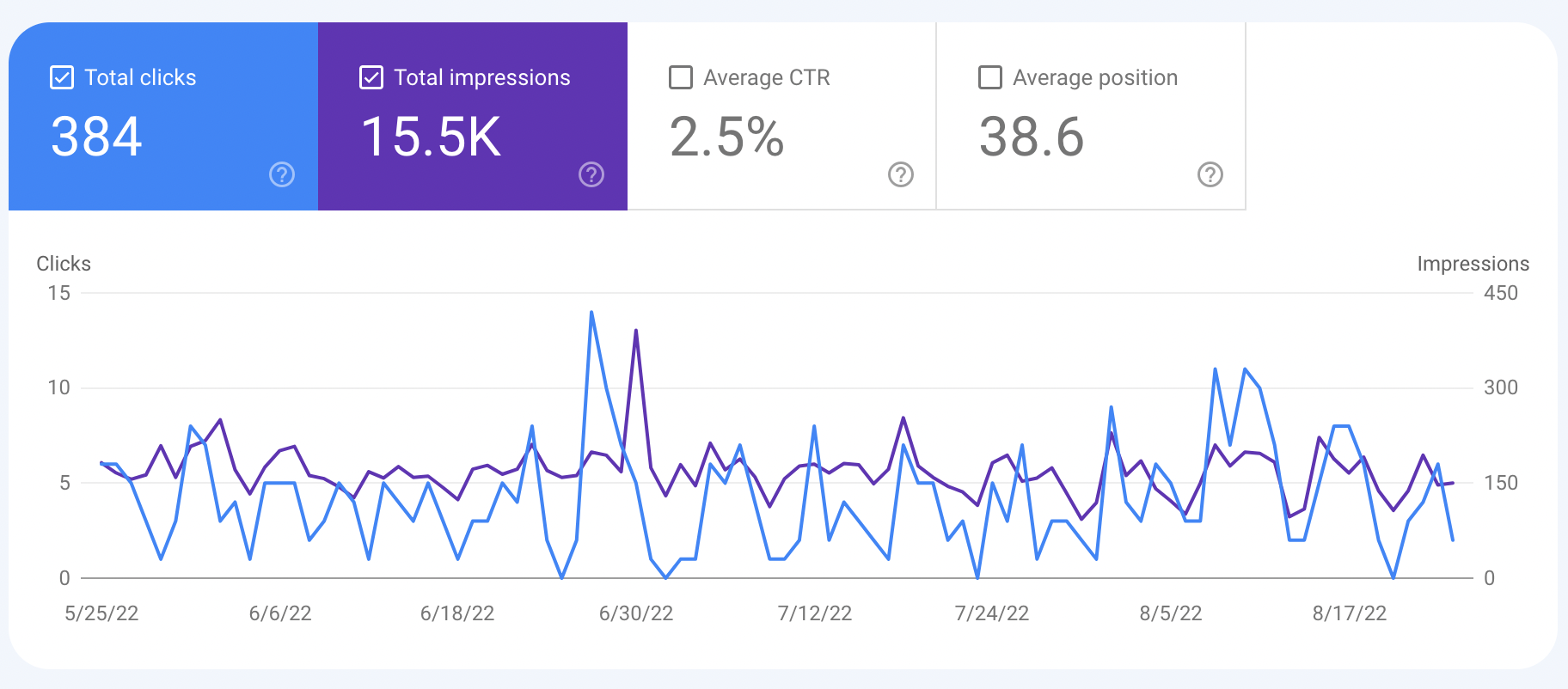 On this site, you can see that in the last 3 months they've had 384 clicks that came from search results, and have had 15.5K impressions. Keep in mind that this is just measuring organic search results so if you have ads running or doing other kinds of marketing, you won't see that data in this chart.
You can always change the date range here to go farther back and span a longer period of time.
Then below that, you'll see a chart that starts with queries with options to see other data.


What do these terms mean and how do you assess the data?
Queries: These are the search terms that result in your site being served up in a search result. This doesn't mean you were in the first ten. You could have been on page 9 or 10 even. But someone typed in this search phrase and your site made it into the results.
Pages: If you change to this tab, you'll see pages of your site that made it into the search results. One thing to keep in mind is that many people will enter your site from various pages and not just the homepage. Usually, but definitely not always, the homepage is top of this list, but a lot of your other pages will show up here too. This reason right here is why having a one page website is a bad idea. One page doesn't give you many search result options.
Countries: This is the top countries where your site is showing up in the search results.
Devices: This data shows you what devices people are using when they see your site in the search results. This is good data to know. Some industries get a lot more traffic via phone than desktop, and many get more traffic via desktop and you probably want to optimize your site accordingly.
Search Appearance: This gives you a little data about different types of search results. If you have a new or a simpler site, it's not uncommon for this to be empty. This might show you videos that you have that get clicks, FAQ clicks, etc.
Dates: This last one just shows you the clicks and impressions by date. Interesting information to see what days get the most impressions. This could help you plan your blog posts or new content for days when you get more search traffic for your area.
---
Google search console has a wealth of information about how your website is being served up in the search results. You can use this data to make your site better, faster and more highly ranked.
Check back next week for part two of this series!
Join our list!
Our blog, delivered to your inbox. Never miss a post!