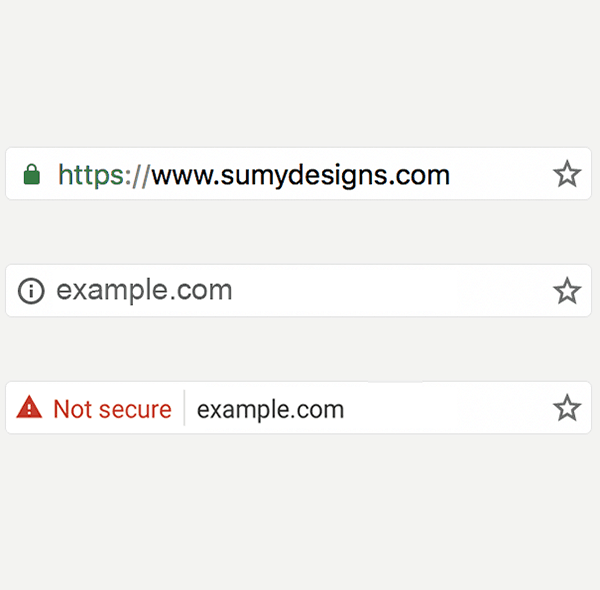 A few years ago, I wrote a blog post when Google announced they were going to start using SSL as a ranking factor for searches. At the time, most sites didn't use an SSL and the ones that did were usually e-commerce or other type of site collecting sensitive data. At the time, it seemed like it was going to be a small ranking factor, and I didn't jump on board immediately. I waited a solid month or two and then encrypted our site. 🙂
Fast forward and it's time to get serious. Google is taking this to another level with their Google Chrome browser. If you weren't aware, Chrome is the most popular web browser, so this is important to pay attention to.
If you have your website encrypted, here's what the URL looks like in Chrome currently:

And if your site is not encrypted, here's what it looks like right now:

But starting next year, here's what it's going to look like if it's not encrypted:

Woah. That's a big difference. And people will notice. And a lot of people won't know what that means, and will assume something is wrong with your website. Here's what Google is saying on their blog:
"Studies show that users do not perceive the lack of a "secure" icon as a warning, but also that users become blind to warnings that occur too frequently. Our plan to label HTTP sites more clearly and accurately as non-secure will take place in gradual steps, based on increasingly stringent criteria. Starting January 2017, Chrome 56 will label HTTP pages with password or credit card form fields as "not secure," given their particularly sensitive nature." – Google Blog
A lot of people don't want to encrypt their site, but the main reasons are 1) hassle and 2) cost. Let me help clarify this because while getting an SSL certificate used to be a pain and it also used to be costly, this is no longer the case. Many, many web hosts offer free Let's Encrypt SSL certificates that you can get easily with a few clicks in your cPanel. Five out of the six web hosts we personally recommend offer free SSL certificates. Not only is it easy to implement, but it's free!
If your web host doesn't offer free SSLs, you can buy them pretty cheap. I usually go to Namecheap and get them for $9 a year.
If you haven't encrypted your site, you'll want to go ahead and get on that before the end of the year. If you need help, just let us know and we can make it happen!
Join our list!
Our blog, delivered to your inbox. Never miss a post!