When people ask me about using Twitter for business, I have a few standard tips for them.
Don't set it up if you aren't going to use it.
Engage, don't just post. That means like, retweet, and respond.
Follow people back who follow you.
I've had some flack from people about #3, and their response is that if they follow everyone back, especially people who they aren't particularly interested in, then their Twitter feed becomes chaotic and they'll miss the tweets they actually want to see.
And this is true, following thousands of people can make your Twitter feed complete chaos. But you don't have to live with that madness. You can easily organize your Twitter account, keep those you want to watch up front, and those who may be less interesting hidden away, using lists.
What is a Twitter list?
A Twitter list is simply a way to organize the people you follow on Twitter. You can create as many lists as you want and you can organize them however you want. Perhaps you have a list of "close friends" and a list titled "news." In your friends list, you add your actual friends, the news list gets all the new feeds you follow.
There are two different kinds of lists: public and private.
Public Lists
A public list is a list that anyone can see if they go to your profile. Other Twitter users can also subscribe to your public lists, so they can follow the users on that list as well. If you add someone to a public list, they will get a notification that they've been added to your list.
A public list can be a great tool for growing your business brand. You can create a public list of colleagues that you work with and follow. You can create a list of companies who tweet useful things for your customers. For example, I keep an SEO list and I add people to it that are tweeting about useful SEO related topics. It's a great way to scan what's new in SEO, as it is a quickly changing field. It also keeps all the SEO posts I want to read related, so they don't get lost in a sea of posts about puppies. (I love a good puppy Twitter account.)
Another great idea is to create lists for organizing clients and customers, or anyone you want to do business with, using fun and/or complimentary names. For example, you could create a public list titled "clients" and add your clients to it. Or you could name that list "super awesome clients" and add your clients to it. Guess what, that list is exactly the same. It has the same function and it does the same thing, the only difference is the name. BUT, when your clients get added to the list and see that notification, it makes them feel good. And that's good for building your brand.
Private Lists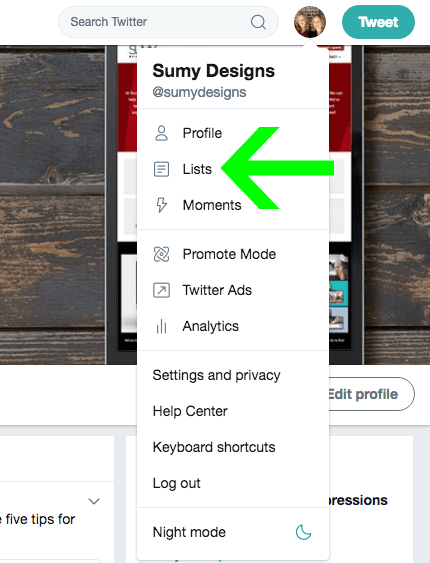 A private Twitter list is a list that only you can see. It's an internal list. So you can see it, you can follow it, you can add and remove from it and nobody knows but you. I use a lot of private lists on my personal Twitter account because it helps me keep track of the users I don't want to miss, those who are fun to check in a lot, and those who distract me as well. A few examples of private lists I use include one for local people, so I can keep track of what's going on in my community, one for my friends in the WordPress community, and another for political news tweets. These are all tweets I want to see, but if they're all coming at me at once it's a complete mess.
How to create a new Twitter list
You can create a list from your Twitter profile page.
If you're on your computer, login to Twitter and click on your profile icon in the top right corner.
From the dropdown, click Lists.
On the right side of the page, there's a box titled Create a list. Click Create new list and enter a title for the list and add an optional description. Then check the Public or Private box to indicate whether the list will be visible to other Twitter users.
How to add people to your Twitter list
Twitter lists are really only as useful as you make them. If you don't use them, don't add people to them, then they aren't something that will help you.
If you see a Twitter user you want to add to a list, you can do it easily by clicking on the three dots next to the Follow button and choosing Add or remove from lists.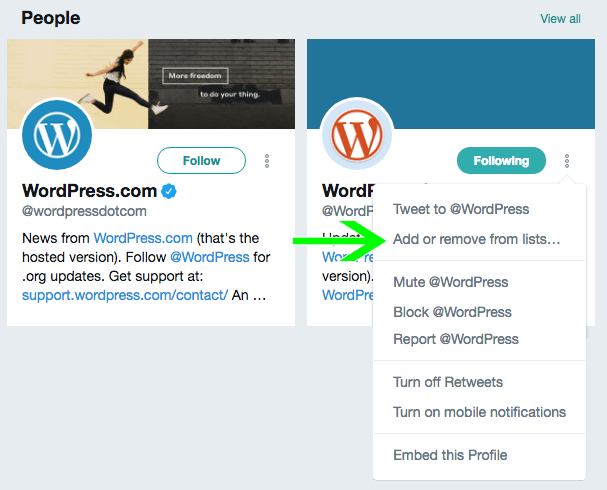 Then you can just check the box of the list to add them to.
Pro-tip #1: You actually don't have to follow a person in order to add them to a list.
Pro-tip #2: You can add people to more than one list.
Adding to a list from a Phone
On your phone app, click through on the profile of the user you want to add and touch the gear icon next to the Follow button. From there, you can choose which lists to add them to.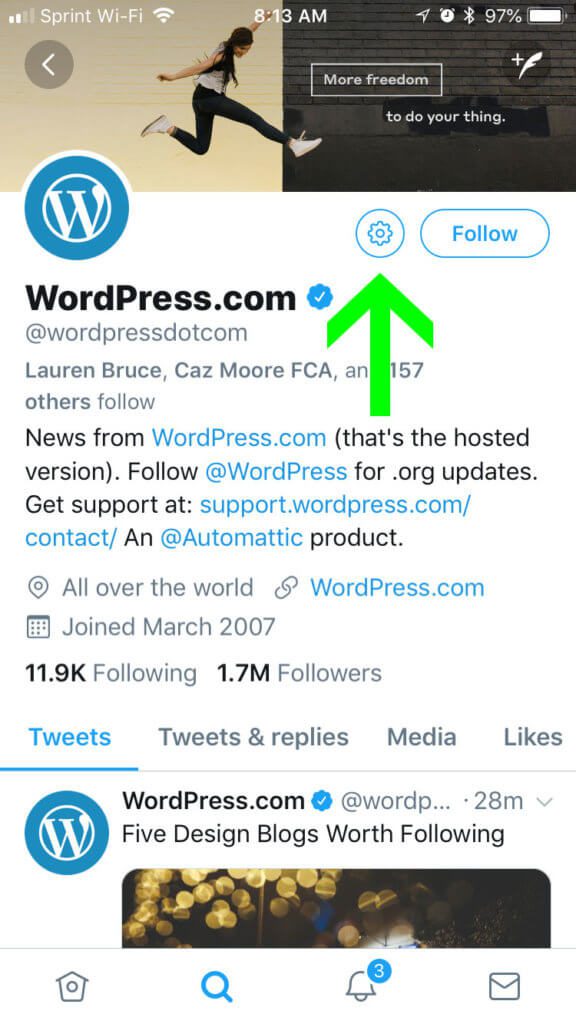 Using your Twitter Lists
Having lists are great, but if you don't use them, what's the point? My favorite way to set up and use lists is through apps that allow you to create columns for sorting tweets. Tweetdeck and Hootsuite are among the two I use. You can set up many different columns to display tweets from your lists, so that they stay organized and you don't miss tweets from the people you most want to follow.
Another benefit of using these apps is that they show you the Tweets in chronological order without all the random tweets that Twitter may think you want to see from people you don't follow.
---
Twitter can be a great tool for businesses to use for building their brand, engaging their clients and potential clients, and growing their following but it only works if you use it. Keeping an organized Twitter account allows you to grow your following and engage with people in a more meaningful way that can minimize the time it takes and maximize the results.
Join our list!
Our blog, delivered to your inbox. Never miss a post!