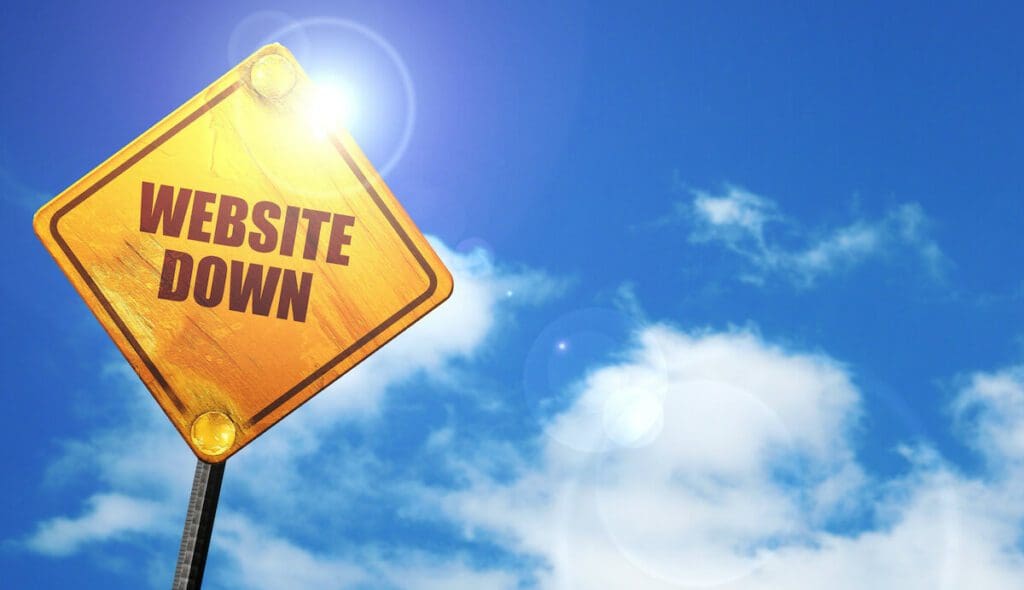 With the ever-changing face of technology, you can't expect to have a website made, never look at it again, and expect it to work flawlessly for an indefinite period of time. More than likely, your site will experience an issue at some point that needs fixed.
What should you do if your site breaks?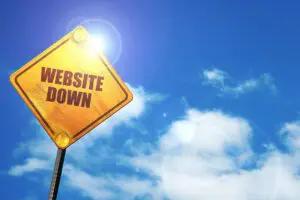 First, don't panic! Life happens, just like sometimes your TV goes out, your phone goes out, even your power goes out. Outages are a part of life in literally every aspect. It happens, but panicking won't solve your problem. Then evaluate whether you think it's 1) a temporary problem that might resolve on it's own, 2) a web hosting issue, 3) a technical issue you need help addressing, or even 4) your site has been hacked.
It's possible your web hosting company may be having an outage. One day our sites were down for four hours and later, when I spoke with a rep from my web hosting company, it turned out there was a power outage at the data center, and there was nothing they could do but wait for power to be restored. Most web hosts shoot for 99.9% up time, but sometimes, there are unforeseen events and we can't do anything but wait.
If your site is coming up with an "Internal Server Error" message, then you should contact your web host first to find out if there's a server issue, possibly the MySQL server is down or has an issue, or even a planned update caused a problem. A lot of times submitting a ticket to your host can get this resolved quickly.
It's also possible that a routine update of a plugin, theme, or core has caused an error, or that your developer made a mistake that wasn't caught. If you aren't sure what the problem is, reach out to the person who made your website and see if they can help.
If your site is down because it's been hacked, I always recommend working with a specialist to get it remediated. You may want to contact a company like Sucuri to fix it up.
Who has to pay when your website is broken?
Good question, and that depends. I know it's tempting to think, "I didn't break it!" and expect the person who made it to fix it for free, but there's a good chance they didn't break it either. If it's a web hosting issue, your web host will usually fix it for free, but for a lot of the other possibilities, you may have to pay someone to clean it up.
If you're doing regular backups and you know the date your site was last fine, you can always roll back your site quickly to get it back on track. FlyWheel hosting makes it super easy to roll a site back to previous date that it wasn't broken, then you can test and find out if something on your site was causing the problem.
Prevention is Worth the Cost
Once your site is completed, it needs care and support to keep it running in top shape. If you had it made and never looked at it again, and it breaks six months later, the person your finger is pointing at should be you.  I highly recommend signing up for a routine support plan. We offer these plans to our clients and many agencies also do this. There are also companies like WP Site Care that have plans you can sign up for. These plans take care of all your technical site maintenance, like core updates, plugin updates, theme updates, as well as monitoring for malware and hacks. Most include daily backups. (We keep 90 days of backups for our support clients.) What's also beneficial is that you have a point of contact if there's an issue and you have a support plan.
Every situation is different, but I have a few tips for talking to your developer to make the process go more smoothly:
Explain what's going on with your site, and don't assume it's that your developer did something wrong. Technology changes and sometimes that may cause a problem with your site. You'll always catch more flies with honey than with vinegar.
Let them know you really appreciate their time and expertise.
Ask them if there's anything you could do to fix it.
Ask about future support plans you could subscribe to in an effort to keep things up and running.
Need help with a broken site? We might be able to help! Contact us today for a quote.
Join our list!
Our blog, delivered to your inbox. Never miss a post!