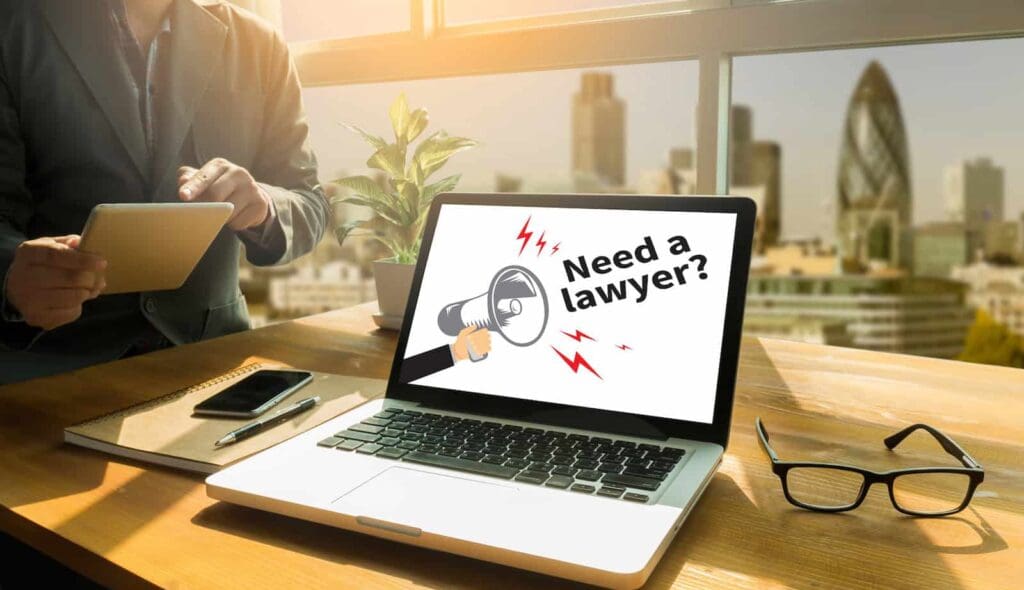 We have made a fair number of law firm websites over the years. After working with so many attorneys on websites, I have a lot of advice to give about the goals and vision for attorney websites. Often times attorneys have very different ideas about what should be on their websites. Attorneys tend to want professional, powerful design that makes an impression. Websites that makes them look competent and strong. These  tend to have a lot of professionally written copy, vivid photos, and often appear very stoic.
This can often be a mistake. Attorneys look at other attorney websites when thinking about their own website. They talk to other lawyers about their online presence. They want to be competitive with other law firms. But what they don't think about is what the person looking for an lawyer, the actual audience of their website, is looking for.

Think about your target audience
The truth of the matter is, the average person (who is not a lawyer) and is looking for a lawyer likely needs help. They may be in trouble. They may be scared. They may not know how to pick a good attorney and are probably worried about the costs involved.
Of course, if you're a law firm that represents attorneys or large corporations, this may not apply but if you are doing other forms of law like family law, divorce, personal injury or criminal law, your target audience will likely need to have one question answered:
Can you help them?
Before anything else – before you explain what family law or criminal law is, before you show your credentials and your experience, they need to know if you can help them. You need to answer that question. Can you help them? And how?
Instead of pointing out your professional credentials, your years of experience, and your solid reputation, acknowledge who your audience is and what they need to know. You can help them with their problem.
It always comes down to a problem that needs solved.
Make it less scary
In any field, the more you practice your profession, the more normal it feels, so lawyers often don't recognize how daunting and intimidating it can be to take the next step to contact an attorney for a legal problem. If you identify your target audience with an approach that makes them feel less intimidated, you're going to get more calls.
Tips to make a bigger impact
WHAT

: Start by answering their question of can you help. Make a clear headline to that effect. Such as, "We can help you settle your custody issue" or "We can help you solve your bankruptcy claim."
HOW: Follow up your help claim with how you can do it. Are you an expert in that topic? Do you have years of experience? Do you have a track record that proves you know what you're doing? Spell it out for them how you can help them, but avoid being too wordy.
WHY: Tell them what they'll get if they call you. Try to consider this a fair exchange. If you want them to contact you, you should give them something in return. Will you discuss their case for free? If so, put that right on the page.
ACTION: Be sure and have a call-to-action, something that clearly states their next step. "Are you ready to settle your legal dispute for good? Call us today at 555-555-5555 so we can help you." A strong statement that includes an action, the number to call, and reiterates that you want to help.
Photos
One tip I always give to lawyers who need websites is to have professional photos taken. Folks looking to hire an attorney want to see your face, they want to learn about you. Don't have your wife or office assistant take a photo with their phone. The difference a professional photographer can make in enhancing your online appearance is amazing. They know about lighting, they know about positioning, they know how to make your look your best. Don't discount this option because your phone takes great photos. Hire someone and get professional photos. It will be a worthwhile investment.
---
Professional attorney websites should look great, but should also consider who needs an attorney, what they are looking for, and how to make them feel comfortable that you're the best choice for the job. Need help with your law firm websites? We have experience and knowledge to do a great job. Request a quote today.
Join our list!
Our blog, delivered to your inbox. Never miss a post!