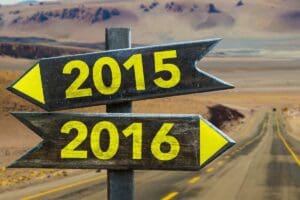 This is the last week of 2015, and I'm excited to end the year and start a new one. 2016 is looking great! But first, let's talk about 2015.
For us at Sumy Designs, 2015 was our best year yet! We worked on many great new sites, and we increased our skills and produced better sites. As a former teacher, learning new things is one of my favorite things and I'm glad we were able to grown not only our business, but our skill set as well. I hope to continue that in 2016.
We built many great new sites this year, and met a lot of great new clients! I even got to meet a client in-real-life when we vacationed in Hawaii this summer. As a work-from-home business, it's not often we get to meet our clients face-to-face, so it was really fun to do that this summer.
I attended both WordCamp Columbus and WordCamp US, where I made new friends, colleagues, and learned a few new tricks. One of the things I've reflected on as I've gone to more WordCamps is that I'm  not getting as much, if not more, from the networking as I am from the sessions. When we attended our first WordCamp in Vegas a few years ago, the sessions blew me away. We made a lot of changes based on what we learned, and our business boomed as a result. As we've gone to more and more conferences, we're able to learn a lot from the sessions, but also learn a lot about our community as well. WordPress is a great community to be a part of.
A look forward to 2016.
Keep an eye on us here at Sumy Designs, LLC because a redesign of our website is coming to celebrate or 10-year anniversary. That's right, March of 2016 marks ten years in business and we're super excited. Who knew ten years ago that our little hobby business would turn into a real full-time job, but here we are ten years later and we couldn't be more excited about it.
One of my goals for 2016 is to start learning javascript. Matt Mullenweg told us in the State of the Word Address at WordCamp US to "Learn Javascript. Deeply." I have taken that to heart, and I want to  learn it. At times I've let being busy dictate learning new skills, but I think if we want to keep this business afloat as times continually evolve, then we have to continue to build our skills. Javascript is just one of the things I need to learn.
I'm also looking forward to attending the second WordCamp US in December. I'm hoping to attend the Prestige Conference as well. This was one that I wanted to attend the last two times it was held, but the dates just didn't work out for me previously.
And of course I'm looking forward to all the new clients I'll get to work with!
Join our list!
Our blog, delivered to your inbox. Never miss a post!