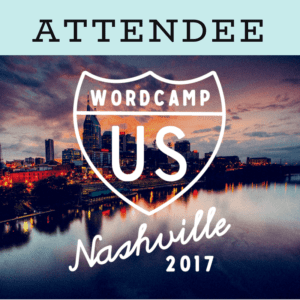 Next week is the 3rd annual WordCamp US and I'm pretty excited to go! It's my favorite conference of the year. I recently was talking to some of my nerd friends a/k/a colleagues in the field and learned that some of them had never been to a WordCamp. So I wanted to present my list of reason to go. Some of these are great for people who make websites, some are great for people who have websites, and some work for everyone.
It's cheap! That's right, the cost of admission is super cheap to all WordCamps. Many tech conferences charge hundreds or thousands of dollars just for your ticket, not to mention the cost of travel to get there. WordCamp US tickets are only $40! That doesn't include travel to get there, but it does include lunch both days, snacks, as much coffee as you can drink. How is it so cheap? There are a few reasons. One, all the speakers are volunteers. Some people complain that volunteer speakers aren't as knowledgable and/or don't work as hard as paid, but I would disagree. Volunteers are passionate about their topic and have great information to share. Another way they keep costs low is because sponsors pay much of the expenses.
There's a ton of great info and speakers. If you've been reading my blog long enough, you'll know that it was WordCamp Las Vegas 2013 that was instrumental in changing the course of our business. We learned so much that we were able to implement into our business, and I'll never forget it.
You make great friends! Working at home is great. I never wear shoes. Yoga pants and t-shirts are my uniform and my dog makes a great officemate. But, it can get lonely at times. I've met many friends on the Internet and it's so nice to talk to them in person, talk shop over a drink, break bread and get to know these people in real life. (or IRL as we say online.) Having professional colleagues that I can go to for advice, hash out ideas with, and learn from is one of the most valuable parts of attending WordCamps. I can't stress enough how much I've learned from these people and how much I look forward to my time with them.
Swag. I love swag. My entire work wardrobe consists of t-shirts I've attained at WordCamps.
Great information. I have found that the more WordCamps I go to, the less I learn each time. I came away from my first WordCamp with my head filled with new information but now that I've been doing this for a while, it's not as much. However, as long as I can take away one idea or one concept that I can implement into my business, I feel like it's been worth the (very low) cost of admission.
Fantastic After-Party. What's an after-party? It's where all us geeks get together and hang out, share food and drinks, and have fun after spending the day learning. It's one of my favorite parts of any WordCamp, the chance to socialize with my new friends.
What if you don't make websites for a living? Is it worthwhile?
I would say yes. There is a lot of valuable things to learn that can be used by business owners and bloggers alike, regardless of whether you make websites for a living. The schedule includes sessions on accessibility (which I am excited to learn more about) and many different topics that can valuable for anyone who uses WordPress. Check out the schedule to learn more about the kinds of things you might learn. Each WordCamp has a unique schedule with various topics that offer many different insights into ways to use WordPress for your business.
Join our list!
Our blog, delivered to your inbox. Never miss a post!