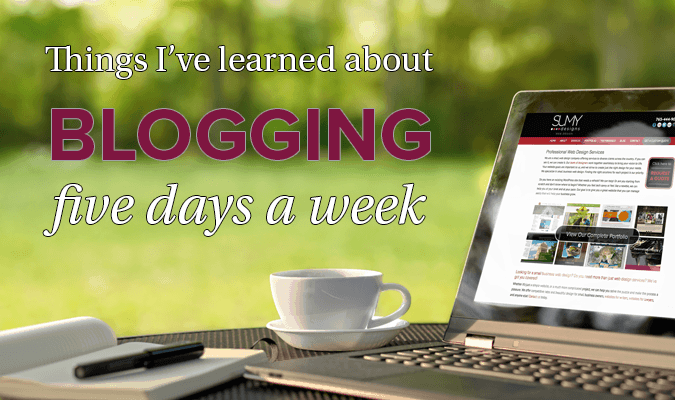 The more you blog the more you'll find to blog about
When I first started blogging it was a chore to just find a topic to blog about. But now I can say that the more I blog the easier it is to come up with topics to create posts.
Writing five days a week or more will increase visitors
If you write quality content and do it on a consistent basis, then you will improve the SEO for your site. You'll also increase the number of links back to your site and improve your overall Google rankings
Word count is important
Blog posts should be at least 300 words long, but longer posts are better for optimization. Getting the message across without writing a Dickens novel is ideal – set a reasonable word count goal such as 300 – 700 or 800 – 1,200 words …. and be realistic in knowing that you won't be able to reach this goal every single day.
Formatting is helpful
Use the Headings when possible inside your posts. Also, bold and italicized phrases and words grab the readers attention as well as improve SEO. And don't forget that numbered lists and bulleted items are great when you need to focus and create acute awareness.
You'll learn cool new stuff
Blogging with frequency pushes you out of your comfort zone. Whenever I need help explaining a topic or I need something new to blog about, I scour the internet for ideas. Learning new tips, tricks and information has to be one of the best things I've learned from daily blogging.
Consistency is the key to success
Our traffic grew substantially when we started blogging nearly everyday. Your readers will know they can come back every weekday and find a new post so they can learn something new.
It's not as bad as you think
I try and compare it to running. Somedays the thought of getting up and out the door to hit the pavement for few miles sounds like the worst thing ever, but after you get started, it isn't as bad as you thought it would be – and when you finish, you are always glad you did. I've yet to meet the person who is sad or upset that they finished a few miles.
You'll find inspiration from other bloggers
When you start writing everyday, you also start reading everyday. My blog list was fairly short when we started blogging a few years ago, now it's enormous. One of my favorite things to do is browse my feed reader and see what other bloggers are writing about. It is inspiring and it prompts a lot of topics that I can put my own spin on.
Blogging about your topic establishes credibility
When you write about what you know you prove to your audience that you know what you are talking about, which, in turn, increases business and customer loyalty. Blogging is a small investment of time for the increase you'll see in business.
Not every post will win a prize
Some days you'll write brilliant posts that generate lots of hits and some days you wont. Establishing routine is the key.
Your blog will evolve over the years
In the few short years we've been blogging, I've noticed how our posts have improved and are better suited to our audience and clients. Every blog has to start somewhere and it is nice to go back through old posts and see how successful we've been.
Blog someplace new every now and then
Once a week I work and blog from a nearby coffee shop. It's a refreshing break to get away from my desk for a change of scenery. Plus, no matter how many cups of coffee I make, it never tastes as good as when someone else makes it for me.
People are visual
Don't underestimate the important of adding images to your blog posts. People are visual creatures and giving them an interesting photo or image to scan before and during your post will give them a clue as to what your post is about and keep them reading. The better and more appropriate the image, the better chances you'll have to keep them hooked until the end.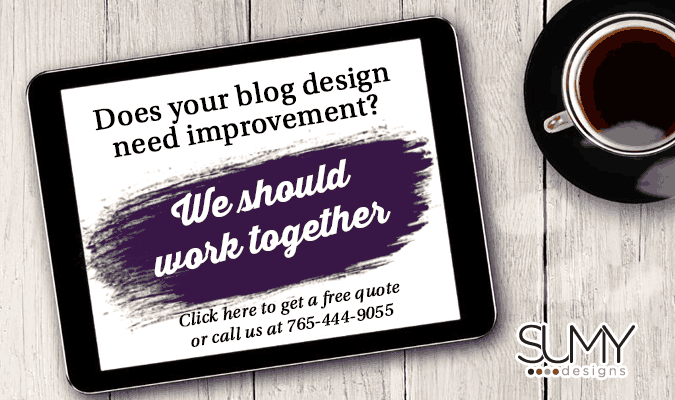 Join our list!
Our blog, delivered to your inbox. Never miss a post!