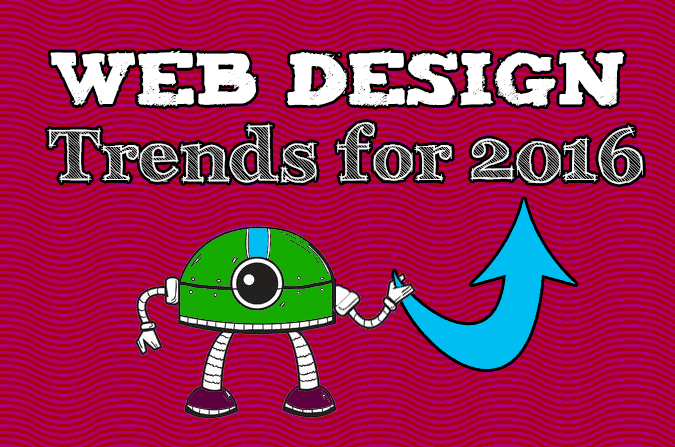 2015 was a great year for advancements in web design. We saw trends such as bold and new typography usage, subtle animations, more podcasts and videos, personalized illustrations and mandatory responsiveness.
I don't think we will see too many major changes in web design in 2016, but I do expect to see the current trends expanding.
Here are of a few of the trends I see getting bigger:
Videos
People love to know who you are and what you do, I predict short and to-the-point videos to become more of a standard for small businesses.
Flat to Material
2014 and 2015 were part of the flat movement, but 2016 is moving more towards material design, which is a design developed by Google. Material design adds more padding, depth and shadows to give a little life to the much needed flat design trend. Think of Material design as semi-flat design.
Cinemagraphs
I don't expect subtle animations, such as info-gifs, to get more screen space – but I do expect to see more cinemagraphs, which are high end and very professional gifs. Cinemagraphs are somewhere between and image and a video and add a bit of elegance to websites.
Bold & Bright
Bold colors were popular in 2015 and will stay popular, but expect to also see brighter and neon colors in the mix.
Professional, earthy and natural stock photos
Stock photos are a necessity for most small business, but that doesn't mean they have to be awful. You'll see a trend of nature and find a better supply of stock photos in 2016. Check out Free Nature and Cupcake if you are looking for a good supply of nature stocked images that are completely free, even for commercial purposes.
Happy New Year!
2015 was a great year for Sumy Designs and we are very excited to see how things are going to progress in 2016. If you are looking for a web designer who is willing to take you into the new year with a bang, you've come to the right place. Contact us for a free estimate.
Join our list!
Our blog, delivered to your inbox. Never miss a post!