If you have a website, and that website has more than a few words of content, then I want to talk to you about the "Back to the Top" button. What is this? And do you need one?
This is a little button that hovers over your content, usually in the bottom right of the page, that allows your site visitor to click and get all the way back to the top of your website with ease. It's a little thing, really, but when it comes to user-experience, it's huge!
But do you know when it's especially important? When visitors view your site on their phones. If you have a lot of content, and your user has used their finger to scroll on down, then give them a super easy way to get back to the top! Otherwise, they have to use their finger to scroll scroll scroll back to the top of the page to find out where they want to go next. If they get tired of scrolling, they might just go to another site.
How do I get it?
Some themes have this built in, so before you run for a plugin, check to see if it's available in your theme.
If you have a WordPress site, there are a dearth of plugins that do this. I tend to use WPFront Scroll to the Top. It's well rated, lightweight, is easy to install and works well right out of the box. Simply add the plugin from the repository, activate, and enable it in the settings menu and you're good to go. They even have a library of different up arrows you can use.
Here's a video on how to set up the plugin:
Beaver Builder already has smooth scrolling backed in, so you can easily add a button anywhere and link it to anywhere else for a smooth scrolling experience. I found this tutorial on how to add a quick scroll to the top on a Beaver Builder page if you don't want to use an extra plugin.
Having a scroll to the top button on any long page is a great way to show the users you care about how they interact with your website. It's not hard to do, but can make a difference in their experience.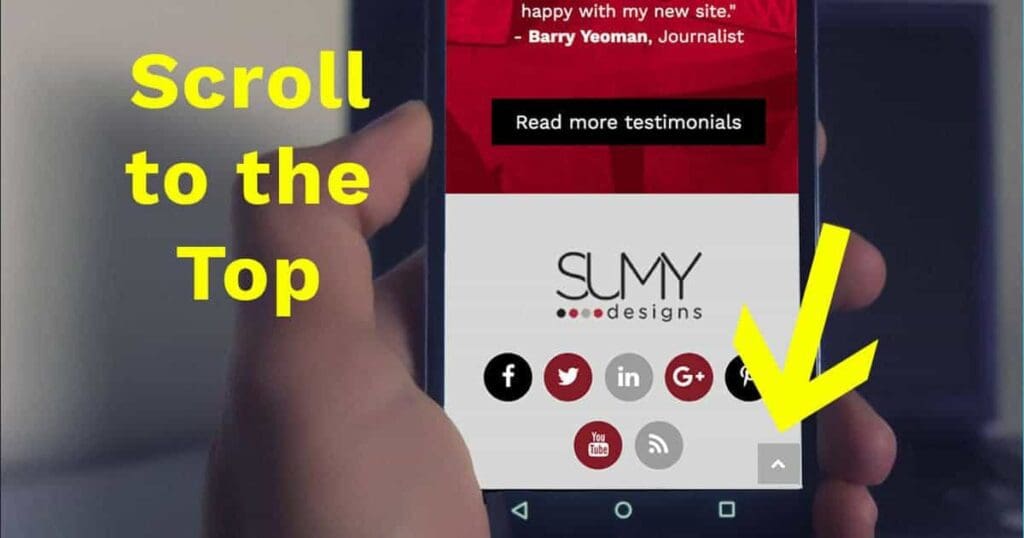 Join our list!
Our blog, delivered to your inbox. Never miss a post!