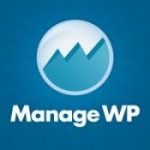 Got a lot of WordPress websites? I do! Since about 99% of all websites we create are with WordPress, as you can imagine, that leaves me with a lot of sites to manage. Each time a client asks for a change, I need to login to their WordPress dashboard and update it. With well over 100 sites to manage, keeping track of all those logins can be time consuming. (And please don't tell me you use the same login and password on all of them. DON'T DO THAT!)
And that's just for updates. I need to keep up with upgrades, updates, and spam comments too. When a new WordPress update is released, I need to update all my clients' sites. And while running the update isn't hard (click a link, check a box) if you have to login and do it for 100+ sites, it can be time consuming. So I went searching for a way to make this easier, and what I found was ManageWP.
What is ManageWP? It's a system that allows me to put all my WordPress sites into one big Dashboard. With a click of one button, I can update all plugins, themes, and software on every site. With one click I can clear out all spam comments, I can clear table overhead. I am able to set up automated backups so that all of my sites are regularly backed up (both database and site files) and this provides piece of mind to both myself, and my clients.
Depending on the plan to get, it also offers SEO Analysis, Uptime Monitoring, Search Engine Ranking Tracker, and more.
Is it perfect? No. As you can assume, anything that manages 100 and more sites is going to run into snags from time to time. But what I have found is that the support is Top Notch. (Capitals intended.) I get responses right away, they go out of their way to fix issues, and have been very helpful and friendly while doing it. If you manage more than a few WordPress sites, then I would definitely recommend checking them out.
Is it free? No. There are a variety of plans with different features according to your needs and number of sites. You can check out plans here.
Want Sumy Designs to manage your WordPress site? Get in touch and we can help!
Join our list!
Our blog, delivered to your inbox. Never miss a post!