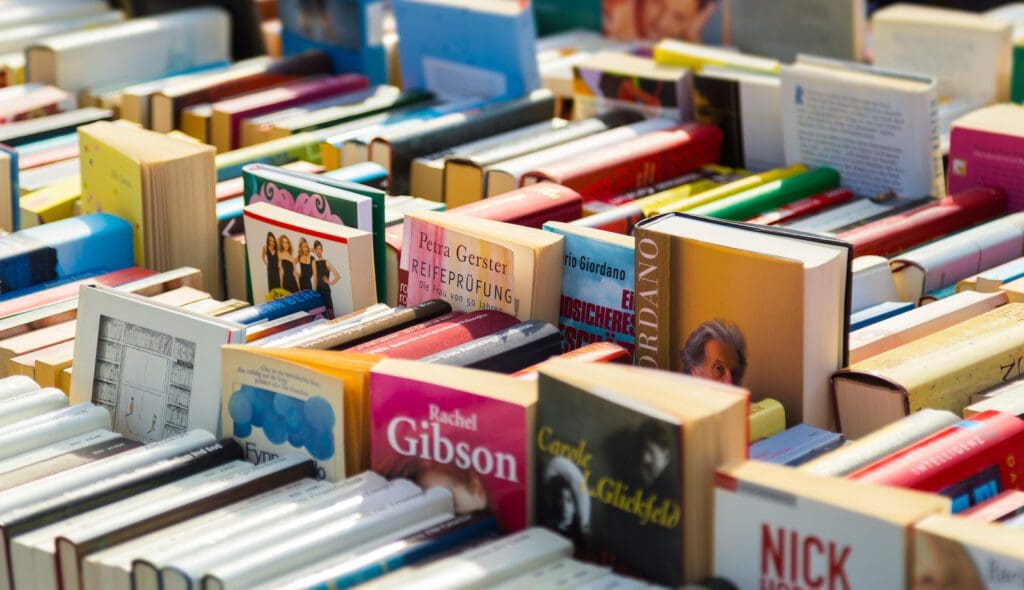 We do a lot of author website design, and one question I get asked on the regular is how do authors sell their books on their website? There's a lot of possibilities for this, so let's dig in and I can give you some real options on why it may or may not be ideal to sell yourself, what routes to go to do it, and some other ideas to optimize your income when selling books.
If you are an author and you want to sell books, you have a lot options for selling, from using third-party vendors like Amazon and Barnes and Noble, to selling books right on your website. So let's go over some of these options so you know what's involved.
Do you want to sell on your website?
You can set up a shopping cart on your website and sell books. And I've had a few author clients who have been able to do that very successfully. Selling your own books comes with many advantages, but primarily an increase in revenue since those third-party sellers keep a hefty percentage. However, there are a few things you need to know.
First, if you are selling your own books, that often times means you have to manage and fulfill those orders. Instead of just receiving a check each month for your part of the sales, you will have to actively track the orders that come in, package the books, and ship them out (unless of course you use a fulfillment company, which is pretty uncommon among authors.)
In addition, there are a few things you'll have to set up. First is a payment gateway, which is how you are able to accept credit cards on your website. Not that hard to set up (I recommend Stripe) and integrate, but another thing you have to do. And your payment gateway is also going to keep a portion of your profit as well.
You'll also have to plan for shipping. Will you offer free shipping? Flat rate shipping? Want to offer USPS and pull in the exact rates? All of these are doable, but they all require configuration and work to set up. Another thing to manage.
And of course, my favorite and yours… taxes. Do you have to collect tax for just your state? All states? And if you are collecting tax, that means you have to register with your state to pay the taxes you collect. Maybe you even need an accountant to make sure you are getting it all done right.
None of these things are unmanageable. But it can very quickly get very complicated if you want to sell your own books on your website. There are a lot of decisions to make in order to pull it off.
Options for selling your books on your WordPress site
There are so many different ways to sell your books, and I could write a dozen posts cover all the different ways. Maybe I will add that to my to-do list soon, but for now, here are a few different ways to set up book sales that may make sense for you.
The PayPal Method
This is the easiest, but probably will have the lowest sales volume. You can use PayPal to create "Buy Now" buttons for book sales. They even have options to allow VenMo payments using their Smart Button feature. You can add in the tax rate and a flat shipping rate, and have it all in one. See this example.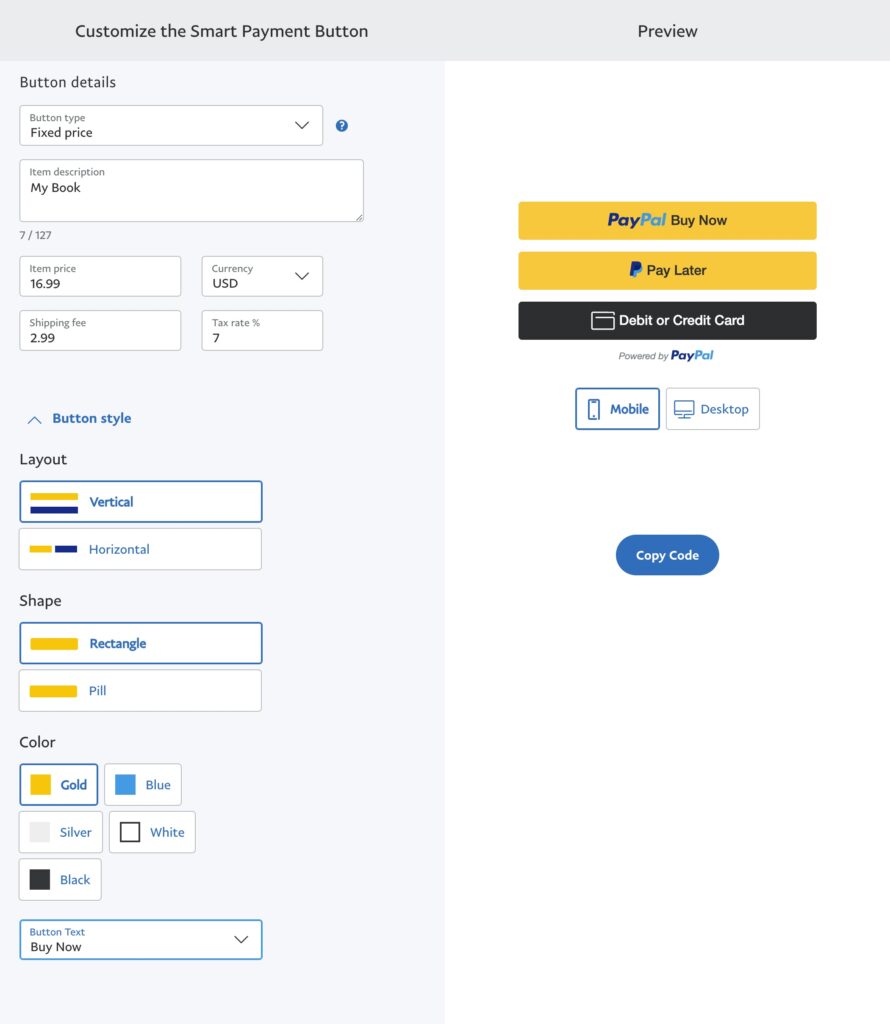 Follow the seps and then click the Copy Code button, and you have some code that you can embed into an HTML module or the text editor to create a button.
Take a look at the checkout buttons I just created. You could even click through and buy "My Book" for a quick $16.99. (Please take note – I have not written a book, so I wouldn't buy it.) It only took a few minutes for me to do (because I already have a PayPal account) and it works pretty well. This is a good option if you only plan to sell books one at a time and you are pretty sure the flat rate shipping will work out well for you.
If you have a lot of different books, or think people will want to buy in bigger quantities, this is probably not the best option for you.
The (Gravity) Forms Method
Another not super difficult method of selling books on your website is to use your form builder to create an order form. I use Gravity Forms, but you can do this with a variety of different forms. Using Gravity Forms, you can create a simple form that includes the ability to buy more than one item and allows people to checkout right on your website.
Gravity Forms has a variety of different payment gateways that can be used, including PayPal, Stripe, Authorize.net, and even Square.
Here is another example I created on the fly. It fully works, so you'd be welcome to buy my fake book. Just understand that there is no real book to buy. So it's more of a donation. Anyway, you can create a form, connect it to the payment gateway of your choice, and allow your users to buy the books and checkout. You will still have to fulfill those orders, but this isn't that difficult to do if you already are using Gravity Forms.
I believe this option works with a lot of forms like Formidable Forms and WP Forms as well. I just really only have experience with Gravity Forms.
And my third example would be the option to use a full shopping cart. You can have multiple products, calculate taxes, have a lot of options for your shipping needs. But there's a lot more to configure, and can get complicated depending on how many books you have, and what options you want to include. If you'd like to see an example of an author offering online sales of her book that does really well, check out this site for Joan Price.
WooCommerce is a free plugin available for WordPress, but it is more of a "freemium" model. Depending on what you need to do, you may end up having to pay for add-ons.
WooCommerce has a lot of parts to make work, and the configuration can be confusing for some. Definitely more work than the PayPal button. You have to add in your products, configure shipping, configure your payment gateway, configure your taxes, and then probably do some styling to make it look nice. And then of course, fulfilling the orders as your sales roll in.
---
The biggest factor for most authors when it comes to selling their books online is the cost benefit ratio. How much will it cost to set up, and how much time will it take you to manage. Don't forget to include your time, because it will take your time to manage your orders if you start to get them.
The other factor is your competition. If your book is also available on third party sites like Amazon, why would someone buy from your website instead of Amazon when they can get fast two-day shipping? You need to have a unique selling proposition if you want to make sales. Sure, some people prefer to buy direct and make sure their money gets more into the hands of the small businesses, but Amazon is such a powerhouse for a reason. And that reason is convenience. It's easy to go on there, find what you want, and place the order.
What Most Authors Do
While I have had some authors who do very well selling their own books, most authors I work with choose not to do that, primarily because the cost and time to set it up doesn't seem to be a worthwhile investment over what they will get from selling on other sites.
Third Party Selling tips
Sign up as an affiliate!
Since most authors are using the third-party method, let me give you a few tips to help you optimize your sales. First off, sign up as an affiliate on any of these bookseller sites. Depending on the cost of your book, sometimes the commission from affiliate links can be as much as the royalties on the book sale. If you are sending traffic from your site to Amazon or Barnes or Noble, etc, then you should be earning a commission on every sale. Don't throw that money away. It's doesn't take that much time to set up. AND, at least for Amazon, if someone adds other products to their shopping cart when they buy your book, you will get a commission on all those items too. In fact, you will get that commission even if they don't buy your book but your affiliate link took them there and they bought other things.
Offer multiple options.
If your book is available in more than one place, be sure to create buttons for multiple places to buy. Not everyone loves Amazon, so create links to BN, IndieBound, etc and add those to your site. Give them options. Just make sure it's easy to use.
Create a great sales page.
If someone lands on your author website, it's probably because they are already interested in your work. Make sure your book landing page sells your book. Don't just slap a book cover and a buy now button, really create a page that makes people WANT to buy your book. Add an excerpt, an exciting tidbit, reviews of your book, and any accolades the book has received. Your book's landing page can make the difference between someone who buys your book and doesn't. Give your user a compelling reason to take that next step, whether you are selling it yourself or sending them to a third party seller.
---
There's a lot to consider when thinking about online book sales, and it's important for authors to consider the options and choose the route that makes the most sense for them. And remember, you can always change your mind later. Not ready to sell on your own? You can always add it later. But make sure there's a clear, compelling call-to-action to get those users to buy your book.
Join our list!
Our blog, delivered to your inbox. Never miss a post!