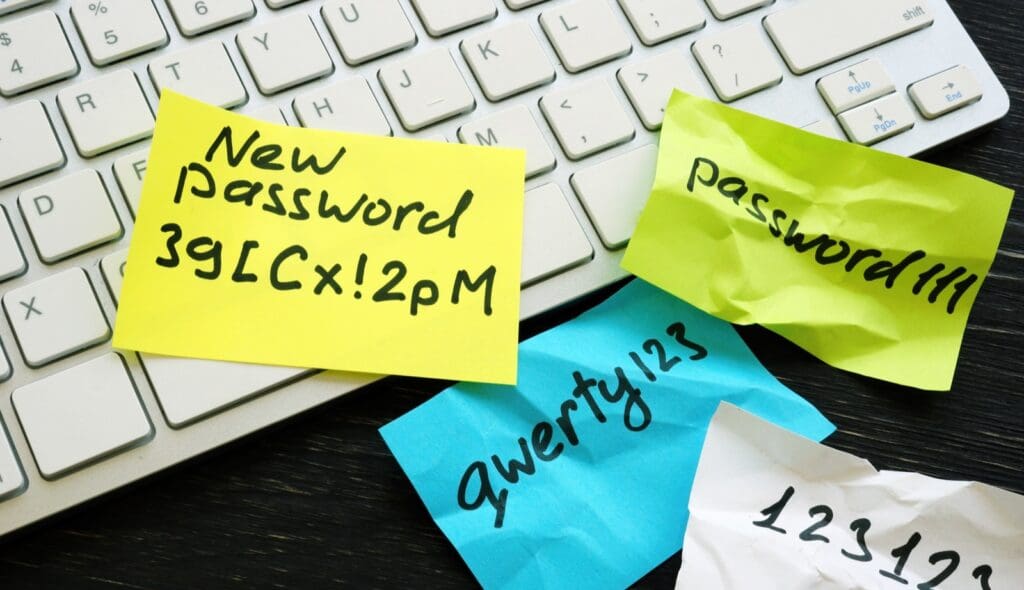 If you are starting work with a new web design or development company, or a new designer, or a new marketing company, there will come a time when you need to grant access to your various accounts, such as WordPress, your domain registrar, your web host, Google Analytics, Stripe, and more. It can be daunting to figure out how to securely share this information with others so I am going to run down different types of accounts, companies, and how to share access to them securely while you maintain full control.
My number one rule of this process: Don't. Email. Passwords.
One of the simplest ways to get hacked is by emailing your password to someone. If someone hacks into your email, they can find that password in your sent mail. If someone hacks the recipients email, it can be seen in their inbox, or a saved folder. Once you send it in an email, there's no end to the ways it can be compromised.
And not only that, most of these accounts won't even let you login without using two factor authentication, which can be very complicated to coordinate with another person, particularly if you are in different time zones. When at all possible, the best way to share access is by adding the other person as a collaborator, admin, or delegate to your accounts, so they can login using their own credentials.
Below is a very comprehensive, but not 100%, list of different companies and how you would provide your developer with access to your accounts with them. These are subject to change, but as of today, these instructions should be accurate. One caveat, please check with the person you need to assign access to see what email address you should be adding. Many of us have several!
Domain Access
There may be a variety of reasons you may want to give someone access to your domain. The number one reason in my experience is so they can make DNS changes for you. DNS can be scary for the average joe to mess with, so if that's you, and in my experience that's most of our clients, you can provide access to your domains so you don't have to do the DNS work yourself. Here are a few common domain registrars and how to grant access.
Another popular domain registry company is register.com, but I couldn't find any information on delegate access, therefore this may be one that you have to coordinate a login for. I will post information on these situations farther down.
If you use a different domain registrar and want me to add it to the list, please shoot me a message and I'll be happy to try to find those instructions and add here!
Web Hosting
If you have registered your domain at the same place as you have hosting, delegating access will usually give the person access to the hosting as well. But there are plenty of popular web hosts that don't do domain registration and maybe you use one of those. Below are some of the more common hosts and how to grant access.
Those are some of the majors hosts that will allow you to add authorized users or delegates to your account. However, there were a few major ones that I couldn't find any information on delegate access, such as BlueHost, HostGator, HostMonster, and InMotion.
As always, if you want me to add a web host to the list, please send me the name and I'll see what I can find.
WordPress
If you have a WordPress site, (and if you don't and we're working together, you will) then you will need to add an administrator to the existing site, and possibly to other adjacent types of WP accounts.
Payment Gateways
If you have or will have an ecommerce site, you will probably need to delegate access to your payment gateway in order to integrate that into your site. Here are a few popular ones.
Google Accounts
If you use these Google services, we may need access to make sure they are integrated into your site.
Social Media
Video Streaming
We have some clients that need us to upload and manage the videos we post on their website. If you need someone to manage your videos, here is how to give them access.
Newsletters
Your developer may need access to this in order to set up a subscribe box on your website. You may need to provide access to someone who is managing your newsletter and sending on your behalf.
---
That is a lot of different accounts to delegate access to. What I suggest is that you verify which accounts you need to provide access to, and then only provide access to those accounts.
Now, if you find that you need to grant access to an account and you don't see it in this list, and you can't find a way to add an authorized user, admin, or delegate, I have two possible solutions for you.
Schedule a Call
If you need to give someone access, and the only way is to share your username and password with them (and I am definitely giving the stink eye to any company that doesn't allow delegate access) then I recommend you set up a call, either on the phone, Zoom, or whatever, and do it together manually. The reason for this is that often what you think is the password may have changed and you forgot, and often times these accounts have two-factor authentication that will require you to verify the login with an email or text message.
Get together on the phone, tell them the username and password and wait until they are logged in. It can get very frustrating to try to login to an account when you have the password wrong or you need to wait for a text verification.
QuickForget
Another alternative, which doesn't help with two-factor authentication, but is safer for sending passwords, is to use QuickForget. This service allows you to send encrypted, secret information that expires so that no password is sitting forgotten in someone's account.
---
I would love to keep this list up to date, so if you see an error or know of one I should add, please let me know!
Join our list!
Our blog, delivered to your inbox. Never miss a post!