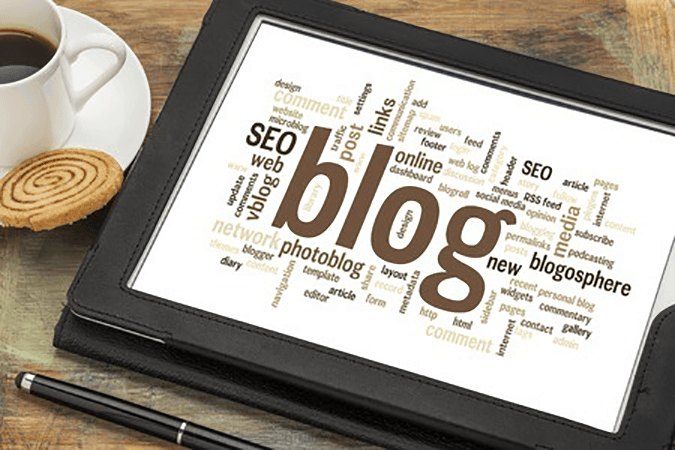 Everyone tells you that your site should have a blog. You need a blog for your business. But what do you write about? What makes it successful? How do you manage it? There are many aspects to consider, and we have a list here to help you develop your blog, maintain it, and have it work for you.
BRAINSTORM: Come up with a list of possible blog topics before you even start. Get together with your employees, coworkers, customers, parents, and your mailman. Ask everyone for ideas. There are no bad ideas here, just make a list. What's your business about? What's related to it? What do people want to know? What's relevant? Just make a huge list of ideas.

Example: Is your website for a salon? Blog ideas include hair trends, neat styling videos, product reviews, upcoming salon events, coupons, specials, new stylists, stylist profiles, before and after photos, how to get shinier hair, etc etc etc. Anything salon related is fair game and will provide your readers with valuable information on a variety of topics. Remember, content is written for people, not search engines.

SCHEDULE: Plan when you will write your blog posts, and put it on your schedule. If you plan to do it "when you have free time" you will never maintain it. Make writing your blog posts part of your job. Because it's important and it's worth your time. If you can schedule your clients and other work, you can schedule your blog posts. Don't skip days because you are busy with "real work." This is real work. This is building your business, and your business is important.
BE CONSISTENT: The worst thing you can do for your site is to have a neglected blog. If someone comes to your site and your last blog post was a year ago, they are going to wonder if you are still in business. Don't neglect your blog. Figure out how often you can commit to writing blog posts, and stick to it. If you know you are too busy to write a blog post daily, then don't plan to do it daily. If once a week is your max, then do it once a week.

Tip: You don't have to write your blog post and publish it the same day. Know you'll only have time to write once a month? Set aside an hour or two and write several blog posts and schedule them to publish throughout the month. Your blog will stay up to date, and you only have to work on it one day.

FIND YOUR VOICE: Nobody wants to read your PhD dissertation. Write like you talk, in first person, as yourself. Who are you? Let your personality come through. Are you funny? Be funny in your blog post! Are you dry? Be dry! People like to know who they are doing business with, and your personality is part of the package. Be yourself and post like a person, not a robot.
RECRUIT HELP: It doesn't just have to be you! Ask your coworkers, employees, and even your customers to write too. Having a variety of voices on your blog will add credibility and variety. If you have people who work with you, that's a fantastic resource to get new perspectives, ideas, and points-of-view. If you have multiple employees, assign each employee one day a week that is their day to write for the blog. Have customers who are particularly devoted? Ask them if they'd be willing to write a guest post about their experiences working with you. If all else fails, hire someone! You can hire writers to do the heavy lifting.

Tip: If you have multiple posters from within your business, don't publish them all under your name… give each person their own author account so the blog posts show up in their name. Having a variety of voices adds to your blog and doesn't detract. Everyone's writing style is different; use that to your advantage.
Join our list!
Our blog, delivered to your inbox. Never miss a post!