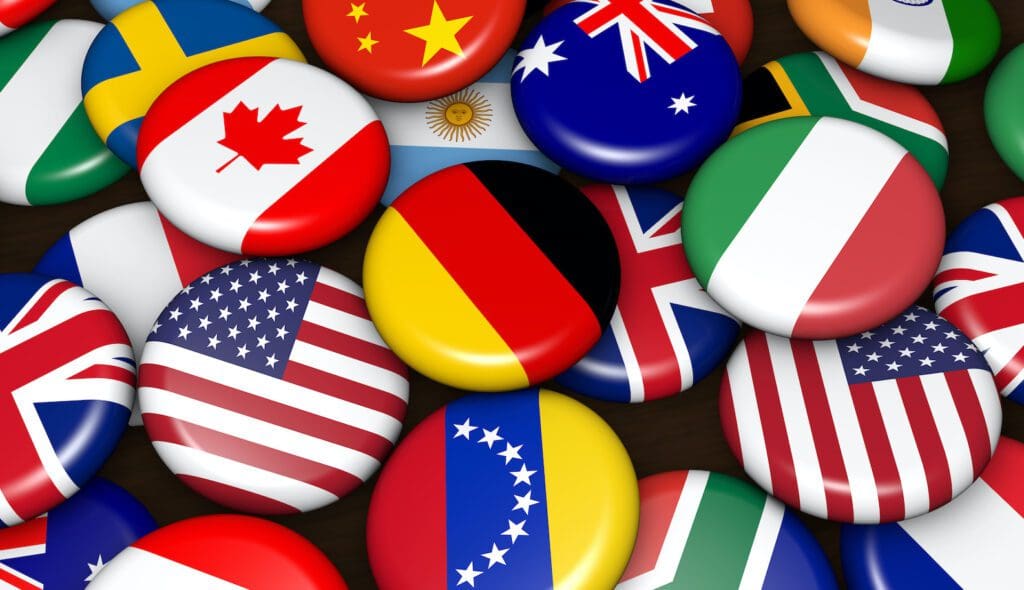 Having a bilingual website may be a great idea for your business and for your customers and you can do it with WordPress. The Internet is vast, and your users could be located all over the world. Or, even if your target demographic is located in in the US, there are large portions of our population who don't speak English natively.
Offering your website to your customers in their native language can boost conversions, increase traffic, SEO, and make your users happy. You can also increase your reach to other countries if you have a bilingual website.
There are many ways to create a bilingual website, but I'm going to go through a few options of how to do this using WordPress.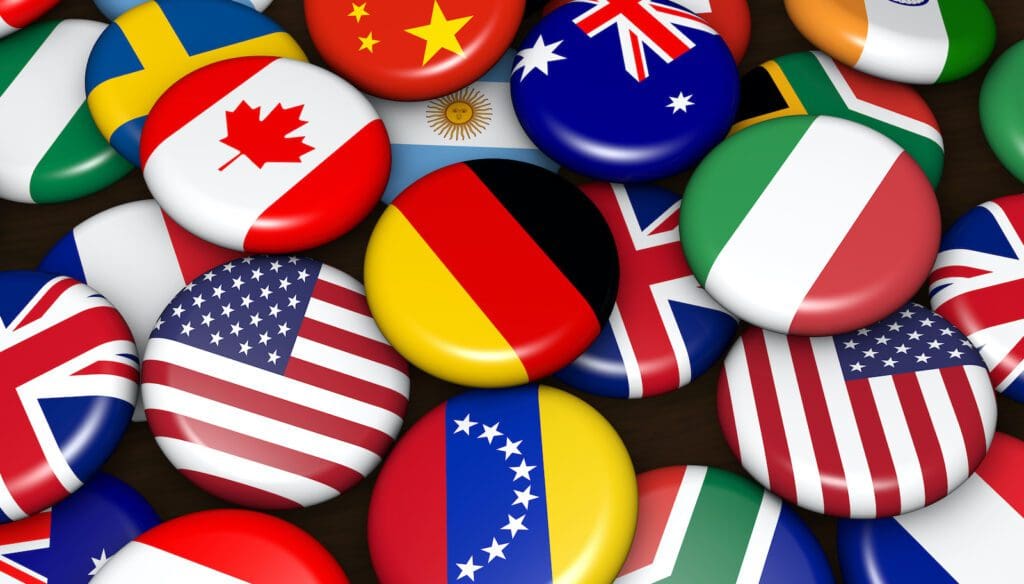 Things to Understand
Before creating a bilingual website, there are things you need to understand. First and foremost, a bilingual website doesn't mean just offering the content of the page in another language. Yes, that's an important aspects. But there are lots of parts to your website. Having the content in one language but the rest of the page in another doesn't make it a bilingual website.
A true bilingual website needs to have all parts of the page translated. That means that the header, footer, forms, image captions and navigation menu all need to also be translated. Any widgets need to be translated. If you have images with text on them or infographics, those all have to be translated.
About Translations
It's easy to add a plugin like Translate WordPress to your site, and instantly switch your site to any language. However, this is not an approach I ever recommend. Google Translate does a pretty good job of translating languages… estimates I've seen rate the translations as about 80% correct. Meaning that 20% of the content is wrong on the page.
Using an automated tool like this also doesn't account for language dialects. I can easily go to Google Translate and put a word in English and get the word back in Spanish, but did you know there are different dialects of Spanish? Did you know different countries in South America have different varieties of Spanish. This is the same for many, many countries. And if you are targeting a direct population of one of these dialects, you'll want to make sure that you having the right translation in the right dialect.
The best option when it comes to translating your website is to have the content, menus, and parts of your website translated by a professional translator. Yes, this is definitely going to be more expensive than adding a free plugin, but the result is going to be much better and your user's experience is going to be much better.
How to get a bilingual website

The best way I know to create a bilingual website is by using a bilingual plugin like WPML, the WordPress Multilingual Plugin.
WPML is a complete translation plugin, that allows you to easily translate pages, posts, custom post types, taxonomies, menus, and more. It's also compatible with many of our favorite and recommended plugins, such as Beaver Builder, WooCommerce, Yoast, and Gravity Forms.
This is not a free plugin. Depending on your needs, it will cost you between $29 and $79 per year. It's worth the cost in my opinion. If you're looking for a free plugin for creating a bilingual website, there is one called TranslatePress in the WordPress repository. I've never used it, but it has 60,000 active installs and looks to be actively supported. It might be worth a try.
How it works
I've seen many website owners attempt to create a bilingual website by duplicating each page of their website and pasting in the alternate language content. And if you have a super small website, this can work. If you have a bigger website, this can turn into a monstrous undertaking.
Start by installing and activating your plugin. There is a wizard that will walk you through most of the steps, such as picking our your languages (you can have more than two!), entering your license codes, and choosing where to display your language switchers.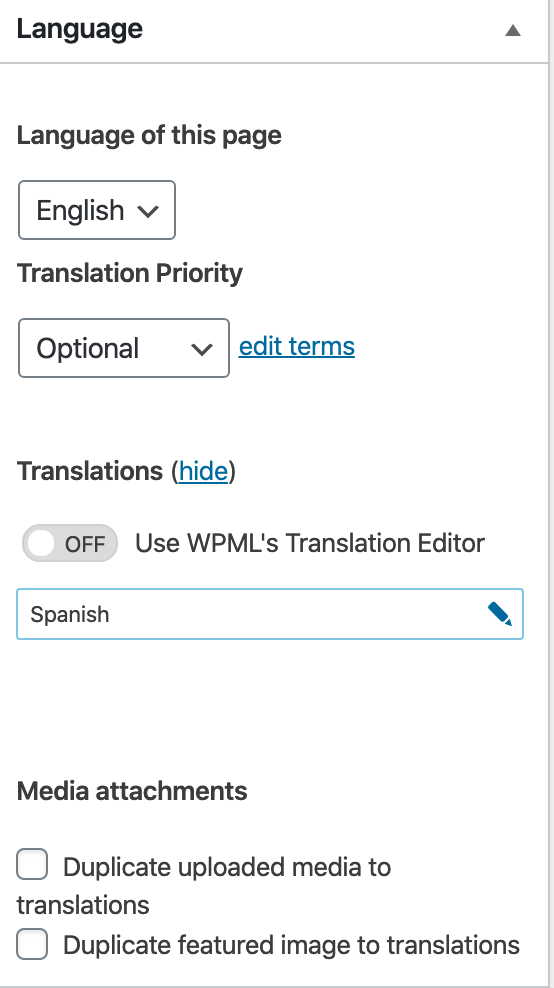 WPML will add translation controls to your pages, posts, and custom post types. You can open any page and choose a language and enter a translation. You can easily go back and forth between them.
Of course, translating the content of your page also means translating your image captions and alt text on your images. If your images have text on them, you'll want to upload translated images.
If your site has custom fields, you'll need to provide translations for your custom fields as well.
You can and should also change your permalinks.
Changing page content is only step one
Once you've got your pages translated, there are other places you need to provide translations too. The first one is your navigation menu. It is rather important that your users be able to navigate to all your pages in the language that they are using. The WMPL plugin allows you to switch between languages and add in translations for your menu. Here's a video tutorial demonstrating how to translate menus.
More than likely, you will also need to translate some of your theme options, such as your site's name and tagline and other header text, footer text, and possibly widgets. You need to go through each part of your website, from top to bottom, and make sure you are providing translations for each element. That includes buttons, calls-to-action and forms too.
I realize these are kind of generic directions, but the truth is that each website is unique and will have unique needs when it comes to adding multilingual content.
Check out a few of the bilingual websites we've created here:
A few last minute tips:
Remember when you update your English content, you need to update all the content in your translations as well.
Double check how your website looks in all languages. Often times the change in language will change the amount of text being shown, and that can affect your layouts.
If you are changing your website to another language, consider changing your images to be culturally appropriate as well.
If you are sharing content on social media, make sure you are sharing your translated content with translated posts as well.
Creating a bilingual website can be complicated, but the results can be worthwhile. Need help setting up your bilingual website? Contact us for a quote. We can get you on the path to success.
Join our list!
Our blog, delivered to your inbox. Never miss a post!