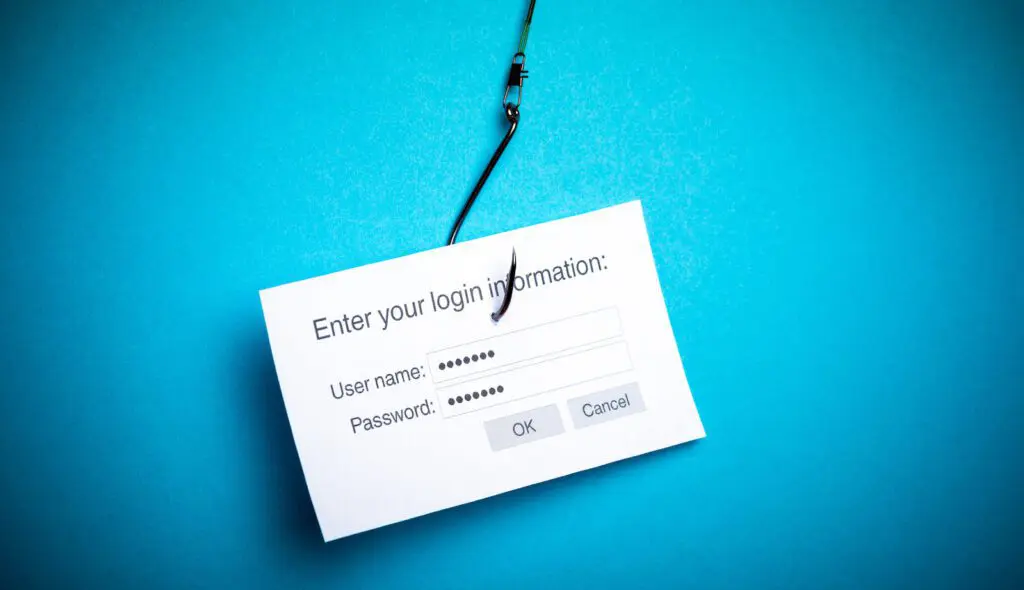 There's a scam going around that's affecting website owners, and one that many people are unaware of, so I'm here to fill you in on some details so you can protect yourself. Here's how the scam works. On your website's contact form, a submission will be made. In the body of that message, the person tells you they found their own copyrighted images on your site and are demanding you take action. Included in the message is a handy link for you to download proof that you've got their copyrighted images.
First thing you should know – DON'T CLICK THAT LINK.
Here are a few examples: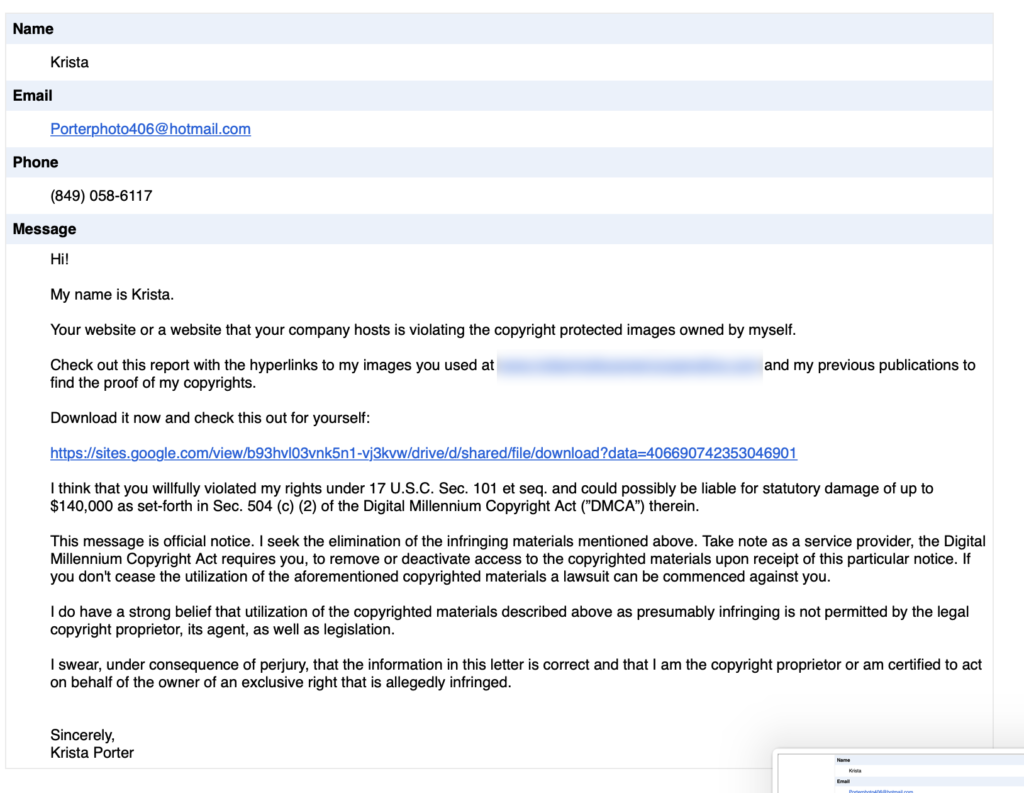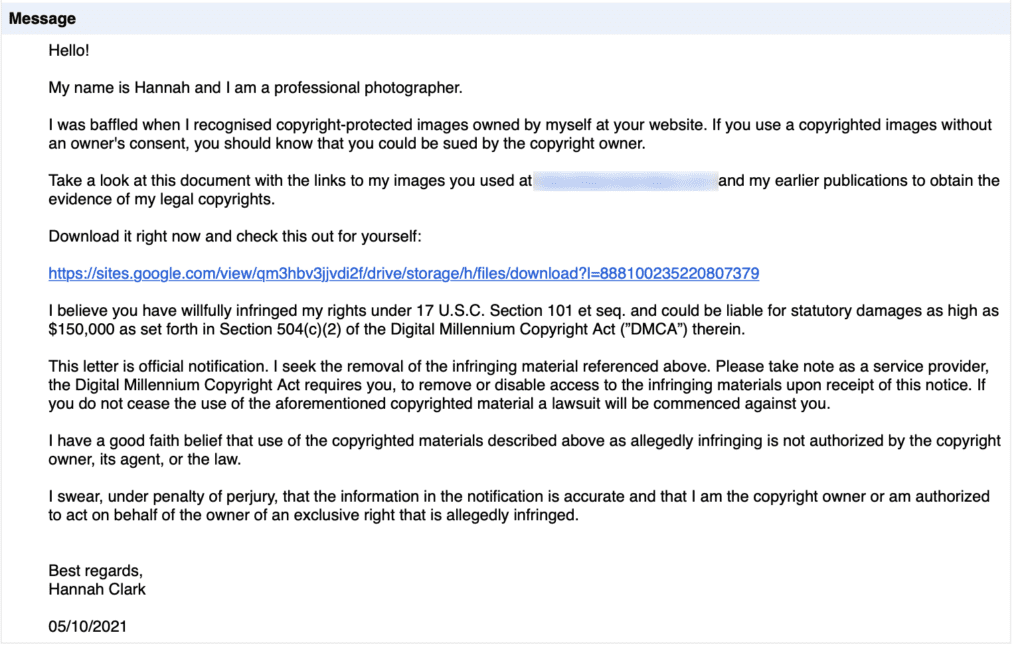 I've received a number of these with different names and email addresses, but they mostly have the same information and always a link to a Google site they want you to click.
If we made your website, rest assured that we either used photos you provided us or purchased stock photos for your site.
What's the scam?
We believe this is a phishing scam. So far, anyone we've spoken to who has clicked the link has found themselves at a 404 error page, and that's because Google has found and removed the scammer site before anyone has gotten there, but we assume that the goal is to get you to download some kind of virus, ransomware, etc that aims to steal information or money from you.
What should you do?
First of all, don't click the link. Second, if the email came via your contact form, and you use Gravity Forms (which is on most websites made at Sumy Designs), login to your website, go to your form entries, and mark that one as spam. That will keep more from getting through and will also start to teach the spam filter to stop those in their tracks. This helps not just you, but everyone else who may be getting these messages too.
I've been seeing versions of this for a little while now, but they seem to have gotten a lot more frequent lately and I wanted to be sure that people are aware of this scam and know to disregard it.
A few more posts about this scam:
How to spot these types of scams
First of all, if you know for a fact that you have no copyrighted images on your site, then of course that's a big red flag and a sure sign you should delete it. Other issues to look for – if they send you a link that looks suspicious. The Google sites links tend to a look more legit because it's a Google site, and that is part of their plan. If they fail to send you a link to their own website where the images actually are or where you purportedly have stolen them from.
Other things to look for include poor grammar and misspellings
What if you clicked the link and it wasn't a 404 page?
Well, this gets tricky because so far, I haven't talked to anyone who has actually seen what they were intended to see at the end of that link since Google takes it down pretty fast. If you got to one of those links, let me know so I know what happened. This could be anything from someone trying to steal your credit card info, your identity, or trying to get malware or viruses installed on your machine. I would advise that you at the very least run whatever anti-virus software you like on your machine to make sure it doesn't have a problem.
Join our list!
Our blog, delivered to your inbox. Never miss a post!