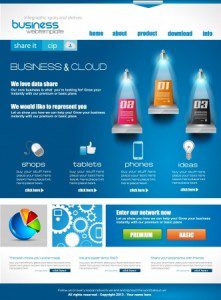 You can. And there are some nice looking templates out there. But, be warned that it might not always be the money saver you are looking for. There are a number of reasons that I recommend against buying a template. It's not customized for you, and it's generally not very customizable. When you buy a template, especially one from one of the giant template selling websites, keep in mind that these templates are not meant to be customized. They aren't meant to be specific to what you need. So you may be able to change the colors or add a logo, but that's going to be it for customization. Your website will look very much like every other website that uses that template. And if you try to do a lot of customizations to it, you might end up making a big mess of it.
One of the other drawbacks is support. These templates are created and meant to be downloaded and installed. But what if you need help? Is someone going to be there to help you if you run into problems? Down the road, will there be updates when WordPress updates? Is there a human somewhere you can talk to?
Let me share a story with you here. I have a client who offers a variety of services to their clients. Many of their clients needed websites so they decided they would get into the website business. One of their employees bought up a bunch of templates, installed them for the clients, and voila, everyone had a website. Sounds great, right? They made money because it was super cheap, clients got websites, and it was easy. Well, let's follow this down the road for a while when WordPress has issued a number of updates to the software. Out of 10 websites, eight of them completely broke when the WordPress upgrade was run. No website, completely shut down. This is where I came in, to fix up the sites that were broken by unsupported templates. For these websites, there was no support, no documentation, and once the template broke, the owners were out of luck. It was much more expensive to have me fix these broken websites than it would have been to have us do it right the first time.
At Sumy Designs, we start each website with WordPress and the Genesis Framework. What Genesis does is it provides us with a framework for building custom websites. It has been developed and supported by a huge community of developers. It is continuing to be developed and updated as WordPress grows, and it has a plethora of documentation and resources. Using the Genesis Framework, we develop a custom child theme specifically for your site. What this means is that if down the road, if you run into problems and want help, we can help or anyone who is familiar with Genesis can jump in and work on the site too. And that's a huge bonus because you aren't limited to one specific template creator. There are literally thousands of Genesis developers out there.
The exception to the "Don't buy a template" rule is if you use a Studio Press child theme with Genesis. These child themes are developed, tested, and supported by the Genesis community.
Need help with a custom website? We can do it! Contact us today for a quote.
Join our list!
Our blog, delivered to your inbox. Never miss a post!